When Brazilian actress Sônia Braga became an award-winning star in movies like "Dona Flor and Her Two Husbands," "Kiss of the Spider Woman," and "Moon Over Parador," she delighted critics, fans and colleagues with her intense performances and old school glamour.
But Braga has also stood out for her outspoken stance on issues that in many cases are showcased in her films, as is the case with her recent movie, "Bacurau," the winner of the jury prize at the Cannes Film Festival. The film was recently shown at the New York Film Festival. Braga reflected on the personal and the political during a recent interview.
"There was a time when — like with Obama, not long ago — we wake up, we have coffee and then you would open to the news or get home from somewhere, turn on a film and sleep," Braga said about the politics in her adopted home. "Now, it's breaking news every two minutes! You don't know what's going to happen."
Before moving to the U.S., Braga became involved with theater in her teen years and quickly made the leap to television shows and movies. The opportunities to work kept coming, and soon, she made the move from her home in Brazil to Hollywood.
Braga said the Puerto Rican actor Raúl Juliá — the subject of a recent PBS documentary — adopted her like a "big brother" when she arrived and had even tried to find her a husband.
The two co-starred in "Kiss of the Spider Woman," "Moon Over Parador," and the '90s TV movie "The Burning Season," which would be one of Juliá's last roles. He was 54 when he died in 1994.
However, Braga said Julia's most profound gift was modeling what a politically active life could look like in the arts with his humanitarian work with The Hunger Project.
"Everybody talks about him as the incredible actor that deserved so much more recognition than he got — being Hispanic was not easy," Braga said. "But to me, he was the man that couldn't understand hunger. He wanted to end hunger."
Braga went on to become one of the co-founders — along with Juliá's widow, Merel — of the National Hispanic Foundation for the Arts, to advance the presence of Latinos in media and communications.
Over the past few years, while still active in television — viewers may know Braga as one of Samantha's (Kim Cattrall) love interests in "Sex and the City" — Braga has returned to Brazil for even more challenging film work with the director Kleber Mendonça Filho.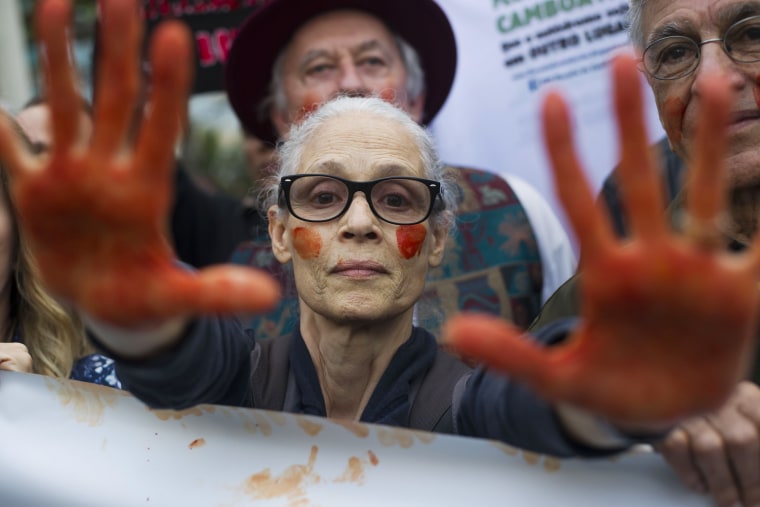 Their first collaboration in 2016, "Aquarius," was a drama about an older woman being forced out of her home by greedy developers. The movie set off a political discussion in Brazil about unchecked development and the human costs to the country's building boom.
Now joined by the director Juliano Dornelles, Braga and Mendonça Filho's next project is just as politically charged but much more full of action in "Bacurau." Braga plays Domingas, a complex and conflicted doctor with a bad habit of heavy drinking and a gruff bedside manner.
For Braga, the confluence of politics and art affected her deeply while making "Bacurau." While in Rio de Janeiro, she crossed paths with Marielle Franco, an outspoken gay, Afro-Brazilian councilwoman who represented Brazil's "favelas" or slums, where Franco grew up.
"I was so taken by her. She was a Black woman, activist, everything. I looked at her and I thought, this is everything in one body," said Braga. "I went down to the set, and 20 days later, we get the news that she was executed."
Franco, who had criticized police killings in the favelas, was murdered by two former police officers, according to authorities, in a killing that garnered international headlines.
At the time, Braga's character in the movie was also coping with a severe loss. "After I got the news, I got the pain in my core," she said.
She said that when sees a poster from the movie with Domingas looking down, she has trouble breathing. "Because to me, that is what happened to her when she learns about the death."
In "Bacurau," Braga joined an ensemble cast of professionals, nonprofessional actors and locals. Set in a village in the Brazilian outback of the near future, "Bacurau" is the story of a community under siege by outsiders, corrupt politicians and lack of resources. By banding together, the small town may stand a fighting chance against the odds.
When Domingas first appears, she's behaving inappropriately at the funeral of her close friend. "But why not? That's her truth," Braga said. "She has a reason to say that. ... She says that with so much incredible, unbelievable love."
Yet, for all her flaws, Domingas remains a vital member of her community. "The village needs her," Braga said. "They love her, and they respect her. But not when she's drunk."
The filmmakers acknowledge that they had Braga in mind for the role from the beginning.
"We wrote to Domingas' character, which is very dangerous because you fall in love with a character thinking about a specific body, face and personality," said Dornelles, one of the co-directors of "Bacurau." "Then, for whatever reason, the actor or actress says I don't want to do that."
Fortunately, this was not the case, and Braga was invested in her character even before the filmmakers had confirmed her for the part. "It was very funny because I sent her the script without saying which part was hers," Dornelles said. "And then she says, 'Domingas?' Like, she knew exactly who she would be."
"The best thing about Sônia in this film is she's not the lead character," he said. "She's part of the chorus."
"Yeah, in a symphony, she would be the piano," Mendonça Filho added.
In the end, it was Braga's outspoken stances on issues that ultimately cemented her role in the film.
"I don't think I would be able to work with a great face, a great actor but doesn't care or understand or doesn't believe in the things we believe in," Mendonça Filho said. He added it's "the stuff" that makes his movies, including "Bacurau," what they are.