In the late 1990s, a old-school Cuban band, The Buena Vista Social Club, catapulted to the world stage and became a household name for millions of fans. Nearly two decades later, the remaining members of the group are preparing to say goodbye after one last farewell tour called the 'Adios Tour.'
"When we started, there were people who made fun of the music we made, danzon, cha-cha-cha," said one of the original members, trombonist and orchestra leader Jesus Ramos, in an exclusive interview with the Associated Press. "'That's out of style,' they said. But still we have kept on going. It rescued all that history."
The Buena Vista Social Club was born when U.S. musician and producer Ry Cooder traveled to the island in the 1990s and brought group members together to lay down their haunting 14-track album. The record won a Grammy, and a documentary of the same name was nominated for an Oscar.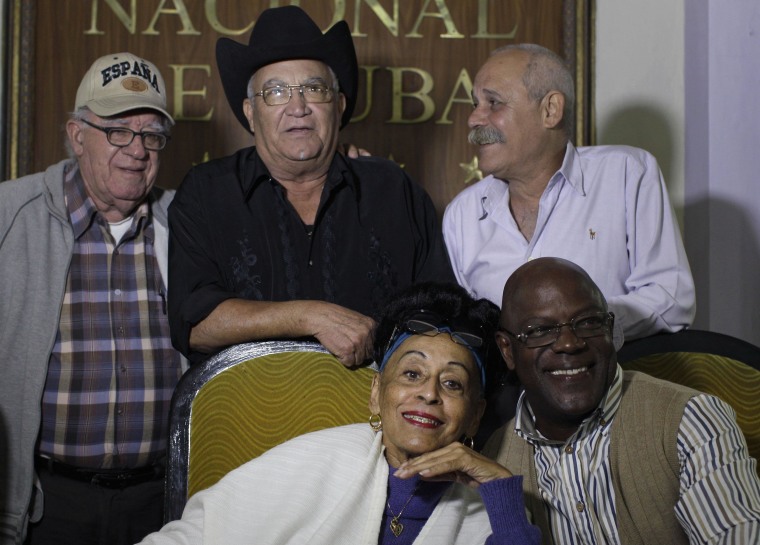 With songs like "El Cuarto de Tula" and "Dos Gardenias," Buena Vista was a key part of a "great golden age of music in Cuba," said Raul Fernandez, a social scientist at the University of California, Irvine, who studies the island's music. Today, many of the core original members have died, including Ruben Gonzalez, Ibrahim Ferrer and Compay Segundo, with crooner Omara Portuondo and guitarist Eliades Ochoa among the better-known still living.
Amadito Valdes, who has had a long career as a percussionist, recalled the highlights of his time with the group: performing in New York's Carnegie Hall; Gonzalez's visit to the United Nations; Segundo's audience with Pope John Paul II at the Vatican.
The farewell tour is scheduled to kick off Wednesday with a performance in Poland, run through 2015 and wrap up with a concert in Havana.
The group's younger members see it as a transitional moment in their artistic lives.
"They have been my school and my career. I have been working with them for 12 years," said singer Idania Valdes, Amadito Valdes' daughter. "It's the close of a cycle. Almost all of us have independent plans, (but) we will continue to be a big family."
--The Associated Press