Following the historic peace dialogue between Colombian President Juan Manuel Santos and the leader of the FARC (Revolutionary Armed Forces of Colombia), 'Timoshenko', reactions range from strong criticism to guarded optimism.
José Miguel Vivanco, director of Human Rights Watch's Americas division, signaled that the agreement does not comply with the international standards of justice. "While the agreement on Special Jurisdiction for Peace offers a form of accountability for abuses committed during the armed conflict, the fact is it would allow those most responsible for human rights atrocities to avoid spending a single day in prison," he said, "It is difficult to imagine how this arrangement could possibly survive a serious review by Colombia's Constitutional Court, or for that matter, the International Criminal Court."
Former Colombian President Álvaro Uribe Vélez, who has long opposed peace talks with the FARC, released a list of initial concerns over the agreement via Twitter. "The government has accepted to equate civil society with terrorism, which constitutes a serious affront to the Colombian community, in this agreement turned into the victimizer, when for 50 years has been victim of kidnapping and murder," he wrote.
Related Article: Colombia, FARC Rebel Group Announce Major Breakthrough in Peace Talks
Douglass Cassel, professor of law and adviser to the University of Notre Dame's Center for Civil and Human Rights, played a crucial role in the peace talks and said, "The agreement respects the rights of victims to truth, reparations, non-repetition and measures of justice. Most important, if the agreements are honored, there will be no future victims."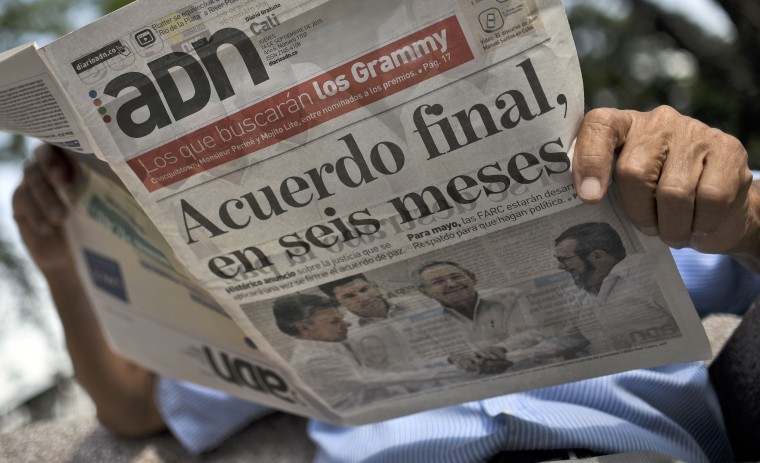 "After five decades of violence and suffering... the Colombian people at last have a real prospect of living in peace," Cassel said.
RELATED: VIDEO Telemundo: Gobierno Colombiano y Guerrilla Anuncian Acuerdo Crucial
But Colombian President Santos kept an optimistic tone, tweeting in Spanish, "We approach the end of the longest armed conflict that Colombia has lived. We will do what is necessary so that this never happens again!"
The agreement includes special benefits for those who admit their responsibility for serious crimes or war crimes.
Both parties announced that March 23, 2016 will be the deadline to finalize negotiations and sign a final peace agreement, after which the FARC will have a period of 60 days to lay down their arms.
Colombian singer Juanes praised the announcement on Twitter saying: "President Juan Manuel Santos, you and your delegation have played it all for peace, heartfelt thanks."
In Cuba, Colombian government officials Humberto de la Calle and Sergio Jaramillo held a press conference Thursday explaining the key components of the agreement. Addressing Colombians' concerns, De la Calle said, "Colombia is about to explode the peace. I think we have started the countdown for war to die and for life to triumph."
"We will respond to victims with maximum fairness and maximum possible satisfaction in a process, because there will be truth, justice and reparation," Jaramillo reassured the public, "What happened yesterday is transcendental."
NBC's Mary Murray and Orlando Matos contributed to this report.