Every generation gives way to a new musical sound that defines their youth identity and cultural influences. For Latinos living in New York City, circa 1960's in Spanish Harlem, "Boogaloo" was exactly that, a sound that allowed them to express themselves freely, to revel in the Latin beats of their predecessors, but with the contemporary American rhythms of doo-wop and soul.
Artists like Joe Bataan, Johnny Colon, Joe Cuba, Pete Rodriguez, Richie Ray and others became New York City sensations. If you ask anyone who loved this hodgepodge of musical arrangements, it was a sonorous and intoxicating time to be a Latino in the Big Apple. But as the saying goes, all good things always come to an end.
"We were the Michael Jacksons of New York at that time."
"I found a group of kids who would listen to me, who were 11, 12 years old," Bataan said. "I formed that band and in six months we were recording records."
"We were the Michael Jacksons of New York at that time," he said.
Today, Boogaloo isn't heard as much on the airwaves, but a new documentary by Mathew Ramirez Warren called "We Like It Like That" looks not only to contribute to its revival, but to remind Latinos of their forgotten rich musical heritage.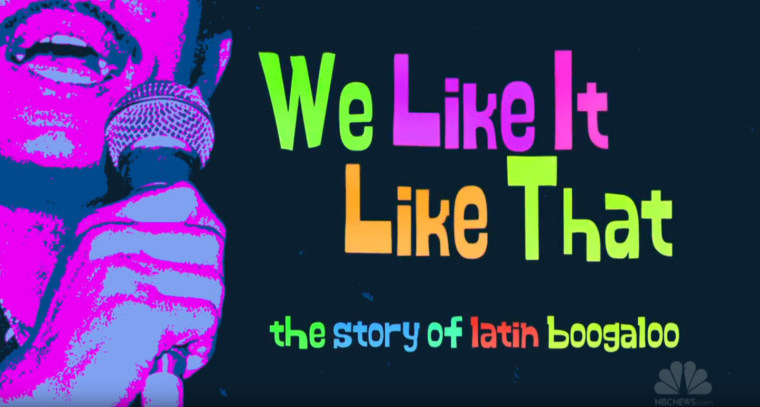 "I found it to be this fascinating, untold New York story," Ramirez Warren said in an interview with NBC Latino. "This community was searching for a voice, a means of expression. The music represented who they were, where they were coming from, their environment."
Musicians such as Willie Colón and Johnny Pacheco led the new sound of Salsa in the 70's, and eventually sealed the fate of Boogaloo, but Joe Bataan and company have not stopped touring and releasing albums.
Will it make a full revival? Only time will tell, but in the meantime, you can indulge in rediscovering songs such as "Bang! Bang!," "I like It Like That," "Micaela," "Subway Joe" and "Boogaloo Blues". You can find the soundtrack for the documentary out now on iTunes, Amazon Prime and On Demand, along with the soundtrack from Fania Records.
And if you are interested in experiencing "Boogaloo" up-close and personal, you can catch Joe Bataan all around the country, including New York City at Brooklyn College on April 9 with special guest DJ Felix Hernandez.
For more details visit www.latinboogaloo.com.