EL PASO, Texas — Outside of a homeless shelter in downtown El Paso, where hundreds of migrants have been camping out in recent weeks, fear and confusion hung in the air.
Men, women and children gathered under white Red Cross tarps that offered shade from the brutal 90-degree weather, sitting on cots and pieces of flat cardboard topped with donated sheets.
"I really don't know what to do. I'm so afraid to turn myself in and get deported ... I just want to be able to move forward and find my family," said José, 41, who migrated from Venezuela and has been staying outside the Opportunity Center for the Homeless.
José, who asked that his full name not be used for fear of retribution from immigration authorities, was trying to reach his wife and 4-year-old daughter in Atlanta, after they were separated from him and allowed into the U.S. about three weeks ago.
Follow along for live updates on the end of Title 42
A day before a pandemic-era restriction that allowed the U.S. to rapidly turn back millions of migrants and asylum-seekers is set to lift, the city of El Paso is trying to abate a humanitarian crisis that is only expected to get worse. El Paso and other Texas cities have declared a state of emergency in anticipation of the policy change.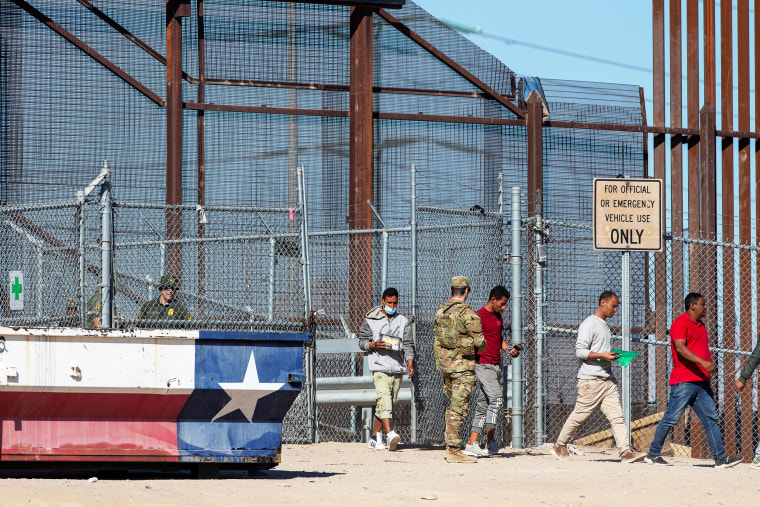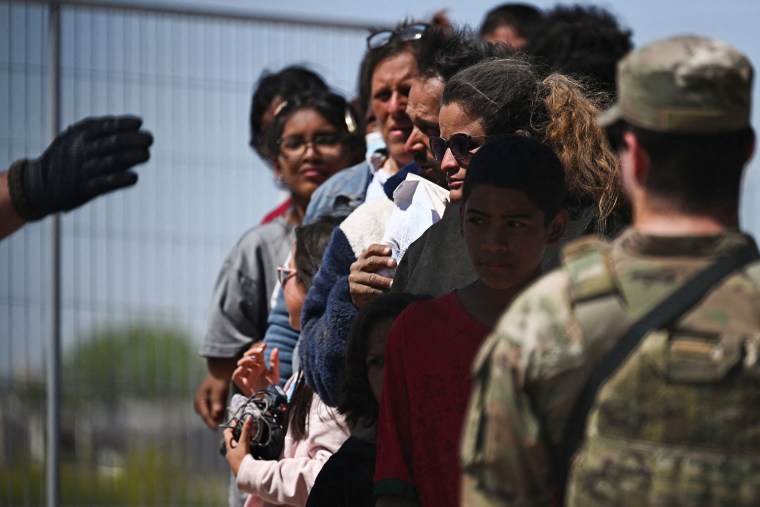 Immigration authorities have expelled migrants more than 2.8 million times under the policy, known as Title 42, according to data from Customs and Border Protection.
With the end of Title 42 after Thursday, immigration authorities and groups that help immigrant families handed out flyers encouraging migrants who crossed into the U.S. avoiding legal ports of entry to turn themselves in at a nearby processing center to be "processed by CBP officials and placed on the correct immigration path."
Some of the migrants agonized over their next move, attempting to navigate the complex immigration process for a chance to remain in the U.S.
Growing numbers, growing crisis
Officials are preparing for potentially large numbers of people aiming to cross the U.S. border after the rule expires late Thursday. Shelters have been so full that as many as some 3,300 migrants have been living on the streets outside of a nearby church and the center in recent days, although the numbers continue to fluctuate.
While the shelters offer the migrants food, basic necessities and a place to temporarily stay, the organizations say an unsustainable humanitarian crisis is unfolding. 
"It's been very troubling for us that we're not in a position to be able to provide the level of assistance that's needed, just simply due to the large numbers of people that we're working with," said John Martin, deputy director of the Opportunity Center for the Homeless.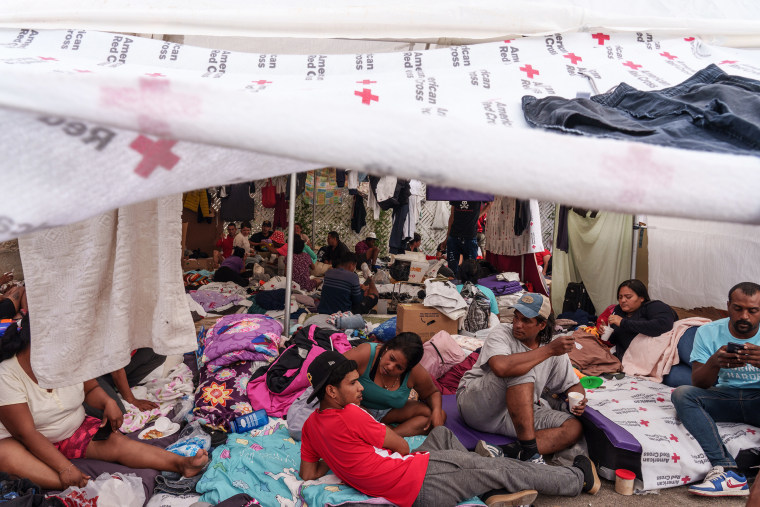 At the center, Martin said the men's program can comfortably house 120 people inside, with an additional 50 for the women's program and another 85 at a welcome center for migrant families. But recently, those programs have been at capacity or over, with migrants seeking refuge outside in a makeshift tent city in a parking lot and an alley behind the center.
'I took the chance to cross over the wall'
More than 11,000 migrants were caught crossing the nation's southern border on Tuesday, already surpassing expectations of 10,000 per day predicted by Department of Homeland Security officials on what could come when Covid restrictions lift late Thursday. 
Further complicating the situation is that, because of federal funding, many shelters can only take in migrants that have already been processed, not those who crossed illegally.
Authorities in El Paso said late last week that between 10,000 and 15,000 migrants in Juarez were potentially expected to come in with the lifting of Title 42.
The city said it had plans to open two empty schools as shelters this week, but it would be open only to processed migrants because it's federally funded.
Yohan Torres Ugas, a 39-year-old Venezuelan, said that while he was across the border in Juarez for two months, he tried using CBP One, a mobile app for migrants trying to get an appointment to seek asylum in the U.S. It did not work for him, he said.
"So I took the chance to cross over the wall, there was no other way," he said in Spanish.  
Torres Ugas is trying to seek political asylum for himself and his 19-year-old son as they stayed outside the Opportunity Center for about a week. On Tuesday, he held documents showing that the two had a receipt for filing their asylum application in El Paso, but he did not know if the documents allowed them to travel. They were also not yet allowed to work legally in the country.
"Our fear is that they'll deport us and we'll have to start over after everything it's cost us," he said. "It took us months struggling to get here, through the jungle, multiple countries, risking our lives. We cannot go back to Venezuela."
Torres Ugas said he wants to leave El Paso because of fears of growing anti-immigrant sentiment fueled by scenes of migrants camping out at the border city.
Once he gets enough money, Torres Ugas wants to move on, "being here so near the border there's a lot of issues that come up around us migrants, so we need to get out of this state," he said.
"It's difficult to move around here because we have no money. If we had money, we could go somewhere else."
In the city, nongovernmental organizations and churches have become a temporary stop for migrants without a place to stay.
The city told NBC News on Monday that some 2,500 migrants were camped around nearby Sacred Heart Church, with another 800 near the Opportunity Center who were mostly undocumented or unprocessed. Another 500-600 processed migrants were staying inside NGOs.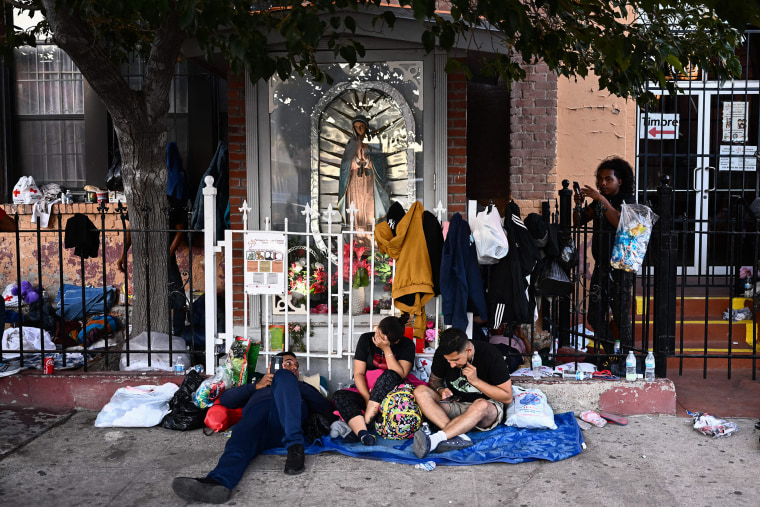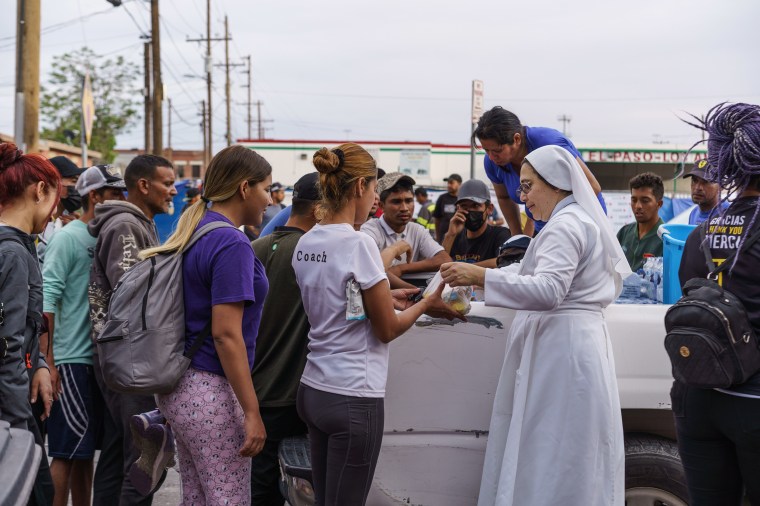 "We never had seen that before," Rafael Garcia, the pastor at Sacred Heart Church, said. Several months ago, the church also saw large numbers of people camped outside, but not to the extent of recent days.
Many people who have crossed the border lack the funds to pay for bus or plane tickets to take them to their next destinations and some of those who may have gathered enough money are too afraid to leave the areas around the shelter.
It "creates a bottleneck effect" keeping people in El Paso, Garcia said. 
"It is a humanitarian crisis where people are vulnerable. They don't have the funds. They don't know what to do. Just the sheer volume of people," he said.
The Department of Homeland Security said it has been increasing resources and personnel to support border operations to speed up processing and help mitigate potential overcrowding at stations. They've also increased funding and capacity for organizations that receive migrants after they have been processed.
Fear, followed by 'hope'
Groups of people who had crossed the border without documentation went over the potential risks again and again of turning themselves in, arguing over what they should do.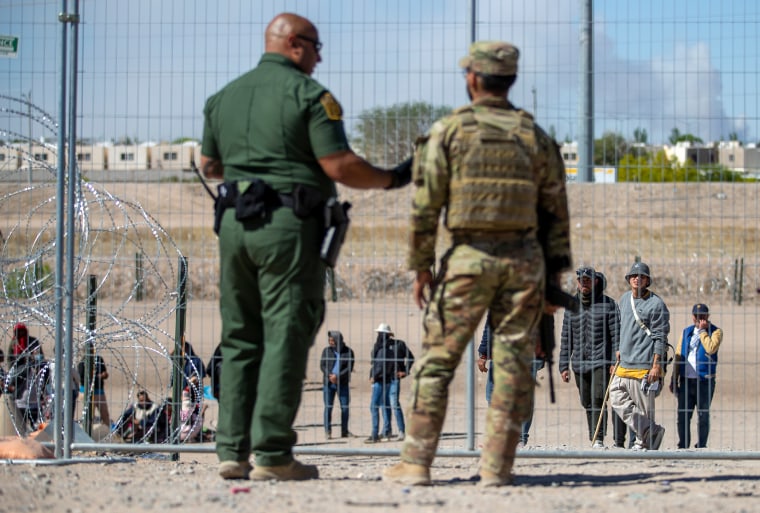 Rosa, a 31-year-old Venezuelan, said some were motivated by fear of what the end of Title 42 would mean for those already in El Paso who crossed illegally. Rosa previously turned herself in but she is concerned for her nephew, who crossed into the U.S. illegally.
"Everyone's afraid for the end of Title 42, that they'll expel us, that they won't process us," said Rosa, who asked that her full name not be used for fear of retribution for herself and her family by immigration authorities. "So much sacrifice to get here for nothing."
But by midday Tuesday, hundreds lined up outside a CBP processing center to turn themselves in. 
Rosa sat in the shade; it had been three hours since her nephew went to turn himself in. Neither one of them has a cellphone, so she was anxiously waiting for his return.
"I'm really nervous," she said, sitting with her arms folded over her knees, occasionally rocking back and forth. 
She said her nephew wanted to turn back, but turned himself in after seeing that some other migrants who went in were released with documents.
"There is hope," she said.
Araceli Perez, a case worker at the Opportunity Center, said a majority of the migrants who had been staying outside made their way over to the processing center on Tuesday. Some returned, excited to have received documents allowing them to travel, she said. Others were still waiting to be processed, she said, adding there were others still with criminal records or migrants from countries other than Venezuela who she heard were expelled or deported.
By Wednesday, fewer migrants were seen around the church and homeless shelter. 
"It's giving us a chance to breathe a little bit," Martin said, adding that the center would focus on preparing for the next groups of migrants to come.
"We've been trying to prepare ourselves for the worst case scenario," he said. "We simply just don't know."