WASHINGTON — At a recent family gathering in Tijuana, Mexico, Mexican political strategist José Adolfo Ibirraniaga chatted up his U.S.-based relatives about their presidential election and their vote.
After Israel Navarro, also from Mexico, posted to Facebook information about the Latino get-out-the vote campaign he helped launch Monday, it was his aunt Teresa in the U.S. who gave it its first like and share.
These international family ties are the origin of the Diles Que Voten (Tell them To Vote) campaign, started by a group of political strategists and advertising agencies whose organizers are based in Latin America, but have relatives and family in the U.S. The campaign was announced Monday at the National Press Club.
Its aim is to boost Latino voter turnout in the U.S. to 15 million this election through online ads in Spanish with English subtitles that tap into connections Latino families may have back in their countries of origin and in the U.S.
The ads hit at the immigrant roots of Latino families and tell viewers in Latin America that they and their families in the U.S. have a stake in the presidential election.
"The conversation about the U.S. election is heard at all the tables of Latin America, because the Latino community is part of the campaigns," said Roberto Trad, a political strategist who has been involved in more than 40 electoral campaigns in Mexico, Ecuador, Colombia and El Salvador and was educated in the U.S.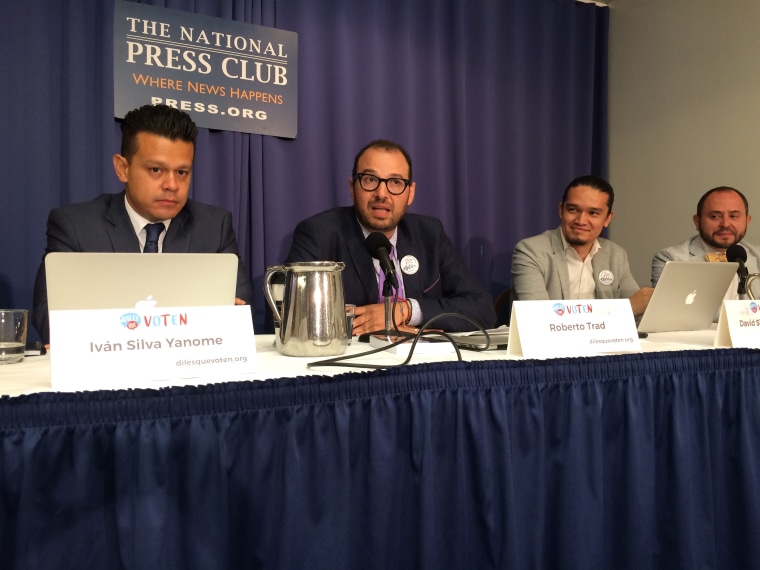 "Due to the campaign and the contents of the campaigns, it is interesting for Latin Americans back home," Trad said.
Trad is the co-creator of the Compass Method for mapping public opinion and political strategies and wrote "El Arte de La Guerra Electoral" (The Art of Electoral War) with Ibirraniaga.
The script of one of the ads spells out what's at stake for those in Latin America with family in the U.S.:
"We know that the possibilities for Latin Americans to study, work or visit our families in the U.S. depend greatly on the next U.S. president," the ad says. "but also the quality of life, security and peace of our families that live there."
RELATED: SXSW: Voto Latino Launches Voter Registration App
"If you have friends or families who live in the U.S. and are eligible to vote, tell them to register and vote," the ad says.
The campaign was created by several businesses and professionals from various industries that formed a non-partisan, international non-profit, which Trad said is focused on promoting Democratic culture and values.
Six Latin American countries are represented in the group: Ecuador, Honduras, Argentina, Colombia, Mexico and Chile. The organizers said they are using their own resources to do the campaign.
"Latino voters are moved by family values and by their friends' values — Latino voters and Hispanic voters in their own countries learn Democratic values from their homes, learn Democratic values from their families, so this campaign tries to go back to the families of the Latinos to involve them in promoting Democratic values," Trad said.
Trad's grandmother was born and raised in Brooklyn and was an American immigrant to Mexico.
"She educated us in my house [on] American Democratic values. I learned to vote from my grandmother, who couldn't vote, by the way, because she was an American citizen," said Trad.
RELATED: As Dems' Primary Saga Plays Out, California Latino Voter Registration Surges
There are a record 27.3 million Latinos eligible to vote this year. But in 2012, just 48 percent of those eligible voted. Projects are that about 13 million will vote this year, although there is some hope that the campaign of Donald Trump may drive up Latino turnout.
There are many U.S. groups that are working on turning out Latino voters, although some have complained of a lack of investment compared to previous years in turning out Latino voters.
The effort, said Trad, is to attack the problem of low Latino turnout "at its root."
"No other campaign or no other effort in mobilizing Latino voters is done in the countries of origin," he said.
Navarro said that based on their research, they've found that Latinos vote not only on issues, such as health, education or economy. He said there also is an emotional factor in voting. With focus on issues, the mind of the Latino voters can be won but not their heart, he said.
"Ads that are typically made for Latinos in the U.S. that are a translation from English to Spanish result in little inspiration for them," he said.
They liked to be reached as a part of a community of workers who built this country, they have great pride in being Latino and their main driver is their family, he said.
The group doesn't endorse or support a candidate or party and Trad said it's aim is to "raise the voice" of Latino voters. Pressed on whether Donald Trump and his campaign message, including calling Mexicans rapist and people bringing drugs and crimes, has been part of the reason for the campaign, Trad declined to criticize the candidate.
"I don't know if those camapaigns you are mentioning are the consequence of the Latino voice not having been enough in the past," Trad said. "With Latino voice rising those campaigns will have a different attitude in future."