Before becoming a music sensation, Miami-born Dominican singer Amara La Negra grew up between people who embraced her blackness and those who didn't.
"In my own [Dominican] community they would offend you by saying "la negra esta," (this black woman), Amara La Negra said in an interview with NBC News.
As a result, Dana Danelys De Los Santos adopted the artistic name Amara La Negra, Spanish for Amara the Black Woman, an act of defiance against those who criticize her blackness or use the term as a slur.
With her Afrolatinidad front and center, Amara La Negra successfully broke into the Latin American music market in the mid-2010s. As she now looks to cross over into the American hip hop music scene, Amara found that many in the U.S don't seem to understand her Afro-Latino identity.
"It's shocking to a lot of people that there are black people that speak Spanish and that they're not only in the United States," said Amara, whose appearance in the VH1 reality TV show Love and Hip Hop Miami stirred a heated conversation about racism and colorism.
Amara's rise to the top comes at a time when Afro-Latino representation in media has been steadily declining since 2013, according to a study commissioned by Columbia University. At the same time, nearly a quarter of U.S. Latinos identify as Afro-Latino, according to Pew Research Center.
"You don't see black people, and when you do see them, they are the gangsters or the prostitutes and it's just sad. Why can't I be a protagonista? Why can't I be the main character?," said Amara, who blames the lack of Afro-Latino representation as "one of a lot of reasons why people don't acknowledge us."
"Or like they do in a lot of news stations, they'll have — not mentioning any names wink, wink —they'll have one black person, not too dark, kind of there, so that you don't feel there's racism," she said.
Confronting racism, colorism and forging ahead
Racism has long been part of Latin American and U.S. history, from slavery to segregation, but within racism there is prejudice or discrimination based on a person's skin color or shade, often referred to as colorism.
For Afro-Latinos, colorism is a double whammy. Among Latinos, they're often deemed too black to be Latino. Among African-Americans, they're considered too Latino.
"To a certain extent, it's not only colorism. It's also a racial issue. It's a cultural issue," Amara told NBC.
Afro-Latinos in the U.S. are often "caught between three axis," said Ana-Maurine Lara, author and assistant professor in anthropology at the University of Oregon: "the colorism that is present in the U.S. and in their home countries, the traditional racist ideologies in the U.S., and the longstanding stereotypes in Hollywood and the media about who is Latina and who can be Latino, Latina."
Amara La Negra has been navigating these her entire life.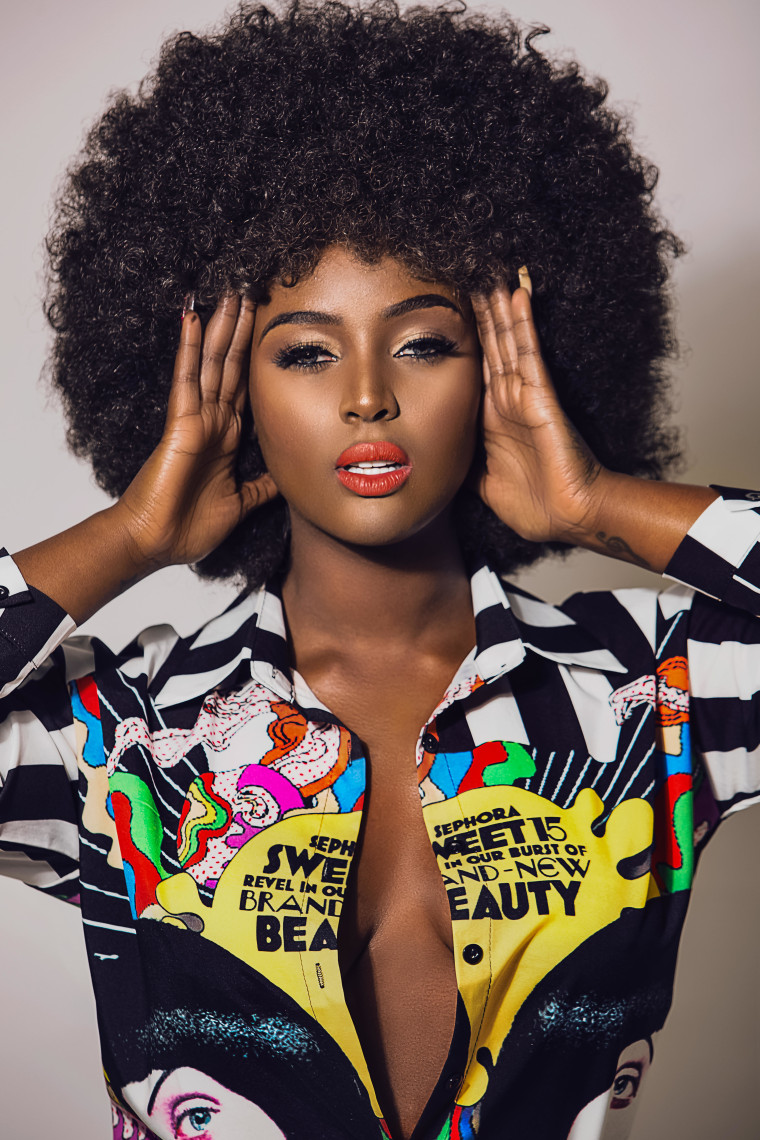 "I used to come home crying, because I'm a crier. I'm emotional, and I would say 'Oh my God, in school they said I look like a monkey'," Amara recalled.
"So my mom was always there to make sure that I never felt any less than anybody else; she would always have those encouraging words: 'You're beautiful, you're strong, you're a queen, don't let anybody feel like you're less," Amara said.
That confidence her mom instilled in her has come in handy as she has navigated her steady climb in the entertainment industry amid tough criticism.
"It's sad that I feel the need to defend myself all the time, even from people that look like myself," said Amara. She has weathered criticism for wearing hair extensions to style her Afro and faced accusations of doing blackface and taking melanin shots to make her skin darker.
Amara brought attention to these issues throughout her appearance in VH1's Love and Hip Hop Miami, which centers on the lives of eight cast members who are part of the Miami music scene. Amara's story line started off with her infamous interaction with the producer Young Hollywood, who is of Puerto Rican descent.
She sought him out for advice as she was aiming to cross over into the U.S. hip hop scene after her success in the urban Latin music scene. Instead of asking Amara about her music, he asked if she could get rid of her afro in order to appear more elegant — not acknowledging that her signature hairstyle had a deeper meaning.
"As an Afro-Latina I embrace it [her afro]," Amara replied to Hollywood. His answer: "Afro-Latina? Elaborate. Are you African or that's just because you have an afro?"
"There are so many people that have his mentality: that you have to look a certain way in order to be beautiful," Amara told NBC.
But Amara is forging ahead. About a month ago, she signed multi-million dollar contracts with BMG, Fast Life Entertainment, and United Talent Agency. She's now working her first U.S. album with producers who do music for Beyoncé, Nicki Minaj and Rihanna, focusing on "American music with a Caribbean feel," she said. Amara grew up listening to the tropical rhythms of Tito Puente, Olga Tañón, the late Afro-Cuban legend Celia Cruz and Milly Quezada.
Even though her single 'Insecure' is set to drop in March, Amara gave fans a taste of her new music with a catchy pop-dembow song 'What A Bam Bam' that dropped Feb. 13th on TIDAL.
As fans await her full album, Amara said she wants to impact the new generation into building their confidence and their strength.
"That's how I felt about Celia Cruz; if she only knew the impact she had in me. She was the only person I could look up to that made it worldwide," Amara said. "I would love to be able to be that person for other girls and for other kids growing up."
Jillian Gonzales, a production assistant for NBC News, contributed to this report.