The publisher of Jeanine Cummins' "American Dirt" has canceled the remainder of the author's book tour, citing security concerns.
"Jeanine Cummins spent five years of her life writing this book with the intent to shine a spotlight on tragedies facing immigrants," Bob Miller, president and publisher of Flatiron Books, said in a statement to the Associated Press Wednesday. "We are saddened that a work of fiction that was well-intentioned has led to such vitriolic rancor. Unfortunately, our concerns about safety have led us to the difficult decision to cancel the book tour."
While the much-anticipated "American Dirt" has been championed by high-profile celebrities, like Oprah, who picked the novel for her latest book club pick, it has also been the the subject of continued criticism from Latinos and other people of color since its release Jan. 21. Many of its critics have censured the book for what they argue is a stereotypical and opportunistic narrative about immigration, and some have even suggested that Cummins lifted elements of the story from Latino writers.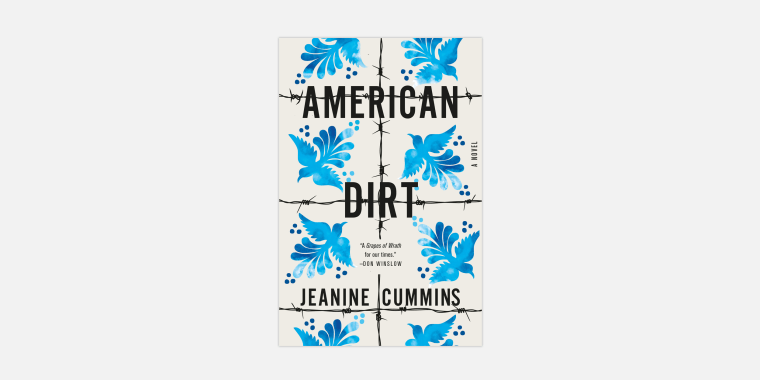 The book is about a Mexican bookstore owner who migrates toward the U.S. border with her son after her journalist husband and other family members are killed by a ruthless drug cartel.
Eighty-three prominent writers from diverse backgrounds, including Jennine Capó Crucet, Alexander Chee, Nicole Chung and Lilliam Rivera, signed a letter addressed to Oprah Wednesday, urging the media mogul to rethink her promotion of the novel.
"This is not a letter calling for silencing, nor censoring," the letter, which was published on LitHub, read. "But in a time of widespread misinformation, fear-mongering, and white-supremacist propaganda related to immigration and to our border, in a time when adults and children are dying in US immigration cages, we believe that a novel blundering so badly in its depiction of marginalized, oppressed people should not be lifted up."
For many, the "American Dirt" saga has highlighted the lack of diversity in the publishing industry. According to the latest diversity survey from Lee & Low Books, which was released on Tuesday, nearly 80 percent of books publishers and agencies are white. Latinos make up 6 percent of the industry as a whole and 3 percent of the industry's leadership.
Miller said that the criticism "has exposed deep inadequacies in how we at Flatiron Books address issues of representation, both in the books we publish and in the teams that work on them." He added that the publisher "should never have claimed it was a novel that defined the migrant experience" nor used Cummin's formerly undocumented husband in its marketing of the book as an authentic immigration narrative "while not specifying that he was from Ireland."
As an alternative to the book tour, Miller announced that Flatiron Books will be hosting "townhall meetings," which will bring together Cummins and those who've raised objections to the book for a discussion.
The pushback against the publishing industry concerning "American Dirt" may be far from over, however. #DignidadLiteraria, an initiative created by authors Roberto Lovato, David Bowles and Myriam Gurba that calls for Latinos to share their own stories and stage actions, is criticizing Flatiron Books for canceling the book tour, stating that doing so is an "unnecessary infringement of speech."