MIAMI — Milexy Méndez, a journalist from Caracas, said she cried every day for a week after her family's tourist visas were revoked last month by the U.S. Embassy in Venezuela, forcing them to cancel a trip to Miami to visit relatives just days before leaving, losing $1,400 in airline tickets.
She is not alone. The number of Venezuelans having such visas revoked by the embassy has risen sharply in the past four months, Miami based Venezuelan organizations and immigration attorneys say.
The embassy's actions come as Venezuela is in the grip of an economic and political crisis that has seen a surge in citizens leaving the country and in Venezuelans already in the United States seeking asylum. Many Venezuelans say they believe the visas are being revoked in an attempt by the U.S. to stem that flow.
Méndez, 31, and her husband, Rafael Carballo, have traveled to the United States in the past without incident. In last April, they went to the American Embassy in Caracas with his 87-year-old grandmother so she could be interviewed as part of her visa application. At the end of the appointment, his grandmother's visa was denied and his was revoked.
"They did not give an explanation why," Méndez said.
The same day, she received an email, later viewed by NBC News, stating that "the U.S. Department of State has the intention of revoking your visa in the coming days." It said Méndez had five days to discuss her case with a consular official.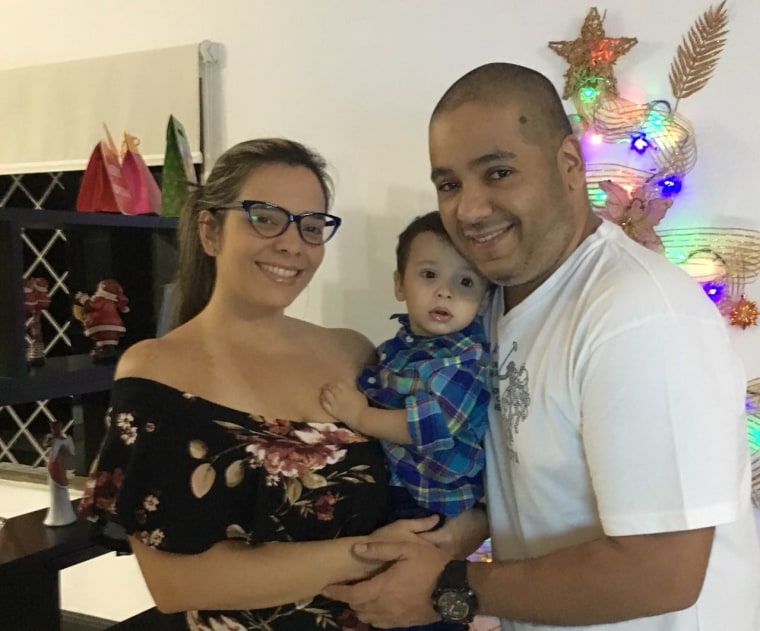 To prove she intended to return to Venezuela, she arrived at the appointment armed with binders of papers documenting that she is employed, and that she owns a home, cars and businesses with her husband. At the end of the interview, her tourist visa and her 18-month-old son's were revoked.
"It's alarming, it's sad and it's humiliating," she said.
Nonprofit Venezuelan organizations in Miami and immigration attorneys, as well as Venezuelan nationals like Méndez interviewed by NBC News, allege that such visa revocations have surged in recent months. In many instances, they said, Venezuelans with valid visas were trying to obtain a new one for a family member, and after that visa was denied, the rest of the family's visas were revoked.
José Colina, the president of a Venezuelan exile organization in Miami, said he had heard of close to 40 such cases since January.
"This is causing alarm among Venezuelans because their visas are valid." he said. "They are just applying for other relatives."
"I have never seen this amount of canceled visas, for no apparent reason — for Venezuelans or other nationals," said Nada Sater, a Miami immigration attorney.
The State Department did not respond to requests for comment about the tourist visa revocations. The department does not publicly release data regarding revocations, and many of the Venezuelans whose visas were revoked said consular officials did not offer an explanation.
However, a State Department official noted that American embassies have broad authority to revoke visas at any time if it is determined that a visa holder may be inadmissible to the U.S. or otherwise ineligible for a visa.
The U.S. requires visas for visitors from Venezuela. Likewise, American citizens need a tourism visa to visit the South American country.
Asylum applications are on the rise. So are visa denials.
Venezuela's economic and political crisis has spurred one the largest migration flows in Latin American history. The result has been a massive exodus of Venezuelans. Independent groups estimate that 3 million to 4 million Venezuelans have fled the country in recent years.
In the U.S., the number of Venezuelans seeking asylum has soared. During fiscal year 2017, 27,629 Venezuelans applied for asylum, far more than citizens from any other country. In 2015, that number was just 5,605, according to U.S. Citizenship and Immigration Services (USCIS).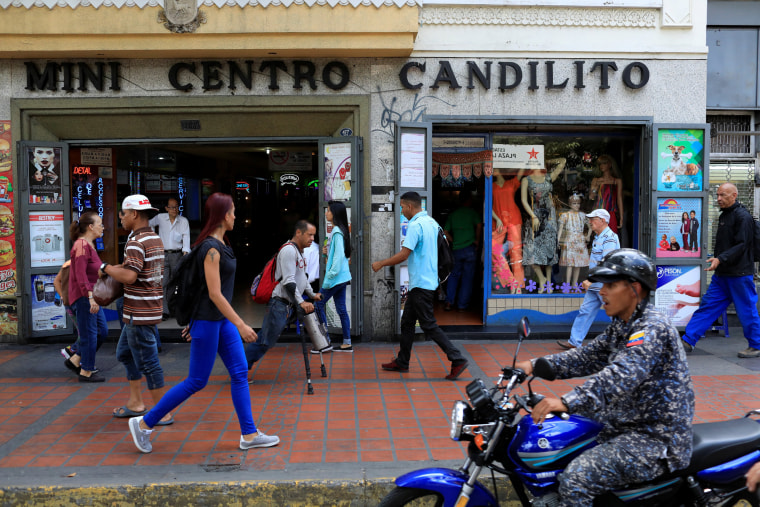 Though none of the people interviewed by NBC News whose visas had been revoked say they had intended to stay in the U.S., a large number of Venezuelans who enter the U.S., mostly through Miami, on tourism visas do end up applying for asylum.
Sater, the immigration attorney, said that she grew concerned in March after several Venezuelan clients in the U.S. came to her with the same complaint: Their relatives in Venezuela had had their visas revoked.
"It's strange," Sater said. "I think it's going on because they want to stop the influx of Venezuelans from coming into the country."
Responding to NBC News via email, USCIS spokesman Michael Bars, said asylum claims have skyrocketed across the board, "largely because migrants know they can exploit the U.S. immigration system in order to avoid removal and remain in the U.S."
"Every means in accordance with the current law is on the table to protect the integrity of our immigration system from those seeking to exploit it by bogging it down with meritless or fraudulent claims, and undermine lawful petitioners," according to Bars.
The number of nonimmigrant visas issued to Venezuelans has fallen drastically, from 239,772 in 2105 to 47,942 last year, according to State Department statistics.
However, there was a period from May 2016 to this January in which the embassy was unable to schedule new appointments for applications for non-immigrant visas because of a staff shortage; since then there has been an increase in staff.
According to the State Department, the resulting drop in appointments during the staffing shortage could have led to the decrease in visas. But a comparison of this year's monthly numbers to last year's still shows a decline. For instance, in March 2017, when new visa applications were not being accepted, 4,327 visas were issued. Now that new applications are being accepted, that number dropped to 1,045 this March.
Venezuelans have vented their frustration on the Instagram page of the U.S. Embassy in Venezuela. Some have complained in Spanish that their visas were revoked for no reason, while others pleaded with U.S. Sen. Marco Rubio, R-Fla., to intervene on behalf of their families.
Some Venezuelans have said that the visa revocations and denials are separating them from their families — a growing number of Venezuelans in the U.S. cannot return to their homeland because of political reasons.
The revocations and denials come at a steep price. Each visa application costs $160 — a hefty price in a country where the average monthly salary is about $7. Many Venezuelans say they are spending too much just to be denied.
In March, Gabriela, who did not want her real name used so as not to antagonize U.S. embassy officials, filled out an online form to renew her children's tourism visas. They were planning to spend a couple of weeks in Miami this summer visiting family.
She had previously obtained visas for her sons, now 7 and 9, but never used them, and the visas were about to expire. A friend of hers recently had her visa revoked, so Gabriela, 32, said she used her contacts to arrange for two U.S. elected officials to send letters of support to the embassy.
To her astonishment, on the day of the interview, not only were her sons' renewals denied, her 10-year tourism visa was revoked.
She said she took documents to prove that she owns businesses and properties and cares for her 98-year-old grandfather in Venezuela, and that she had no intention of staying in the U.S.
For the past 25 years, she has traveled to the U.S. with a tourist visa, but she said the consular officer this time did not appear interested in the documents.
"All he asked to look at was my passport," Gabriela said. "He asked me five questions, walked away, and returned saying my passport had been revoked. He never gave me a reason why."
She was dumbfounded and angry.
"I did not have plans to stay in Miami. Now my sons cannot meet their family," she said. "I feel frustrated and deceived."