WASHINGTON, D.C. — The Orlando shootings really hit close to home for Joanna Cifredo, a policy analyst in the nation's capital. Cifredo is a transgender woman who grew up in Orlando and was a frequent patron of the nightclub PULSE before moving to D.C. to take a job with the National Center for Transgender Equality.
Cifredo was looking forward to the plans her former high school classmates had made for an upcoming reunion.
"We talked about what we were going to be doing —and we all talked about going to Pulse on Saturday night, because Saturdays was Latin Night and we could see all our old friends," Cifredo said.
"But I watched the news and saw how a place that had once brought so much joy to me and to so many of my friends became a scene of such devastation," she said between tears. Her school has postponed her class reunion until late August.
"The Latino and the gay communities have both come a long way, but in so many ways when you venture out of the major cities, it's like the 1950's out there."
Cifredo was speaking at "Queer Brown Voices," a panel discussion on Thursday sponsored by the Smithsonian Latino Center and the Human Rights Campaign that focused on the history of Latinos and Latinas in the LGBT movement to coincide with Pride Month.
While the event was planned well in advance of the Orlando shootings, its aftermath was inevitably a part of the conversation.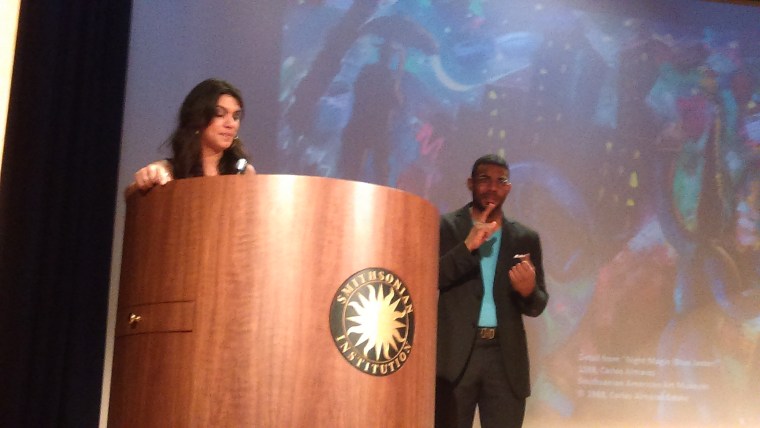 "I didn't want to do this (speak at the event). I didn't think I had it in me to talk about this. The pain is all consuming and resides as a weight on my shoulders and a pulsating pain in between my temples," Cifredo told the gathering at the Smithsonian's National Museum of the American Indian.
"Then I thought about the generation of us lost to AIDs and how healing it must have been to tell our stories and to remember their faces, and in doing so I'm finding a road map to healing. In the end I am activist and to be an activist you must act. I made a commitment to myself that I will resist being afraid and refuse to act out of fear."
Dan Guerrero is an acclaimed director, producer and community activist who has performed his autobiographical show "Gaytino!" across the country. Guerrero, who moderated the discussion, said the tragedy in Florida needs a deeper look.
"We hear that it may have been an anti-gay attack, that he (the gunman) may have had repressed feelings, but what if what happened was also an anti-Latino thing? Is it just coincidence that it was Latin night (at the club) during Pride month? We may never know, but I'm surprised that it hasn't come up more," Guerrero told NBC News Latino. "That guy planned everything out so well. I can't believe that that (targeting the Latino community) wasn't a part of his mission."
RELATED: Latino Community Hit Hard in Orlando Shootings, Most Victims Were Hispanic
Editors from the 2015 book "Queer Brown Voices" discussed how LGBT Latinos have fared throughout the years. While enormous strides have been made, Guerrero said much still needs to be done.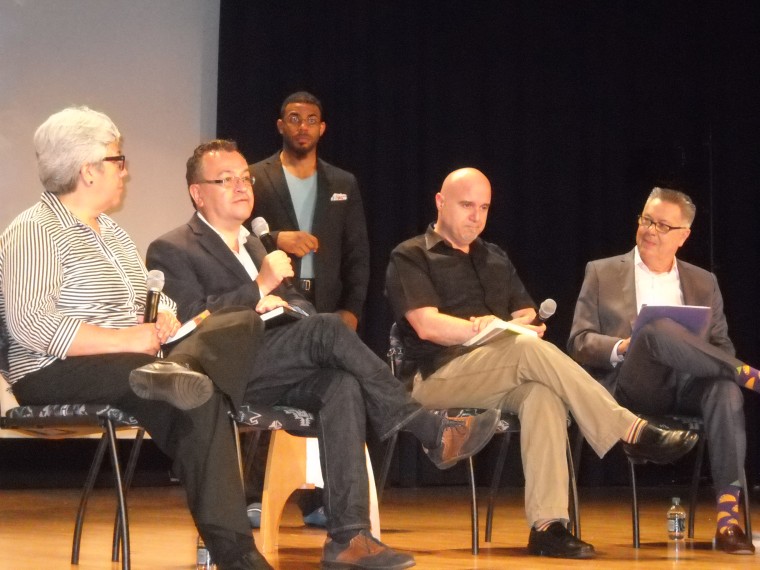 "There are still divisions between the general gay population and gay Latinos, and between gay Latinos and the general Latino community," Guerrero said. "The Latino and the gay communities have both come a long way, but in so many ways when you venture out of the major cities, it's like the 1950's out there. We're still something foreign and different."
RELATED: Latino Groups Mobilize to Provide Long-Term Services After Orlando Shooting
Cifredo says that while she is enormously sad about what happened in Orlando, she refuses to let it silence her.
"We have people who have endured colonization, condemnation, modification, criminalization, defamation, discrimination, victimization, dehumanization, exploitation and intimidation. And yet despite all this, we're still f***ing here!"