Residents of Puerto Rico voted overwhelmingly Sunday for statehood in a non-binding vote. The turnout was historically low, however — almost eight out of 10 voters did not participate.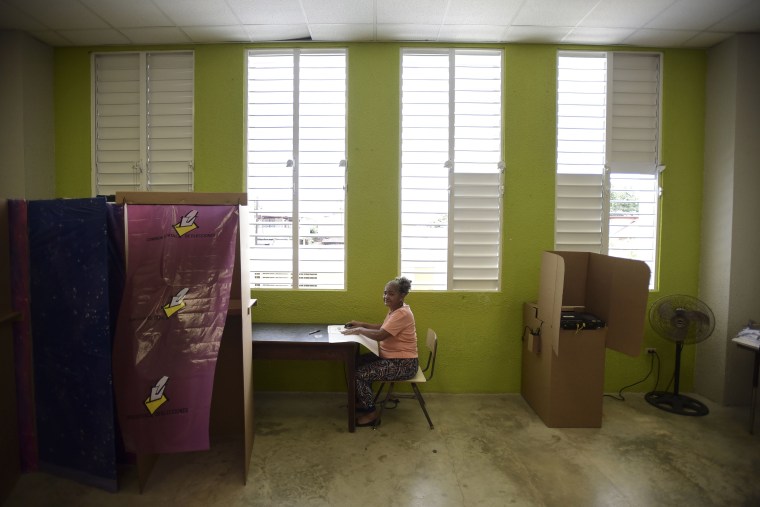 As of 7 p.m. ET, the island's election commission (CEE in Spanish) had reported that about 23 percent of the island's eligible voters had cast ballots, or about 500,000 votes. About 97 percent of the votes were for statehood.
The island's governor, Ricardo Rosselló from the New Progressive Party (PNP in Spanish), along with his government, had been pushing for a "yes" for statehood as the best way to grapple with Puerto Rico's crippling $73 billion debt.
But the island's other two main political parties had pushed for a boycott of the plebiscite, and it showed in the turnout numbers. About 1.3 percent voted for the current commonwealth status and about 1.5 percent voted for independence.
The president of the Popular Democratic Party, (PPD in Spanish), which favors the current commonwealth status, said after the vote that "statehood-ers shot themselves in the foot."
"Eight out of 10 voters went to the beach, went to the river, went to go eat, went to go hang out, went to church, but they sure didn't go out to vote," said PPD president Héctor Ferrer at a San Juan press conference. "Gov. Rosselló is now going to go to Washington and say this (statehood) is what people wanted. But we're going too to say no, that's not true and the numbers speak for themselves."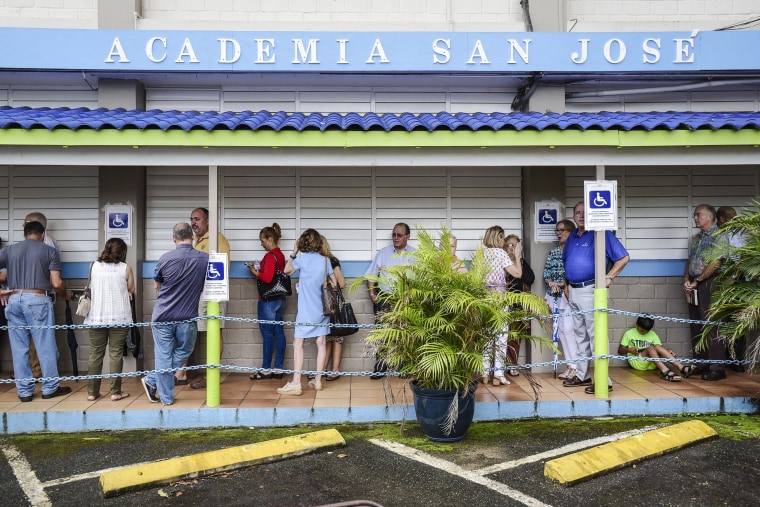 Puerto Rico historically has had high turnout in most elections. In the last plebiscite held in 2012, more than 1.9 million people voted, and 800,000 chose statehood. In 1993, nearly 2 million Puerto Ricans voted.
But following the results, Gov. Roselló said "An overwhelming majority voted for statehood. Today we are sending a strong and clear message for equal rights as American citizens. This was a democratic process and statehood got a historic 97 percent of the vote."
"The federal government cannot ignore the results of this plebiscite and the will of our people," said the governor. "It would be quite ironic to demand democracy in other parts of the world but not in their own backyard. This is our home."
RELATED: Puerto Rico Holds Vote Sunday on Statehood Amid Criticism Over Timing, Costs
As a U.S. territory, Puerto Rico does not elect members of Congress. But the island's representative in Congress, Resident Commissioner Jenniffer González, is pro-statehood, and she said Sunday in San Juan that she is creating a "Friends of Puerto Rico Caucus" in Washington to advocate for statehood and push the process along once the results are certified.
"As Resident Commissioner I will take this to Congress and defend it," González told reporters. "I am taking it not just to Congress but to other forums, such as the Organization of American States."
Ultimately, it is up to the U.S. Congress to decide whether to take up the issue of Puerto Rico's status.
Emilio Martínez, a retiree and statehood supporter, told NBC Latino that he was glad that he was able to vote. "If you don't vote, you don't participate and you don't have a say. There weren't too many people voting when I went this morning, but I live in a town outside of San Juan controlled by one of the opposition parties and they had urged people to boycott the plebiscite, so many people stayed away. But that doesn't matter to me. Voting is our right and I am exercising my right."
He added: "And this is just the beginning of a process to tell the United States how we feel and that we want to be a part of the States. We deserve to be treated equally like any other U.S. citizen. But nothing happens overnight. This is just the beginning."
Federico de Jesús, a Washington consultant and a former Obama administration and Puerto Rico government official, says the plebiscite was unnecessary and costly.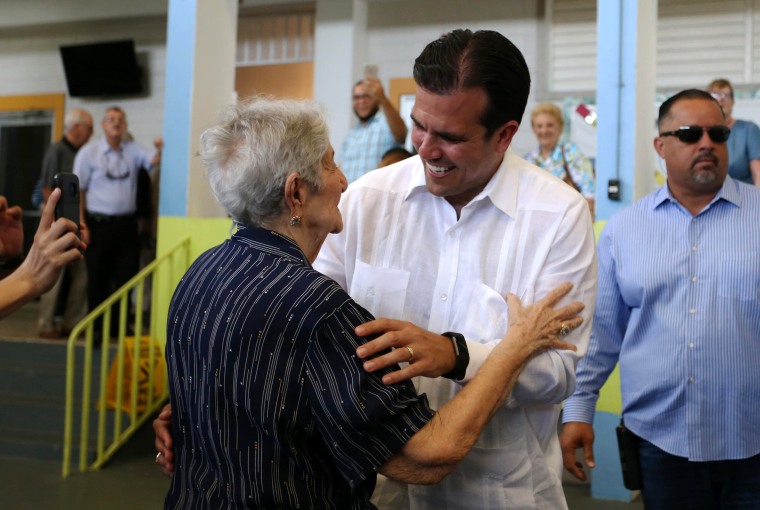 "This vote was a waste of precious resources at a time of severe fiscal constraints," he said. "Sadly, today's vote will thus go down in history as yet another non-binding glorified poll with no real effect on resolving Puerto Rico's relationship with the United States."