Eddie Monroy, 27, was born and raised in upstate New York. His parents are Honduran natives who have been living in the U.S. legally for almost two decades thanks to Temporary Protected Status, or TPS, first granted to Hondurans after Hurricane Mitch ravaged the country in the late 1990s.
If the Department of Homeland Security doesn't extend TPS for Hondurans past July 5th, nearly 60,000 people are at risk of losing it, including his parents. Monroy's parents would be returning to a country they have not seen in decades and that's facing massive political unrest.
They could stay in the U.S. legally if their son is able to sponsor them. "I understand that the process could take one to three years and it's only year one," said Monroy, a business consultant. He recently hired an immigration attorney to help him with the sponsorship.
"We don't know how fast we can get the process started," he said. "It's me against the clock. I'm just afraid I'm going to run out of time."
More than 400,000 immigrants in the U.S. are TPS beneficiaries, a program that gives protections to people from countries "unable to handle the return of its nationals adequately" due to armed conflicts or environmental disasters.
Though previous administrations kept on extending beneficiaries' TPS status, the Trump administration has taken a different stance. In November, DHS ended TPS for 60,000 Haitians who arrived after the 2010 earthquake, giving them an 18-month period to leave. In November, the administration announced they would not extend TPS for Nicaraguans, saying the country was recovered from Hurricane Mitch and gave them 14 months to leave the U.S.
The administration deferred their decision on Honduran TPS holders until the summer. On Wednesday in New York City, activists and experts warned against ending TPS status for Honduran Americans, given the country's current situation. They joined Alianza Americas, a transnational network of immigrant organizations, on an U.S. tour to talk about the country's recent events.
Honduras is among the countries with the world's highest rates of murder, violence and corruption, according to Human Rights Watch. Roughly one in five Hondurans live in extreme poverty, according to the World Bank. It is also the Latin American country with the highest level of economic inequality.
Over the years, rampant crime and gang activity have fueled large immigration waves to the U.S. Many Hondurans living in the U.S. have fled gang violence perpetrated by MS-13 and rival gang Barrio 18 as these networks and drug traffickers have expanded their hold in Central America. Others are political or economic exiles.
"People start to migrate because they can't find security, or employment, because they don't have enough to eat or where to live," said Claudia Mendoza, a consultant at the Center for the Study of Democracy, CESPAD and a Univision correspondent.
"Now, to that violence, you have to add the political violence," said Joaquin Mejia, a human rights lawyer and researcher at the Reflection, Investigation and Communication Team known as ERIC.
The current hostile political climate in Honduras surfaced this past November due to fraud allegations in recent elections, when public vote count updates were abruptly interrupted. Before the halt, candidate Juan Orlando Hernandez was at a disadvantage with nearly 60 percent of the vote counted. Over 24 hours later, the results shifted and Hernandez ended up winning over opponent Salvador Nasralla.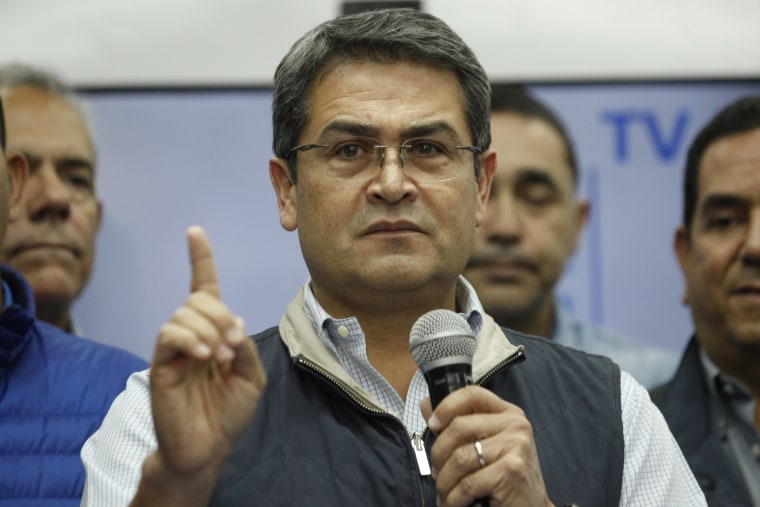 Hernandez became the first candidate in Honduran history to run for re-election after hand-picking a Supreme Court that lifted the country's Constitutional ban on re-elections in 2015.
Last year's election results sparked outrage and thousands of people took to the streets — leading President Hernandez to impose a military-charge overnight curfew across the nation. At least 30 people were killed during the massive, violent protests.
Amid protests and the Organization of American States' (OAS) call for a re-election after finding "irregularities and deficiencies" in the Honduran electoral process, the United States recognized Hernandez's win, and Jan. 27th he was sworn in for a second term. A month before, the U.S. State Department announced it was recognizing Honduras for advancing human rights and cracking down on corruption, paving the way for millions of dollars in U.S. aid.
Critics such as Mejía said the U.S. endorsement of Hernandez's second term amid the electoral controversy sent a "terrible message" to people in Honduras and Latin America. "It means that democracy doesn't work in order to change a regime," he said.
In the meantime, Mejía said more Hondurans are seeking asylum and trying to leave in the election's aftermath and the ensuing violence.
"You have the government of Donald Trump, he's taking away protections like TPS and DACA, then raises the standards for people seeking asylum, at the same time promoting a violence that causes more people to leave," added Mejia.