WASHINGTON — There may be tensions between the United States and Venezuela, but another form of diplomacy involves teens, trips and yes, Dollywood.
Even while the situation between the governments escalates —with the Trump administration banning certain Venezuelan officials from traveling to the U.S., an organization in Washington, D.C. has been quietly conducting its own version of diplomatic détente, bringing Venezuelan youth to the United States to experience life for several weeks.
The group hopes this will awaken a commitment to service and build understanding among people from different countries.
"Given the news we've seen and heard about Venezuela, programs for Venezuelan youth are ever more critical because they foster soft diplomacy between nations," says Summar Lyons, Senior Program Officer, Youth Leadership & Higher Education Initiatives at Partners of the Americas, headquartered in downtown Washington, D.C.
The program was founded in 1964 as part of the Alliance for Progress, initiated by President Kennedy in 1961 to establish economic cooperation between the United States and Latin America and improve relations between the two regions.
"The participation of Venezuelan youth shows that despite the tough circumstances occurring in Venezuela, youth are not and must not be forgotten or prevented from accessing opportunities," said Lyons. "Indeed, their experience in the program strengthens their motivation to tell the untold positive aspects of Venezuelan society."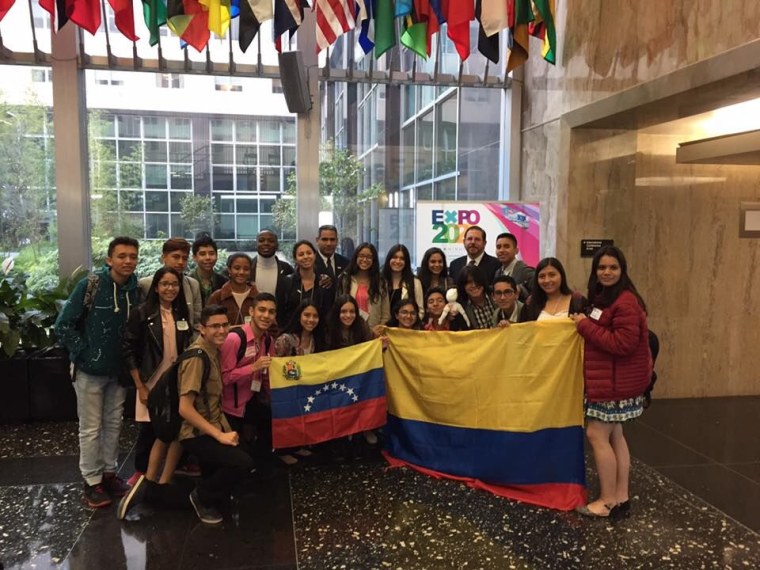 That is precisely why Rafael Jesús Rasse Villaroel, 16, wanted to join the program.
"Venezuela is much more than just a country with political problems. There are many historic places and the people are very nice. My city (Sucre) was the first to be founded in the American continent and many Americans don't know that," Villaroel told NBC News. "This type of program is a good way for us to share our culture and for Americans to share theirs."
Program participant Vanessa Maldonado, 15, said too many people have a wrong impression of Venezuela.
"Sure, there are problems, but with a lot of work things will get back to normal at some point," she said. Maldonado wants to study medicine and start a program to help people learn English.
RELATED: Go South! Youth Ambassador Program Fosters Ties, Connections to Latin America
Paula Delgado, 17, said she wants to start an affordable program in Venezuela to teach English to children. "English is a universal language and knowing it opens up doors," said Delgado, adding that she too wants to go into medicine to help others.
Carlos González Franco, a mentor who works with the teens, said one of the key points he wants the teens from Venezuela to take from this trip is how a democratic country such as the United States operates, warts and all.
"I want the students to learn how free people really live, how democracy really works, and now what they think they see is democracy. Many don't know what real freedom is. I want them to see how people here help others just because they want to," he said. "They can see how social projects work here in the States so they can apply what they learned to Venezuela because we really need it right now."
After several days of orientation in Washington, D.C., the youth are sent to live with host families in northwest Arkansas, including Bentonville and Fayetteville, and in Johnson City, Tennessee, – in the eastern region of the state near the Great Smoky Mountains.
The program purposely takes them away from the bright lights of the big cities in order to see a different part of the U.S. that is often ignored by international exchange programs, which send participants to better-known areas. While there, they work on a variety of projects, attend school with their host "brothers and sisters" and participate in "typical" American teen activities like sporting events and school dances.
RELATED: First-Generation College Students Form '1vyG'' To Support, Connect
"One of the highlights of my visit was seeing Dollywood and Bay's Mountain Park in Tennessee," said 15-year-old Luis Angel Hurtado Rendón. "I'm going to miss not only my host family, but also all the people I met because they were so friendly and received me with open arms. Tennessee is a great place and sometimes it reminds me of my city in Venezuela."
The Partners of the Americas program also includes students from Colombia, such as Víctor Pérez Díaz, a 16-year-old from La Plata, five hours southeast of Cali, Colombia. "Because of globalization we already know a lot about the United States, but to be there and experience it is something completely different."
As a budding guitarist, he was "thrilled" he went to Tennessee, especially Nashville. "I'm really interested in the musical aspects of the United States!"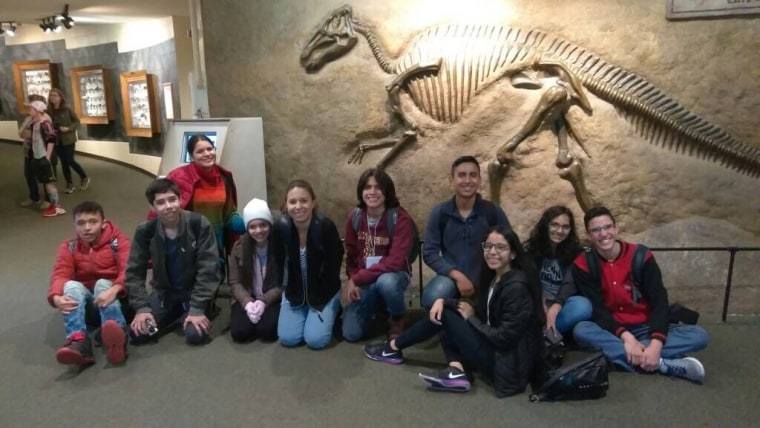 Partners in the Americas also sends U.S. high schoolers ages 15-17 to live for several weeks in Latin America as part of a cultural exchange program of "youth ambassadors." It is only the third program the U.S. State Department has ever funded for minors to participate in an international initiative.
Partners is an independent organization but does receive some funding from the State Department and other entities. The application process for both U.S. and Latin American teens includes a look at school grades, leadership skills, and commitment to community service.
The all-expenses paid program looks to ensure a diverse number of participants including teens who may not have had international travel experience because of a lack of resources.
"Beginning at this early age, it is absolutely vital that teens be exposed to a world outside of their daily contexts and comfort zones so that they may develop compassion and empathy for others, all while discovering similarities with the people they interact with," said Lyons. "Imagine the long-term commitment and countless contributions youth will make towards shaping long-term peaceful global affairs simply because their journey began on a high school exchange program."
And for Venezuelan teen Luis Angel Hurtado Rendón, his U.S. memories will include his great trip to Dollywood.