Two Latinos will sit atop the ballot in California's next election. Former mayor of Los Angeles, Antonio Villaraigosa, is running for governor, and Senate Pro Tempore Kevin De Leon recently announced that he will be challenging Sen. Dianne Feinstein for her seat in 2018. The pair make up a historic combination and illustrate the tectonic shift in politics that has been occurring in the Golden State for 30 years.
While Latino representation has been growing in the Golden State, the competition for governor and senator in California exposes systemic challenges Latino candidates will continue face into the future.
The first challenge for Villaraigosa and De Leon will be their chief competition. Villaraigosa will likely have to defeat Gavin Newsom, the golden boy of California politics and current lieutenant governor.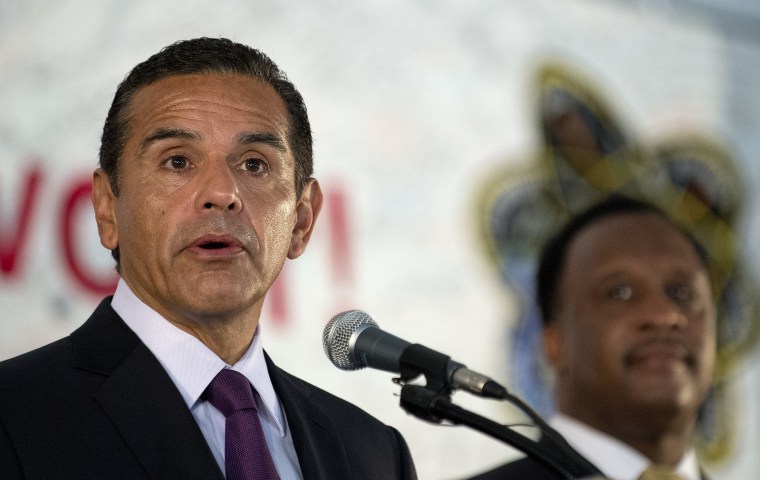 Handsome and well-educated, Newsom comes from wealth and a solid cultural background as the former mayor of San Francisco that earns him deep praise among the liberal elite in California. An early proponent of gay marriage and the legalization of marijuana, Newsom has risen ahead of the curve on important national issues that plants him solidly as the progressive candidate in a progressive state.
Perhaps this is why Villaraigosa, a native of East Los Angeles, has concentrated his efforts in the Central Valley and in Southern California. Though he has long considered himself to be a progressive politician, some say Villaraigosa will need to concede the far left and make appeals to the centrists of the state, where they are aplenty in the rich agricultural towns of Central California.
RELATED: Slew of Latinos Running in California U.S. House Race Bucking Norms
David Ayón, a professor at Loyola Marymount and expert on California politics, said Villaraigosa faces the same conundrum all Latino political candidates face, low turnout. "Southern California has more voters, but they tend to vote at lower rates," Ayón said.
His forthcoming book, Power Shift, details the rise of Latino politics in California and the transformation of national politics in a Donald Trump era.
"There's always been anti-Latino policies, but this is the first time that a national candidate ran explicitly on an anti-Latino platform. Look how he is treating Puerto Rico, it's an incredible response to the growth of Latino politics," Ayón said.
More daunting, however, is De Leon's competition, Feinstein, a fixture in California politics.
At 84 years old, Feinstein was born during the Great Depression, and was already in her first term as senator in the early 1990's when De Leon was cutting his teeth in politics as a community organizer after dropping out from college. He was known as a hustler, organizing against the infamous Proposition 187, the anti-immigrant bill credited for a generation of political careers, including Antonio Villaraigosa's, and for making Democrats the state's dominant party.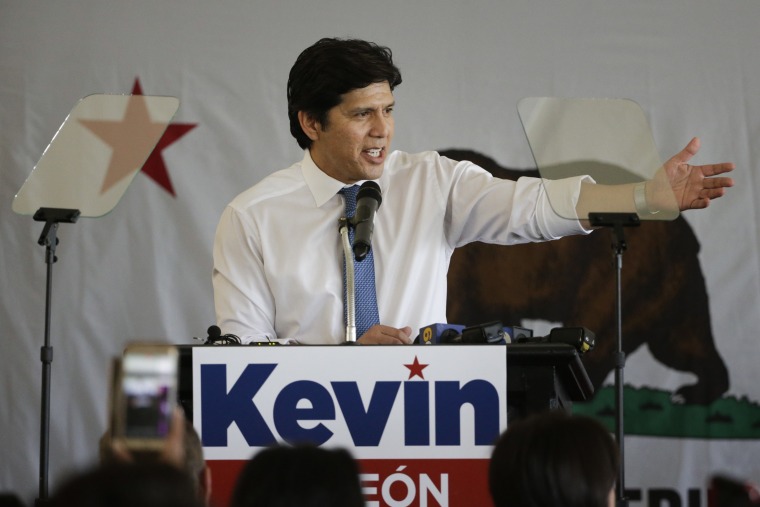 Somewhat ironically, it was at this time in their young political careers that Villaraigosa and De Leon witnessed a historical moment in Latino politics, the election of the first Latino to a statewide office in over 100 years. Cruz Bustamante won the office of lieutenant governor in 1998, a volatile era in California that would eventually end with the recall of Gov. Gray Davis in 2003.
Unlike Villaraigosa, however, De Leon is planted firmly to the left of his opponent. The rise of Donald Trump has brought an exercise in contrasts that only Californians can understand. Long viewed as a staunchly liberal politician by any measure outside of California, Feinstein's reputation among California liberals has dogged her for years as a pragmatic policymaker willing to cut deals with the right.
Feinstein shot a hole through the heart of her constituents when she spoke about Trump in a positive light. "Look, this man is going to be president most likely for the rest of this term," Feinstein said at the town hall meeting in San Francisco. "I just hope he has the ability to learn and to change and if he does, he can be a good president. And that's my hope."
This gained her a collective groan and presented an opportunity for De Leon to position himself as the anti-Trump candidate. Indeed, De Leon has gained a reputation for fervent dislike of the president.
While De Leon and Villaraigosa sit on opposite ends of the admittedly narrow California political spectrum relative to their respective opponents, one emerging question is how will the 2018 election play out with multiple Latinos running for statewide office.
The North-South divide has long been a symbolic division among Californians, however rooted in substantive historical rivalries in culture, economics, and politics. But the Latino heritage of De Leon and Villaraigosa could serve to boost the energy of each other's campaign.
Will voters view them interchangeably, as Ayón suggests could be possible, or will voters view them differently given that they are both running on opposite sides of their political opponents' political spectrum?
Political scientist Stephen A. Nuño is an associate professor at Northern Arizona University.