SAN JUAN, Puerto Rico — The words "hundreds of thousands" and "mass protests" have never before been used to describe events in an island where some of its residents peacefully endured a year without electricity even as they grappled with the deaths of at least 2,975 people following Hurricane Maria in 2017.
But it's a new chapter in Puerto Rico's history after islanders, who would not take no for an answer, pushed for the ouster of their embattled Gov. Ricardo Rosselló following almost 900 pages of leaked private chats that exposed vulgar, cavalier and vindictive conversations involving an inner circle that possibly broke laws.
"It sends a message to any other politician: If you mess with the people, there will be consequences," said José Rolón, 26, on Thursday at the "There's More Of Us" mass demonstration, the day after Rosselló's resignation.
Puerto Ricans have never made waves at this level. But #Rickygate or #Chatgate, as the scandal became known, changed the rules.
"These were the privileged, arrogant bullies in the schoolyard — they became a common enemy to all of us," Nancy Santiago Negrón, vice president of Hispanics in Philanthropy, said on the phone from Puerto Rico, where she went to attend several of the protests. "It felt like it was 'you guys against all of us.'"
Negrón is among the many Puerto Ricans who were born and raised in the United States but whose personal connections, as well as work, takes her frequently to the island. The protests and the calls for Rosselló's resignation not only came from islanders but from Puerto Ricans in the U.S. and even Europe, where they held protests and communicated with their families and friends in the Caribbean through social media.
Negrón's comments that the governor's leaked chats felt like "you guys against all of us" are borne about by the fact that for an island usually divided by partisanship — among "penepés" (as pro-statehood New Progressive Party supporters are known), "populares" (commonwealth supporters from the Popular Democratic Party) and "independentistas" (who support the island's independence) — the protests transcended political lines.
It was a member of Rosselló's own party, House of Representatives President Carlos "Johnny" Méndez, who commissioned attorneys to examine the leaked chats, leading to their unanimous conclusion that the messages revealed five impeachable offenses.
Wounds go deep
To understand the unrelenting public clamor for the governor's ouster, "we need to remember that people have been under pressure for a long time," said Mike Soto-Class, founder and president of the Center for a New Economy, a nonpartisan think tank.
"It's not what caused it," Soto-Class said, "it's what detonated it. A lot of this had been building."
Puerto Ricans have been feeling the brunt of austerity measures for the last three years, Soto-Class said. The prolonged financial crisis, which took the U.S. territory to the brink of bankruptcy, has resulted in the appointment of a federal fiscal oversight board that oversees the island's spending as bondholders fight for their portion of the money.
But more palpable is the anguish that so many Puerto Ricans are still experiencing after Maria, the deadliest natural disaster in U.S. history.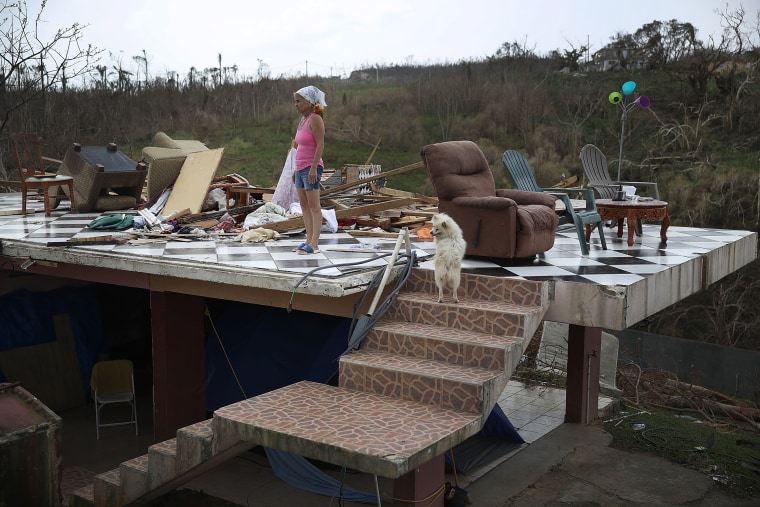 It was an offhand remark by one of Rosselló's associates in the leaked chat that people repeatedly brought up in the mass protests — a joke about why not feed dead bodies to "our crows," referring to people tussling with the administration for answers over why bodies kept piling up in the island's understaffed forensics sciences department.
It may have been a joke, but for Puerto Ricans this hit where it hurt the most — it opened the wound about the thousands who died not from the 155-mph winds the day of the storm, but by the lack of power, medical supplies, food, water and shelter that took a toll on those with disabilities, chronic illnesses, the elderly and the poor.
In the recent protests, one sign said, "May the 4,546 dead pull your legs when you're sleeping," referring to a tale that the dead pull on people's legs at night when they're in bed.
"People were triggered by the actions of a government that was not responding to people's best interests," Deepak Lamba-Nieves, research director at the Center for a New Economy, said. "Puerto Rico is one of the most economically unequal societies in the world. Economic development was declining; that has an impact. Then Hurricane Maria happened."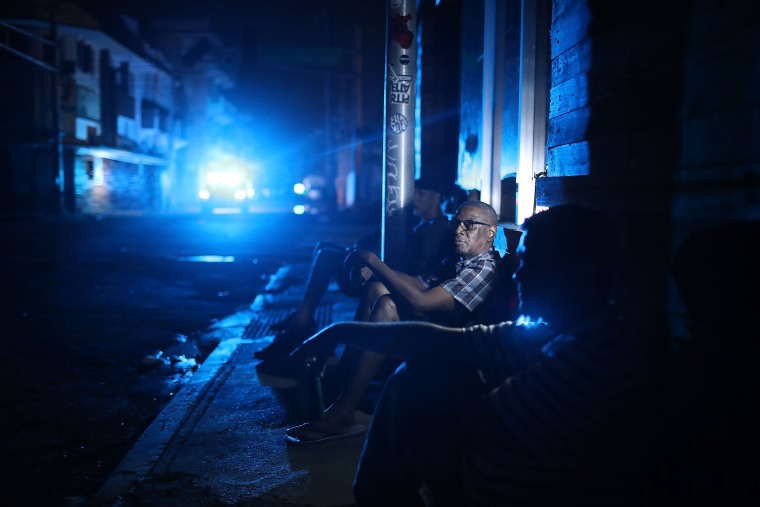 One of the comments repeatedly heard after the hurricane is how it exposed to so many the level of poverty among islanders, especially those who are not in the San Juan metropolitan area. These residents were the ones whose humble dwellings — many unincorporated — were decimated and in hard-to-reach areas. Entire communities — including frail, elderly people and those with chronic conditions — were stranded without basic provisions and medicine.
"People were dealing with sluggish local and federal government responses," Lamba-Nieves said, but the last straw was seeing in the chats how their leaders were really behaving during that time."
The aftermath of the hurricane exposed an antiquated power grid that had deteriorated through different administrations. After the storm, the power authority got into hot water for the way it awarded a small company, Whitefish, a costly contract to fix the decimated power grid; the contract was canceled. Though the administration has touted a plan to revamp the beleaguered power authority, the fiscal oversight board recently blasted the agency for the way it handled a contract with Puma Energy instead of going through a competitive bidding process.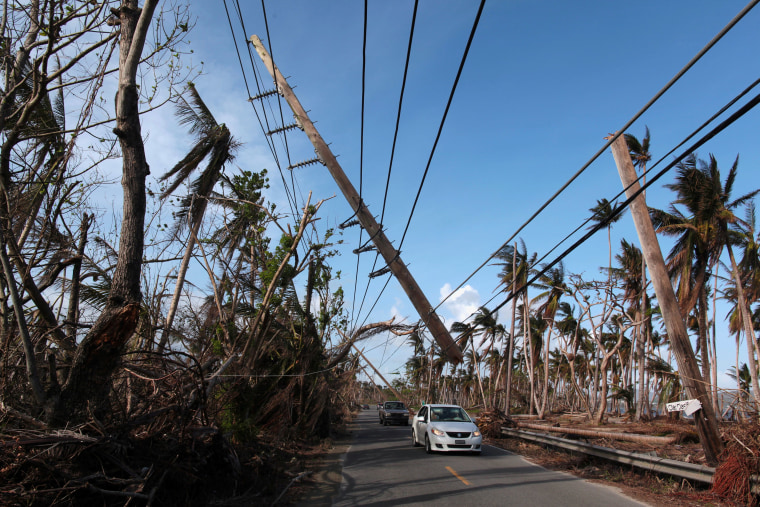 The Center for Investigative Journalism (CPI, as it's known in Spanish) published an investigation alleging that the leaked messages involving the governor, his officials and associates, including lobbyists, show glimpses of a multibillion-dollar corruption network, as well as the use of public resources to do partisan work.
"Once the schemes were revealed, it confirmed what people have been saying for a long time: That the system is rigged. And to a certain extent, it also revealed the corruption many already suspected existed," Lambda-Nieves said. "It implies that in every step of the way, much-needed public funds were wasted."
According to CPI's investigation, Rosselló was aware that a handful of his close associates were giving preference to certain companies to grant them government contracts — some of which were funded with federal money.
"Clientelism runs deep and public officials face it every day. When you run a public entity that way, it's difficult for a leader to make decisions that truly reflect what's best for the people," Lamba-Nieves added.
This was a sentiment repeatedly brought up at the protests.
"There's too many government officials that are corrupt," said Yvette Arroyo of San Juan, 50. "They all have to resign."
What comes next?
At the rally celebrating Rosselló's resignation Thursday, Edgar Figueroa Casanova, 22, was feeling optimistic about the future.
"This generation right now," Casanova said, "will not let the system get us."
The protests were a great civic action, Soto-Class says, but there are two unanswered questions. "It's not only what's next, but who's next?" he said. "A lot of the players are still there."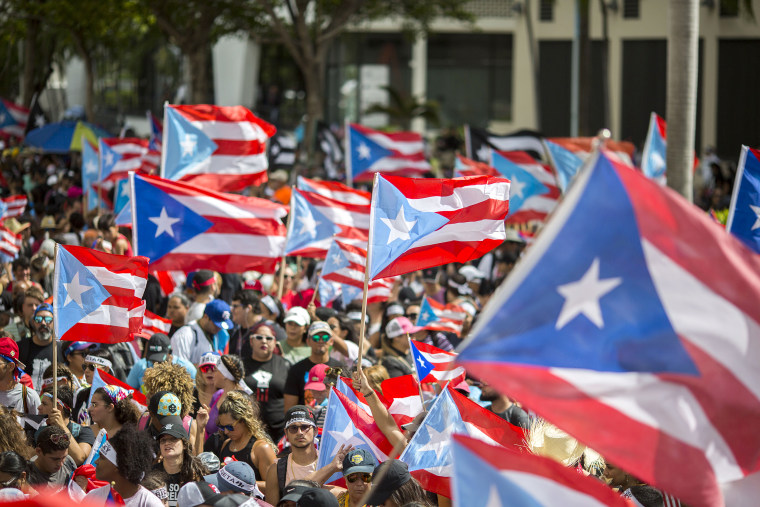 Cecille Blondet is the director of Espacios Abiertos, a nonprofit that promotes government transparency, civic engagement and accountability. Blondet, who was mentioned in the chats, has clashed with the administration over the lack of transparency and data when it comes to government activities and has sued the administration for more information.
"Rosselló's resignation is not enough," Blondet said. "People are now demanding deep changes in the way their leaders govern and how the people want to be governed. People have now learned a big lesson and it's that they don't have to wait every four years to make their demands."
Soto-Class said a key is strengthening local participation so islanders gain more information and have more of a say in how resources are used, adding that nongovernmental organizations and nonprofits should be playing a bigger role. "Public participation is key."
Beyond saying that the entire system is corrupt, citizens have to be more critical about accountability, "making sure that people get equal access to much-needed public funds," said Blondet.
One of the keys, said Negrón, lies in one of the protests' biggest catalysts — young people.
"We have to be able to train the young people who made this movement, show them what transparent government looks like and how to make it happen," she said. "If they were raised on the island, they have not seen it. How do you build it if they don't know what it looks like?"
That, she said, requires an intentional process to make this happen.
Despite the questions about what comes next, everyone agrees Puerto Rico turned a corner — and it reverberated beyond the Caribbean waters.
Puerto Ricans, said Soto-Class, took a stand against corruption. "It's just going to be more difficult for a politician to get away with this."
More importantly, the idea that "'this leadership is not who we are' was an important message," he said.
"It's incredible what happened," Soto-Class said. "Look at all the frustrations in the U.S. and no one thinks you can do something. In Puerto Rico, it was done."
Sandra Lilley and Nicole Acevedo reported from New York and Laura Barbosa reported from San Juan, Puerto Rico.
Follow NBC Latino on Facebook, Twitter and Instagram.