SAN ANTONIO – In the last GOP debate, Marco Rubio claimed that his party was the party of diversity, evidenced by the two Cuban Americans and one African American on the stage.
But on Super Tuesday, the walkaway GOP winner of the seven of the 12 state primaries was the candidate who launched his campaign with offensive statements about Mexicans.
Related: Donald Trump Announces Presidential Bid by Trashing Mexico, Mexicans
Just as Latinos are on the verge of pushing into the higher echelons of political power – this election has seen two Cuban Americans go further than any Hispanic in a presidential race – the GOP's nominee could very well be a man whose candidacy is deteriorating Latinos' trust in the party.
Trump's candidacy, and possibly that of Ted Cruz, could mean that the wall Trump plans to build ends up turning Latinos away from the GOP.
Trump buttressed his frontrunner status in the GOP nomination race by winning Super Tuesday primaries in Massachusetts, Virginia, Tennessee, Alabama, Georgia, Arkansas, and in Vermont, where NBC News declared him the apparent winner.
Related: Donald Trump, Hillary Clinton Score Big Super Tuesday Primary Wins
Mike Madrid, a pioneer in Latino political outreach and voting, said there is a feeling among many who have been working to bring Latinos to the party - those involved in the effort since the George H.W. Bush campaign - that a Trump-led party marks the "end of a relationship. It's like a marriage coming to an end."
"This is probably the death knell," said Madrid, GOP strategist and principal at GrassrootsLab, a California-based public affairs firm that engages in Latino political research.
In the last several months, some high-profile Latino Republicans have publicly condemned Trump for his remarks on Mexico and immigration. On Tuesday, New Mexico Gov. and Republican Governors Association chair Susana Martinez made headlines by refusing to say she would vote for Trump if he were the nominee.
As Madrid sees it, the party is now headed down the road that California traveled when then-Gov. Pete Wilson implemented Proposition 187, a 1994 law that denied services such as public education and health care to people in the country without legal status.
The controversial California law sparked a Latino backlash against the party. At the time Wilson signed it into law, Republicans held the governor's office and a majority in the Assembly and Senate. Today, Democrats hold the state elected offices and are in charge of the statehouse.
"What we were experiencing in California 20 years ago is exactly what the country is grappling with now," Madrid said. "I've seen this story. I know how it ends."
Trump is not the only Republican leader sending signals to Latinos that the courtship may be ending.
Failed presidential candidate Chris Christie won 50 percent of the Latino vote to help him win re-election. He became the party poster child on how it could win the Latino community. This week, he endorsed Trump and stood behind him at Trump's Super Tuesday news conference.
Similarly, Cruz appointed Rep. Steve King, R-Iowa, known for his incendiary remarks about immigrants, a national co-chairman of his campaign. He also told Hispanic leaders that his plan for the 11 million people illegally in the U.S. is to enforce the law, bringing about "attrition through enforcement."
"I refuse to say the Republican party conservatives are racist, that's just not accurate. But yeah, there's some blame to go around for (party leaders) not being more forceful, not condemning their language," said Israel Ortega, a columnist with the conservative Opportunity Lives online news site.
"I remember wanting to see more Republicans come out and condemn the Steve Kings and Tom Tancredos of the world," he said.
The concerns of some Latinos about Tancredo have been dismissed with arguments over whether his views are or are not racist. But to Massey Villarreal, a Houston businessmen influential in GOP circles, they go beyond that description.
"Falta de respeto," Villarreal said of Trump's rhetoric on Mexicans, Sen. John McCain and women.
The translation of the phrase is, "He lacks respect." But it also connotes that the person lacks proper upbringing and acts dishonorably.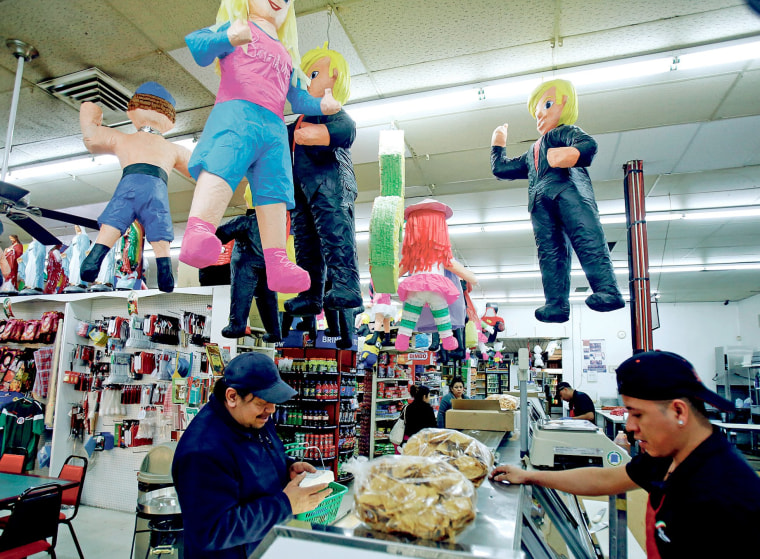 Stella Rouse, director of the Center for American Politics and Citizenship at University of Maryland, said in the short term, the outlook for Latinos in the GOP is bleak.
"It's not just Latinos. If you listen to long-time established moderates, even they are despondent, not just minorities," Rouse said.
Related: GOP Nears Its Breaking Point As Donald Trump Rolls Toward Its Nomination
There is potential for a long-term effect for the party, Madrid said.
Forty-four percent of the Latino electorate is millennial and they have been joining the electorate at about 700,000 to a million a year for about the past decade and will continue to. So Trump's potential nomination is coming at a time when the Republican brand is being established in the minds of a new generation of voters.
The Nevada caucus demonstrated a significant generational split in the Latino vote that Madrid said he had not seen previously seen to that degree.
Related: For 2016, Almost Half the Latino Electorate Will Be Millennial
Latino millennials are voting more like white millennials, rather than blacks in South Carolina, Madrid said. So at a moment when Latinos are not acting as a voting bloc and their views are diversifying - making it possible to see more join the GOP - Trump's candidacy is threatening that, he said.
"Over 20 years of looking at this, the thing that has united and galvanized the Latino community more than any other issue is an anti–immigrant policy stand," Madrid said.
That does not bode well long-term for Republicans nationally, he said, in the same way that it cost the California GOP.