Video games can be hard to adapt into movies because they sometimes prioritize game playing and graphics over storytelling. But Mexico's top comedic actor, producer and director Eugenio Derbez — who plays a nervous Eagle Island scientist named Glenn in The Angry Birds Movie 2 (opening Wednesday) — says that the computer-animated sequel will deliver some of that bird-brained fun for fans as it redefines who can be a hero for kids.
Angry Birds is an addictive video game franchise where players use slingshots to launch small round birds that cannot fly at snickering green pigs in wonky fortresses. The movie sequel builds on those fun game-playing elements to create a new story after Red (played by Jason Sudeikis) becomes a celebrated hero. In the first movie he led a successful slingshot attack on Piggy Island to recover three stolen bird eggs. Now, Red must team up with his former pig enemies to stop an all-out attack by the purple-feathered Zeta (played by Leslie Jones) on both of their island homes.
While Red's big-loser-turned-beloved story may feel at times simple and formulaic, it takes older, complicated ideas about heroism and boils them down for kids.
"We are used to imagining a hero with a cape and superpowers," Derbez told NBC News in a phone interview. "But I believe that real heroes live among us. For me, a real hero is a parent who gets up every day to fight for his kids — puts bread on the table and moves the entire family forward. In the United States, I see how many Latin heroes work two or three jobs in restaurants or as parking lot attendants days, nights and holidays for their families."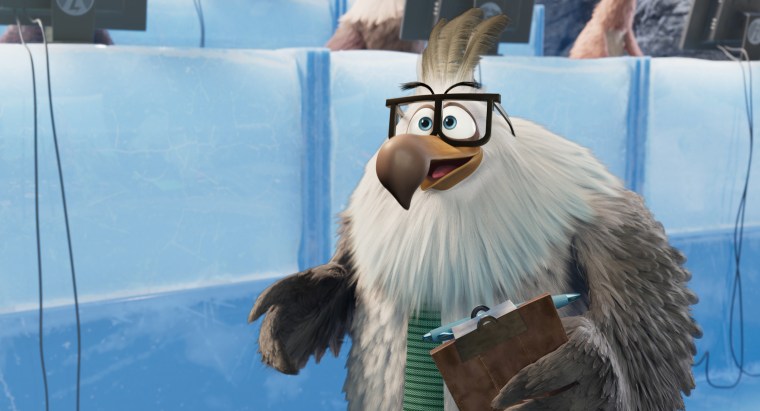 The classic Greek philosopher Aristotle says that a hero is a person who takes on adversity with courage and stirs up sympathy and fear from peers. In the film, Red relies on the support of fellow birds and pigs to show young fans that heroism is based on collaboration and diversity.
Derbez says that the movie's message of courage, diversity and collaboration resonates with him.
"I had tried to make the crossover from Mexico to the United States for more than a decade, and I was always offered the same type of characters — the drug trafficker, the criminal, and in the best of cases the gardener," Derbez said. "And when I finally moved to the United States, I decided to open my own production company because I realized that the only way to change this perspective is to create my own material, produce my own ideas and movies."
Derbez eventually co-wrote, directed and starred in "Instructions Not Included," a movie about a Mexican man who becomes a father after a 6-year-old girl is suddenly left on his doorstep. The 2013 comedy-drama became one of the highest grossing Spanish language films in the United States, making almost $45 million (just under $100 million worldwide).
Compared with other Latin movies, "Pan's Labyrinth" by Mexican Oscar-winning director Guillermo del Toro grossed almost $38 million in the U.S. (just over $83 million worldwide). And "The Motorcycle Diaries" with Mexican Golden Globe-winning actor Gael García Bernal earned almost $17 million in the U.S. (just under $58 million worldwide).
More recently, Derbez also acted and helped produce another movie featuring a strong Latina character. "Dora and the Lost City of Gold" (released last week) tells the story of a 14-year-old high school student who saves her parents and takes her friends on an adventure. The film grossed over $17 million this opening weekend.
Now, the Mexican actor hopes that the diverse cast of the "Angry Birds Movie 2" can match the box office success of the 2016 original, which made just over $38 million on its opening weekend and more than $352 million worldwide.
So far, the Angry Birds sequel set a record on Rotten Tomatoes as the highest-rated video game movie last week at 82 percent fresh. The rating has since fallen to 71 percent as more critic reviews get posted.
Derbez says that while he's not a video game fan, he could not resist playing Angry Birds at airports and during flights since it launched in 2009. And he wants to use that video game excitement to challenge the way moviegoers think about others, break stereotypes and remember those real-life everyday heroes who are largely forgotten.
Follow NBC Latino on Facebook, Twitter and Instagram.