"A 15-year-old kid in their room with a laptop and WiFi can potentially reach more people than Martin Luther King, César Chávez and Gandhi could in a lifetime combined."
That thought from Hispanic Heritage Foundation (HHF) CEO Antonio Tijerino is at the crux of the work the foundation is doing to close the digital divide between technology haves and have nots.
Of the 37 million people in the United States who don't use the Internet, 18 percent are Latino, according to figures from the Pew Research Center.
"Latinos have a value proposition for America," says Tijerino. "The value proposition is tied to access to technology, for everything from a more educated community to a more prepared workforce. It's essential to have that connectivity in order to reach that great promise that we have."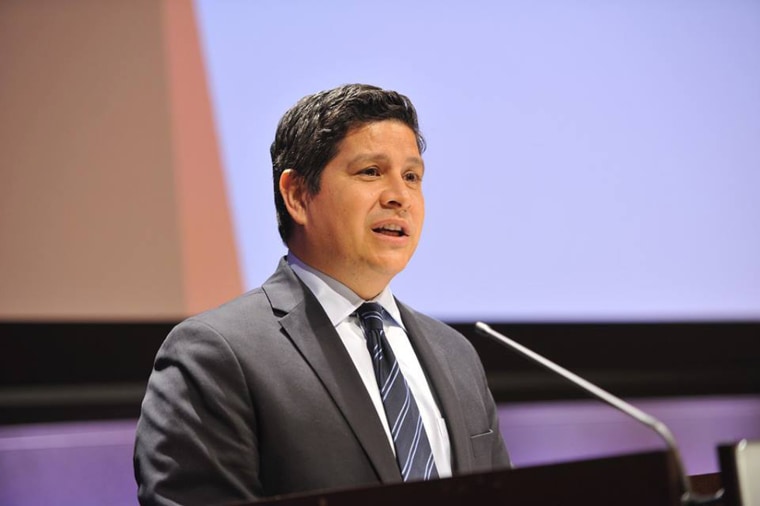 While HHF is perhaps most known for its activities every September and October during Hispanic Heritage Month, Tijerino said the organization is much more than that.
HHF was called the Hispanic Heritage Awards before Tijerino came on board 15 years ago. Tijerino changed the name to broaden its scope.
He also decided to tackle the issue of digital access because while other issues affecting the Latino community certainly are important, "digital access is one of our biggest equality issues of our time."
"Latinos are most likely to do their homework or college applications on a phone, or go to a McDonald's or Starbucks to get access to the Internet in order to even compete with the other students," he said. "There isn't a level playing field."
Tijerino recently received the Champion of Digital Equality Award from the Multicultural Media, Telecom and Internet Council (MMTC), an advocacy group in Washington, D.C., that promotes greater digital access and increased minority ownership in media and telecommunications.
"This validates the work that we've been doing on this issue,"Tijerino told NBC News Latino. "There's a hole (in the digital divide) and we want to fill it. We're not victims. We're part of the solution. We have a Steve Jobs within our community."
Tijerino said he gets his can-do attitude from having grown up in a rather non-traditional way, where he had to be resourceful and many times fend for himself.
Tijerino was born in the Nicaraguan capital city of Managua and arrived in the U.S. as a 6-year-old. He was dropped into a first-grade class never having gone to kindergarten. He was the only student who didn't speak English.
Settling in Washington, D.C.,Tijerino and his family would spend summers in Nicaragua, but one year during such a visit, the family was split up by the civil war. Tijerino and his brother were sent to live with an aunt in Illinois, while some stayed in Nicaragua and others went elsewhere.
TIjerino ended up spending several years splitting his time between his aunt's house and staying with friends before graduating from high school and returning to the Washington area to attend the University of Maryland. He eventually worked at several large companies, including Fannie Mae and Nike, before taking over HHF.
"When you come up in an environment (where) you don't know when your next opportunity will come, you just take a risk and go for it," he said. "But you know, every time we take a risk, good things happen."
HHF has developed several programs to address the digital divide, including Code as a Second Language, which offer computer coding classes for students in various cities nationally.
That program is part of an initiative HHF developed called the LOFT Institute, Latinos on Fast Track, which includes leadership training, and workshops on financial literacy, media and social innovation.
Another aspect of it, LOFT Workforce, helps students obtain internships, mentorships and full-time positions.
"Some companies use the excuse that they can't find Latino talent, and we're working on changing that," Tijerino said.
Kim Keenan, MMTC president and CEO, said closing the divide makes economic sense because technology is where the jobs will be.
"We have to be vigilant and beating the drum of the companies who are not hiring our people," Keenan said. "This is why it's so important that blacks and Latinos be a part of this."
Attorney Francisco Montero said digital access and technological equality affect how the community is perceived.
"To not hear and not view different opinions, you start to assume your own opinions and views are the only ones that count," said Montero, formerly with the Federal Communications Commission. "It has a subtle and subliminal effect on how we see each other and it becomes easier to demonize and stereotype."