NEW YORK, NY -- The life of a Puerto Rican New Yorker who transformed the lives of so many Puerto Rican and Latino youth was honored and celebrated with the unveiling of a mural at the heart of the city's "El Barrio."
In her 80 years, Dr. Antonia Pantoja founded organizations that have helped educate and give opportunities to many. The educator and community activist, who identified herself as a "Nuyorican," accomplished much more than most in one lifetime.
Perhaps best known as the founder of ASPIRA - a non-profit organization which to this day encourages positive self-image, commitment to community, and education to Puerto Rican, and other Latino youth; she also founded the National Puerto Rican Forum, which promotes economic self-sufficiency; and Universidad Boricua, the precursor to Boricua College; among many other organizations dedicated to community empowerment and education in New York City and beyond.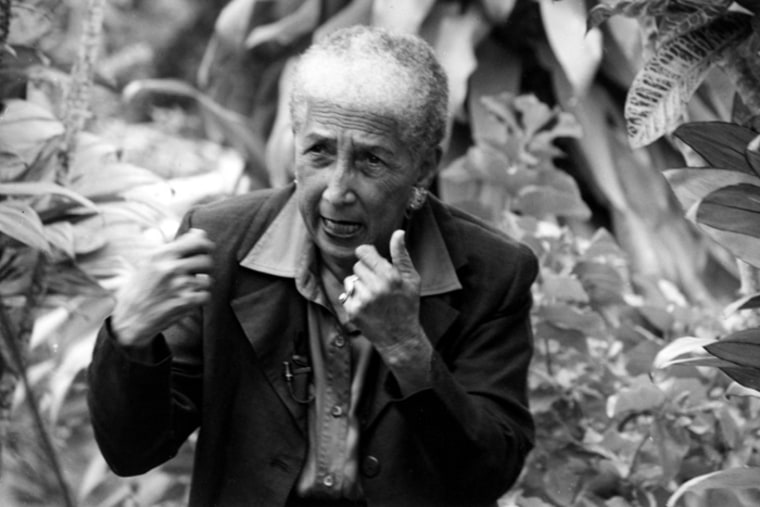 In 1996, Pantoja became the first Latina recipient of the prestigious U.S. Presidential Medal of Freedom Award for her role in the education and leadership development of Puerto Rican Youth in the United States and Puerto Rico.
Pantoja was the first Latina recipient of the Presidential Medal of Freedom in 1996. Thousands of youth went through Pantoja's "Aspira" program, including actors Jimmy Smits and Luis Guzmán.
On Saturday, Nov. 20, after three years in the making by renowned artist Manny Vega, a mosaic mural of Dr. Pantoja was unveiled which will allow her live on forever in "El Barrio" - a predominantly Puerto Rican community in New York City, which was very close to her heart.
The event, attended by 100 plus people of all ages, began with the screening of "Antonia Pantoja ¡Presente!," a 2009 documentary of the activist's life by Lillian Jiménez. Afterwards, New York City Council Speaker Melissa Mark-Viverito - a Puerto Rican woman who is the first Latina in this position- gave a few words.
"The emotion in this room is intense," Mark-Viverito said after watching the film. "When you think about the contributions she made, and the logros (achievements) we've made, we can trace them all the way back to her."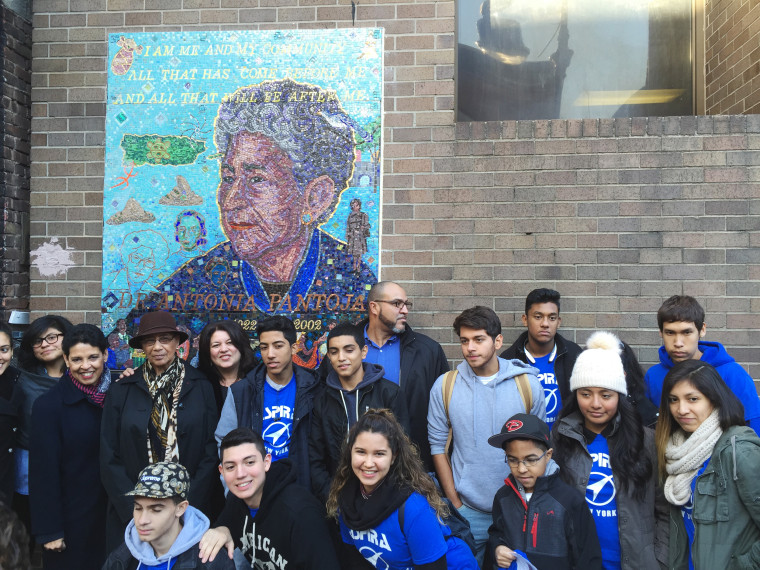 Mark-Viverito went on to say that she had the privilege of meeting Pantoja in the late '90's. Together, they would take Puerto Rican students to the island to learn about their culture.
"She had a very infectious spirit," said the New York City Council Speaker. "Everybody that worked with her would be inspired by her. She was a believer in young people and the concept of paying it forward. That's what we need to continue to do. The importance of putting these mosaics up is a way of making sure our contributions will never be erased."
Pantoja moved to New York City, from San Juan, Puerto Rico at the age of 22. The year was 1944, right before the end of World War II, and just preceding the mass exodus of Puerto Ricans to the mainland.
Although she arrived with a teaching certificate from Puerto Rico, Pantoja's first job in NYC was as a welder in a wartime factory. However, since Pantoja was born with aspiration, she went to school right away - ultimately, graduating from Hunter College and then Columbia University's School of Social work.
In the documentary, Pantoja said, "[Puerto Ricans] were coming to work in factories, and the children didn't know what the teachers were saying."
As was her character, as soon as she saw injustices, Pantoja would waste no time to take action.
"ASPIRA was absolutely the project that drove her - she loved the kids," Jiménez, director of the film, told NBC Latino. "She had been thinking about the position of the Puerto Rican community in the '50s, and the lack of leadership. She wanted to develop an organization that developed leaders."
To this day, Jiménez says she is always meeting people that say "I was an Aspirante." She says there are thousands of them - from actors Jimmy Smits and Luis Guzmán, to Angelo Falcón, political scientist and president of the National Institute for Latino Policy.
Jiménez told NBC Latino that the mosaic was a collective experience of all the people who were impacted by Pantoja's life.
"We were about 12-13 on the committee - we had a lot of conversations. I gave [Manny] the film, photos of her, and he would always show us renderings. Finally we settled on this one design. Everyone on the committee laid tiles - [Supreme Court Justice] Sonia Sotomayor even came to lay tiles," said Jiménez.
To many, Pantoja was a life-changing role model. But to Dr. Wilhemina Perry, her partner of 30 years, Pantoja was the love of her life. They met when Pantoja joined the faculty of the San Diego State University's School of Social Work in 1978.
"A couple of people had gathered to greet her in San Diego - I was teaching there at that time," Perry, now 81, remembers about the first time they met. "She and I had started talking - we talked about social work - our professions. I remember thinking this is the most interesting person I ever met...She was like dazzling!"
Together, they co-founded the Graduate School for Community Development in San Diego, where they lived at least 15 years, and then moved to Puerto Rico for 13 years. There, they co-founded Producir - a community organization that has helped a rural community create its own cottage industries to generate employment -before they both decided to move back to her beloved NYC. Unfortunately, they only had two years there, as Pantoja was diagnosed with stage 4 cancer.
"They predicted she would have four months to live, and she only had three months," Perry told NBC Latino. "No one wants to lose a loved one, but I felt a little relieved because she had no pain - it was so quick."
What Perry says she remembers most of Pantoja was that she was, "a very powerful, tiny and intense person, but she could also be funny and have this smile come on her face. She was very intense, but had this light side of her…"
"I'm thinking what would make her most happy about the mural, is the fact that who she was, and what she was trying to teach, will live now publicly. Not so much for her, the person, but she would see it as a way of extending her legacy and encouraging people to use her work as an opportunity to do their own work. She felt very strongly about that. She would say it's not about me, but what are you going to do to make society a better place?"