A U.S. agency secretly infiltrated Cuba's hip-hop movement and recruited unwitting rappers to spark a movement against the government, according to a report by The Associated Press based on documents it obtained.
According to the AP, the program run by DC-based contractor Creative Associates for the U.S. Agency for International Development (USAID) - the same contractor involved in the "Cuban Twitter" controversy - resulted in the eventual detention and interrogation of musicians and others who most likely had no idea they were caught up in the operation, as well as confiscation of their software.
The two-year program also impacted the island's hip-hop community, which had been a source of grassroots criticism against the government. The artists USAID contractors tried to promote stopped performing or left the country after pressure from the Cuban government, and an independent music festival was taken over by the government after island officials linked it to USAID.
The U.S. government agency disputed the AP report.
"Any assertions that our work is secret or covert are simply false," USAID said in a statement Wednesday. Its programs were aimed at strengthening civil society "often in places where civic engagement is suppressed and where people are harassed, arrested, subjected to physical harm or worse."
Creative Associates did not immediately respond to a request for comment.
At a briefing Thursday, U.S. State Department spokeswoman Jen Psaki said Creative Associates had provided USAID assurances that it had security protocols in place" for "operating in a closed society and would strictly employ those protocols for all professionals traveling to Cuba."
She said that Cubans risk upsetting authorities by being involved in normal community initiatives. But working for U.S.-funded groups is illegal in Cuba and Cubans recruited for the hip-hop program were not told they were partnering with American-backed contractors.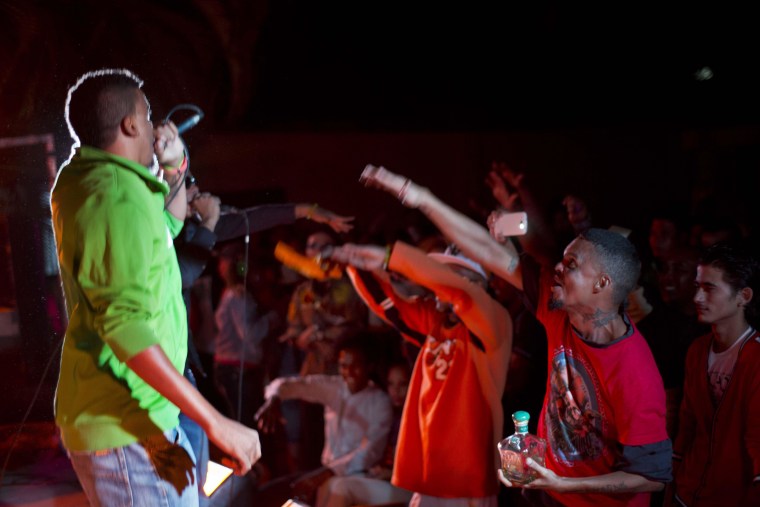 The operation ended up indirectly involving big names in Cuban and Latin American music as it promoted and underwrote festivals in the island and cultivated relationships with hip-hop groups by telling them they were part of a cultural initiative.
During a 2009 independent music festival, Colombian star Juanes was asked to promote the Cuban group "Los Aldeanos," a group that had been critical of the government in the past and was approached by Serbian contractor Rajko Bozic, who ran the USAID operation for a time.
Los Aldeanos' front man was eventually detained by Cuba for illegally possessing a computer. When reached by the AP, Juanes spokesman John Reilly said Juanes and other artists "did not have any knowledge" of what others did and the concert had no political agenda. Los Aldeanos eventually moved to South Florida, saying the government had made it impossible to work in Cuba.
The USAID contractors also underwrote an arts and music festival put on by legendary Cuban "nueva trova" singer Pablo Milanés - who is close to the government - in an attempt to seed "new ideas" into festival organizers. The singer's daughter confirmed to AP government officials showed her e-mails before the festival started and warned her she was "associating with unsavory characters," in a sign Cuban officials eventually figured out what was going on.
--The Associated Press