Farmworkers in Watsonville, California, known as America's strawberry capital, will look up from the fields on Saturday to see a line of cars honking, waving, holding posters and shouting "thank you" in several languages.
The campesino, or farmworker, "appreciation caravans" started last weekend, the brainchild of several activists — some of them the children of farmworkers.
"We used that money to pay car insurance while studying, and put gas in our car," said Ruby Vasquez, 56, a school teacher. Her father came to the U.S. from Mexico, her mother's family started a strawberry business, and they've grown and sold strawberries for decades.
"Many of the members in our group who are organizing the caravan come from that background," Vasquez said. "And we see it as a very noble profession, noble job. We just want to recognize this as an essential work—we wanted to let them know that they are not invisible, we wanted to recognize them, validate them, honor them."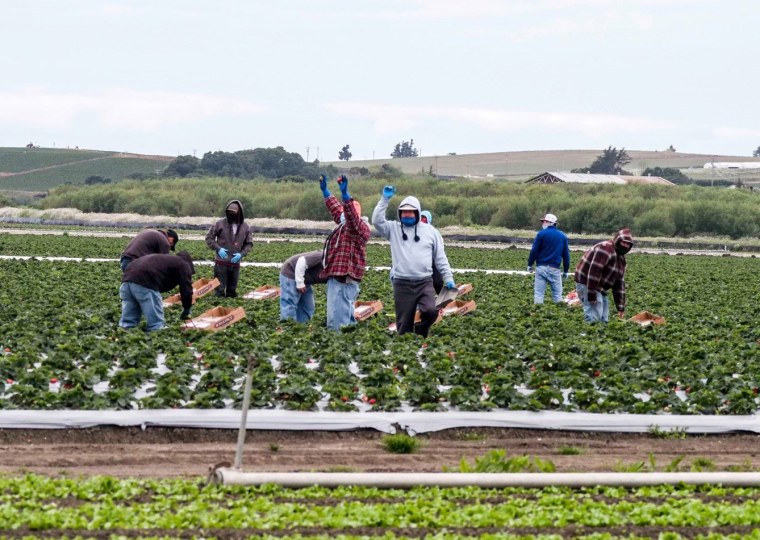 The caravans are not just a mission of gratitude; organizers have also been passing around reading materials in Spanish and Mixtec, a Mexican indigenous language, giving farmworkers information on COVID-19 hygiene practices, directions on how to find welfare and medical resources, and tips on how to respond if approached by ICE.
Ramiro Medrano, 40, a high school counselor and Watsonville native, came up with the appreciation caravan as he, Vasquez and other community organizers and educators who live between Watsonville and Salinas mentioned in a virtual call that farmworkers were not being recognized publicly as essential workers — even though they were officially designated as such.
"We saw how hard they worked, and how little they are valued," said Medrano, whose father worked in a flower nursery in Salinas for 30 years. After all those decades on the farm, Medrano's father earned less than the state's minimum wage.
It wasn't just the wage disparity that bothered Medrano. Most farmworkers don't have sick pay or other benefits.
The campesino caravan is also encouraging farmers to sign up for the 2020 U.S. census, so that all the farmworkers are accounted for and to dispel fears of being identified as undocumented.
Paulina Moreno, 38, deals with these issues as project director at the Community Action Board of Santa Cruz County. Like many of the caravan organizers, her parents were farmworkers and she did not secure legal immigrant status until she was in college.
When the lockdown started, Moreno's organization was flooded with requests for help since federal welfare relief was not extended to undocumented immigrants.
California Gov. Gavin Newsom recently announced a Disaster Relief Fund that aims to give some cash assistance to undocumented workers, but for now it will only be able to help a small amount of the state's workers who lack legal status.
Moreno has a waiting list of 50 families who have an urgent need for financial assistance, she said.
The campesino caravan intends on continuing to spread their message of gratitude to farmworkers over the next few Saturdays. While they started as a small group of volunteers, they've had an outpouring of support from social media users asking how to participate. The caravan is collecting diapers, diaper wipes, and baby formula donations in exchange for caravan participation.
The group is also encouraging others online to organize campesino appreciation caravans across the nation. They say they have already inspired groups in other California towns such as Oxnard, Salinas, San Diego and Los Angeles.
"Without the work of the farmworkers," Moreno said, "there is no food. Without that food, there is no life."
Follow NBC Latino on Facebook, Twitter and Instagram.