Conservative opposition candidate Mauricio Macri stunned Argentina's ruling party with an unexpectedly strong showing in the presidential election on Sunday, forcing a run-off vote next month, preliminary results showed.
Daniel Scioli, backed by outgoing leftist President Cristina Fernandez, had a big lead in pre-election opinion polls but the results on Sunday showed the two men in a tight race with everything to play for in the run-off.
With returns in from almost 97 percent of polling stations, Scioli had 36.8 percent support while Macri had 34.4 percent.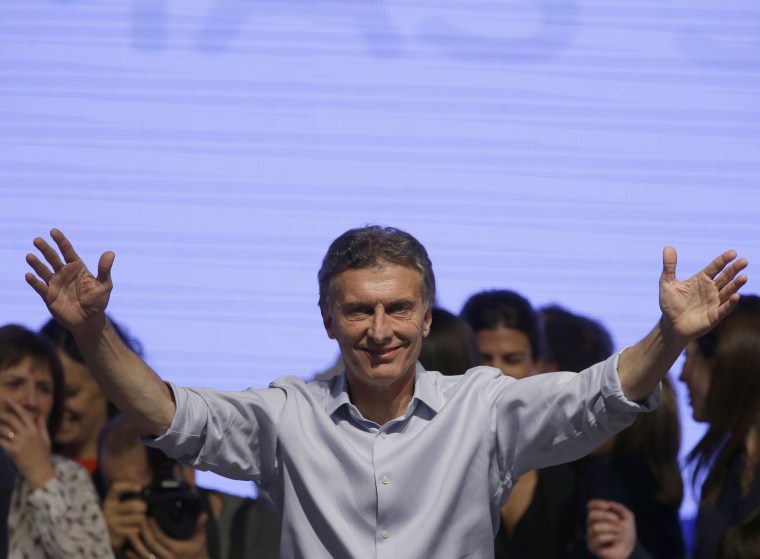 "What happened today will change politics in this country," Macri, the pro-business mayor of Buenos Aires, told thousands of jubilant supporters inside his campaign headquarters.
It was a disappointing night for Scioli and he looks vulnerable in the run-off election on Nov. 22.
The outcome of the election will shape how the South American country tackles its economic woes, including high inflation, a central bank running precariously low on dollars and a sovereign debt default.
Scioli is running on a platform of "gradual change" and has promised to maintain popular welfare programs while Macri advocates moving quickly to open up the economy.
Stung by Macri's showing, Scioli launched an unusually blunt attack on his rival on Sunday night, saying he would want to scrap popular welfare policies like one that gives benefits to mothers for each of their children.
"We have two very different visions," Scioli said.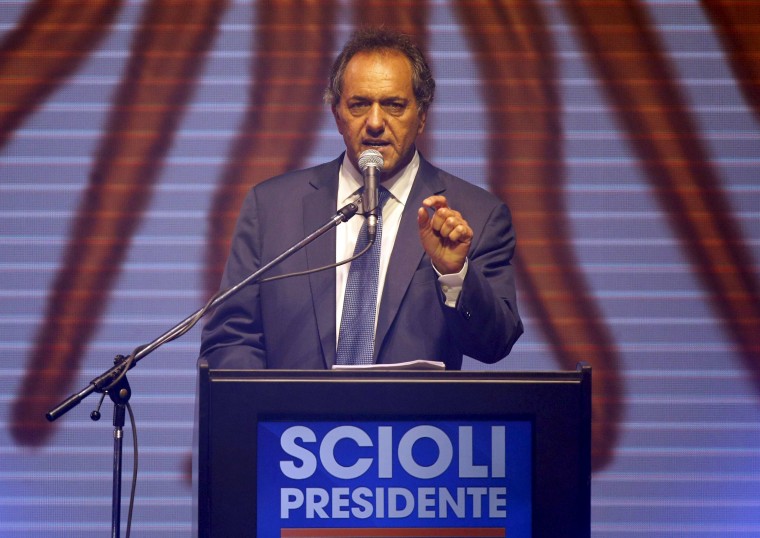 The first-round results were met with stunned silence at Scioli's headquarters, where supporters earlier celebrated what they expected to be a convincing lead or even outright victory.
"I would love to be able to tell you that we will able to come back in the second round, but I don't know," said one supporter.
To avoid a run-off, Scioli had needed 45 percent support on Sunday, or 40 percent with a 10 percentage point lead over his nearest rival. In the end, he fell far short.
In a speech before thousands of party militants, Scioli reached out to swing voters for their support.
"United together we will triumph," Scioli told voters in a rallying call. "I call upon the undecided and independent voters to join this cause."
Related Article: Argentina: Voters Weigh In Ahead of Sunday's Presidential Election
Scioli will seek to exploit a perception among many voters that Macri, the son of a construction magnate, would restore the kind of right-wing policies widely blamed for triggering a deep economic crisis in 2001-2002, when millions fell into poverty.
While some will find Macri's shock therapy proposals hard to stomach, others believe Scioli will be unable or unwilling to end Fernandez's divisive and populist policies.
Scioli, who is governor of Buenos Aires province, draws much of his support from poorer Argentines who credit Fernandez with strengthening Argentina's social safety net.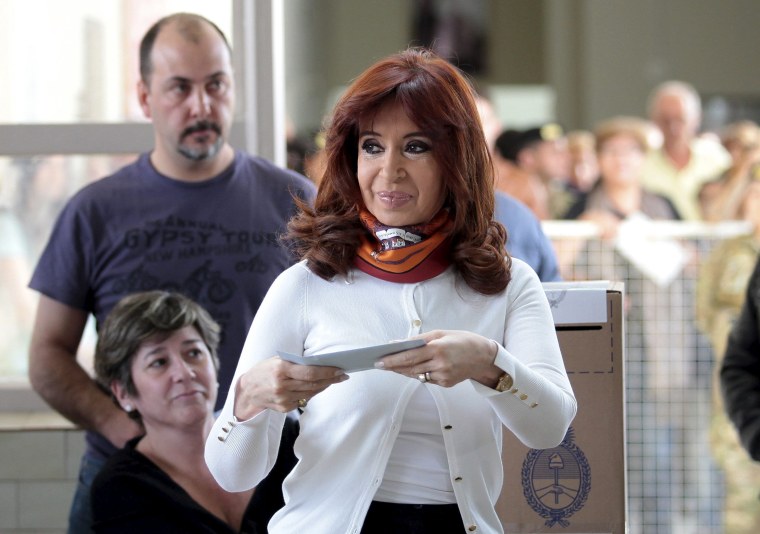 Macri has vowed to start dismantling her protectionist currency and trade controls on his first day in office if he wins. Fernandez will hand over to her successor on Dec. 10.
Fernandez was barred by law from seeking a third consecutive term, but could return as a presidential candidate in 2019.
Macri is seen by Wall Street investors as the candidate most likely to negotiate with a group of "holdout" hedge funds whose suit over bonds defaulted on by Argentina in 2002 caused a new and ongoing default last year.
"It's a shocking result and markets will likely react positively," Alejo Costa of local investment bank Puente said of the first-round vote. "For U.S. dollar bonds, the market will reassign chances of a holdout resolution under a potential Macri administration."
Partial results also suggested the ruling Front for Victory party lost clout in the lower chamber of Congress, making it less of an obstacle to a debt deal if Macri prevails in November.
In another damaging blow to the ruling party, Macri's alliance won the gubernatorial election in Buenos Aires province, Argentina's most populous, where Fernandez had hoped to install her cabinet chief Anibal Fernandez.