BUENOS AIRES, ARGENTINA -- As North America braces for colder months, porteños - or Argentinians who live in the capital city of Buenos Aires - are eager for spring's brighter days.
The change in temperature is slow, fickle and unpredictable.
Walking the streets of the higher-end Recoleta neighborhood you'll see locals bundled in coats and scarves strolling alongside their neighbors in tank tops, with a light jacket in their arms. Neither group is quite sure what the next hour will bring: a rush of cold or a surge of warmth? They prepare for both.
So too is Argentina's political climate.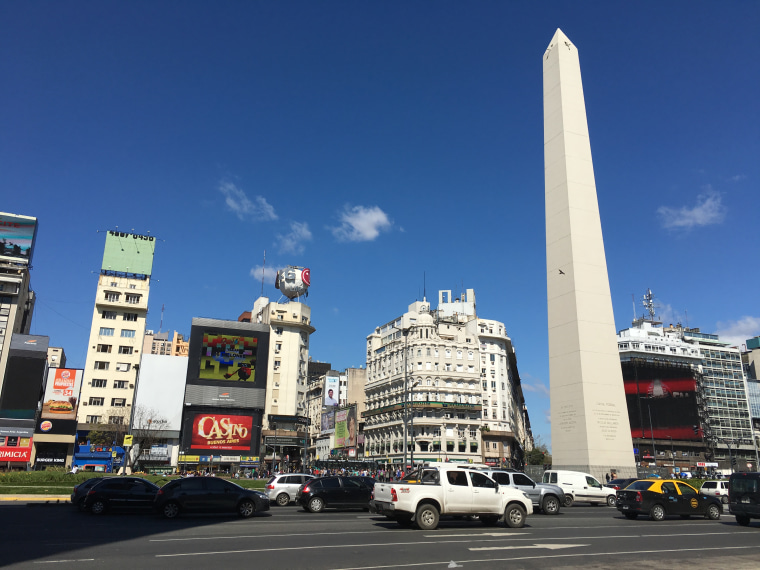 On Sunday, Argentinians will vote to elect their next president, the successor to current head of state Cristina Fernández de Kirchner.
Fernández has held the position since 2007, with a reelection in 2011. She earned 54 percent of the votes, the highest number achieved by any president in the country's modern history. Prior to that she served as Argentina's First Lady to her late husband, President Néstor Kirchner, giving her a record-breaking twelve years in the country's maximum power spot.
Since 2003 the Kirchner dynasty, of sorts, has ruled from the Casa Rosada (literally means "Pink House"), Argentina's version of the White House. That is set to end this December, but it seemed Fernández wasn't quite ready to pass along the title.
In recent years she suggested she'd pursue a third consecutive term, something banned by the country's constitution.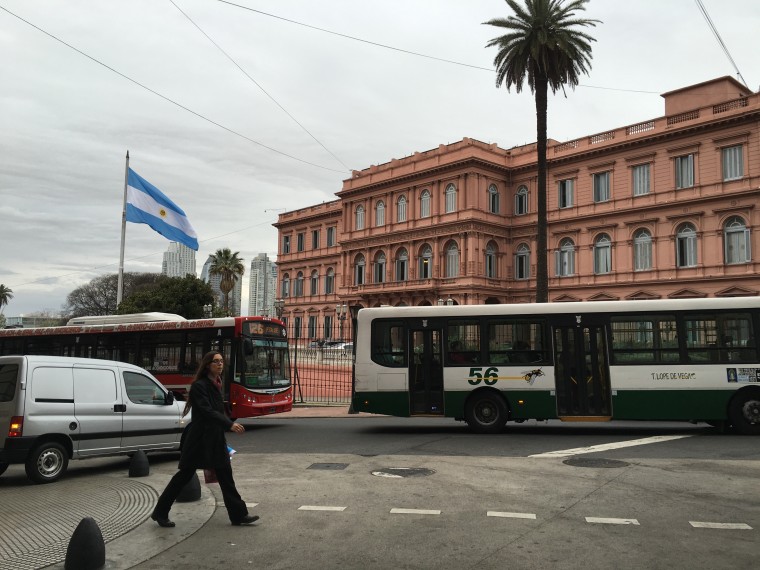 The move sparked massive protests across the country, convincing Fernández to back off that idea. Instead, she's endorsed a possible successor, Daniel Scioli.
Scioli's no stranger to Argentinian politics and is closely tied to the Kirchners. He's former Vice President to Néstor Kirchner and current Governor of Buenos Aires province.
In campaign propaganda handed out on street corners in Buenos Aires, Scioli proudly links himself to Fernández's populist party policies. Moreover, the photo chosen for the handout has the president, not Scioli, standing center stage waving her hands to the crowd. Scioli is pictured just behind her, standing with his arms to his side.
Scioli's campaign touts successes in economics, health care, human rights, and national security created under the Kirchner-Fernández administrations.
But talk to some young Argentinians, who see an unstable economy marked by a volatile currency, and you'll quickly realize they're not buying the campaign jargon.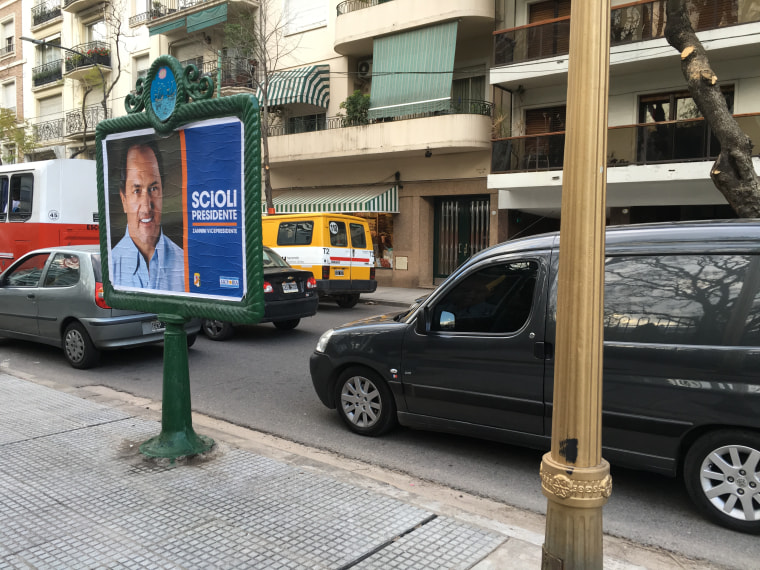 "I think that the Kirchner-Fernández administration has turned the society into one full of hatred and [shows] no respect towards those who think differently," says Maria Arreseygor, a 24-year-old university student in Buenos Aires.
She wants the next administration to elevate Argentina's profile in global affairs, and to spark more foreign investment and economic growth.
But she doesn't hold much hope, adding that in her opinion most Argentines "don't trust the election process."
University student Felipe Nicholson, 22, says Fernández's successor must make radical changes.
"Whoever wins must take urgent economic, political and international measures," he says. "We have to befriend the world again. The next president must solve the hatred that has grown within the society."
Nicholson also shares Arreseygor's dim view of the election process, seeing it as easily corruptible. The Media Studies major is also very critical of the Kirchner pseudo-dynasty.
"In the last 12 years, poverty and inequality have skyrocketed. Drug trafficking has also increased enormously, especially in the Buenos Aires province (under Scioli's governorship for the past eight years)," he says.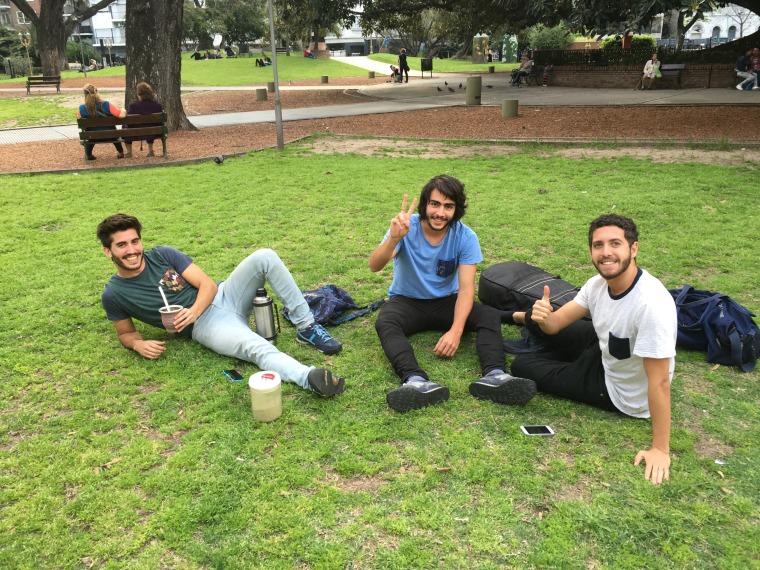 Within the city of Buenos Aires, shop and café windows are covered in signs welcoming spring. But winter's dark clouds loom heavily over the upcoming elections.
In late August, gubernatorial elections were held in the northern province of Tucumán. Reports of fraud were so rampant – allegations of ballot burning and bribery – that the province's electoral college declared the process invalid. Ultimately, the high court intervened, validating the results in favor of the Fernández-preferred candidate.
There are hushed fears within the government that what happened in the north could play out amid Sunday's national elections, thereby stripping the winner of any legitimacy.
As a result, many measures have been taken to assure Argentinians of a fair and transparent process. However, lawmakers – mostly supporters of Kirchnerism polices – stopped short of implementing an electronic voting system.
Voting in Argentina begins at 16 and it becomes mandatory at age 18. So millennials like Arreseygor and Nicholson have no choice but to cast their ballot, or else face a fine. They'll do so Sunday in hopes of change.
The leading opposition candidate in Argentina's general election is Buenos Aires' mayor, Mauricio Macri. His supporters, or Macristas, wear smocks and huddle under small umbrella-covered tables located in many corners of the city and provinces donning the campaign colors: orange, yellow and pink.
The differences between both campaigns' ads are quite striking. Whereas Scioli's handouts detail in length the party's alleged successes, Macri's leaflets only show photos of himself and the other members of his party running for various government cabinet positions.
There's only one word they've printed on each page of the foldout propaganda, "Cambiemos" or "Let's change".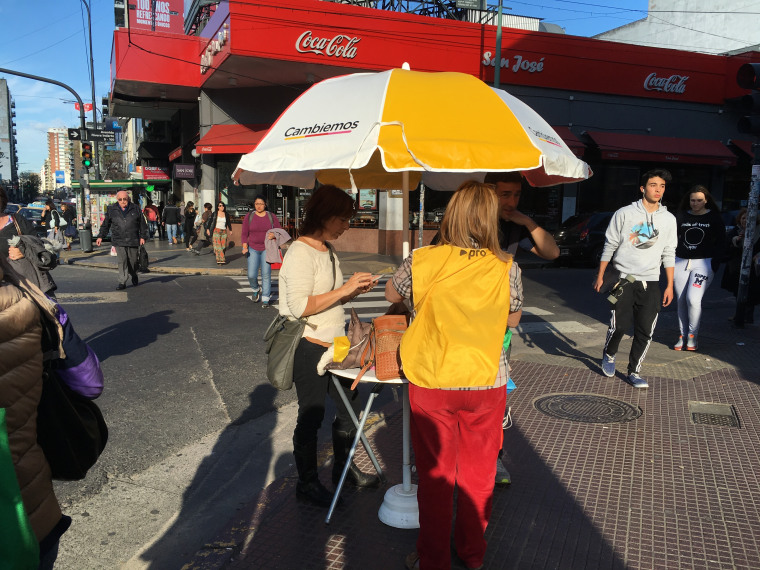 Macri's presidential bid is facing fierce criticism from the incumbent party. The 56-year-old comes from a wealthy, aristocratic family; he represents much of what the Kirchners, and before that, Peronism, have historically criticized. Yet his supporters point to the capital city's recent economic advances as proof of his track record and potential.
Fernández's party isn't without its young loyalists. As the president spoke Tuesday night at a private event inside a historic Buenos Aires hotel, dozens of her supporters gathered outside partially blocking traffic and praising Fernández.
"Growing up with the Kirchners [in power] was very good for me and my family", says Hernán Bustamante, a young actor from the Chaco province, among the poorest regions in Argentina.
"The country grew a lot and many people [who] were historically left aside were recognized, like my father, a veteran of the Malvinas (Falklands) War who was indemnified and treated like a person for the first time," he says.
Bustamante hopes Scioli will win the seat and continue the widespread, albeit controversial social aid program implemented by Fernández. He questions Macri's depth, one of the main criticisms the opposition leader faces.
"The other day on the radio, Macri was asked how would he solve the country's problems and he answered, 'You just have to trust me.' He is always improvising," Bustamante says.
While Macri and Scioli lead the polls and hold a commanding presence over TV ads and street signs, four other candidates are also vying for the presidency.
When asked who is going to the win the election, a middle-aged Buenos Aires taxicab driver promptly responded, "Better to ask me, 'who is going to lose?'" He then responded to his own question: "Me and all the other hardworking citizens of this country. Nothing will change."
Instead, porteños dwell on what they can control. Ahead of Sunday's election, you'll find them taking full advantage of the waves of spring warmth. Despite the politics, they will be packing the city's famous public parks, such as Los Bosques de Palermo, to exercise, sip mate, and enjoy one another's company.