PHOENIX, Arizona — Maricopa County Sheriff Joe Arpaio faces the possibility of spending a few months in jail for defying court orders in a racial profiling case. Now a group seeking to get the longtime controversial sheriff out of office is using it to rally Latino voters to the polls.
Standing outside the sheriff's office in Phoenix on Thursday and with a giant inflatable balloon of Arpaio in handcuffs, members of the Bazta Arpaio campaign announced they will spend the new few weeks encouraging Latinos to vote against Arpaio as part of their get-out-the-vote efforts.
"The community is excited," said Devin Del Palacio, field organizer with the Bazta Arpaio campaign. "They know that this is the best chance we have to get him out of office. Momentum is on our side."
The self-proclaimed America's toughest sheriff is seeking a seventh term, and a new poll of likely voters shows him trailing his Democratic opponent Paul Penzone by 10 percentage polls. The margin of error is 5.2 percent.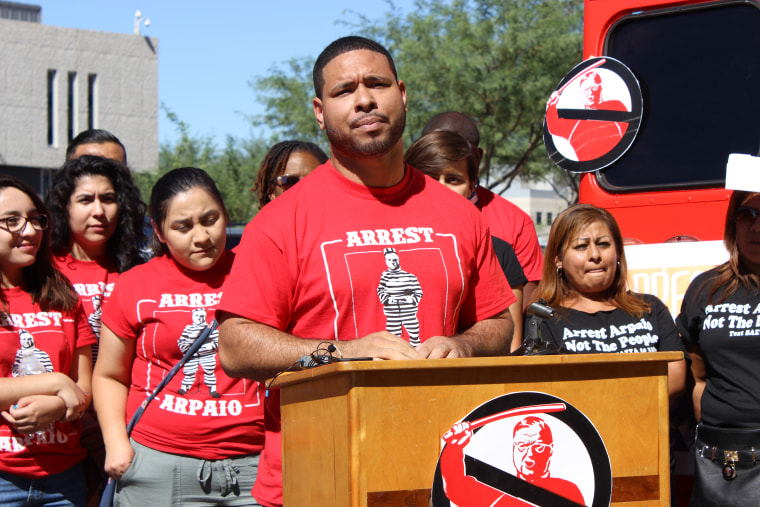 Over the next few weeks, organizers and volunteers with the Bazta Arpaio campaign will be knocking on doors in predominantly Latino neighborhoods. They'll also be driving around in a red bus and making stops at various locations across Maricopa County.
Araceli Becerra Gonzalez, who became a U.S. citizen three years ago, said she got involved with the campaign because she wants to encourage first-time Latino voters to turn out to vote against Arpaio. A coalition of groups helped register more than 150,000 Latinos this year.
"He has abused our community for so long," Becerra Gonzalez said. "It's time to get him out of office."
The Bazta Arpaio campaign will also focus on getting voters to turn in their early ballots, which were mailed out on Wednesday and must be returned via mail by Nov. 2. More than 340,000 Latino are signed up to receive early ballots in Arizona.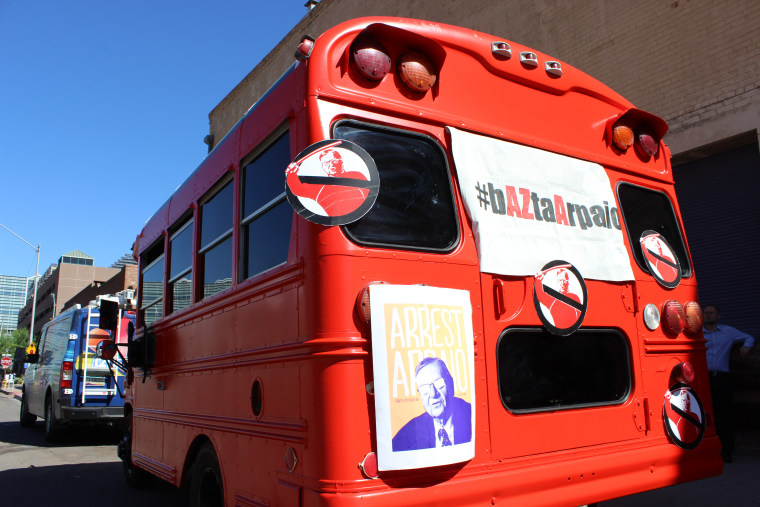 These efforts come several days after federal prosecutors said they will pursue a criminal-contempt charge against Arpaio for disobeying court orders to stop conducting immigration patrols.
U.S. District Court Judge Murray Snow barred Arpaio from conducting the immigration patrols in December 2011, after concluding that the sheriff and his deputies were racially profiling Latino drivers during these patrols.
Arpaio and his deputies, however, continued the patrols, though Arpaio has said it wasn't intentional.
In May 2016, Snow found Arpaio and his office in civil contempt of court, and a few months later he recommended that the sheriff face a criminal contempt of court charge.
The 84-year-old sheriff could face up to six months in jail if he's convicted. His trial is set to begin on Dec. 6.
Del Palacio said the Latino community is "certainly" excited about the criminal contempt of court charge against Arpaio.
"We think that this is playing into our momentum," he said. "But regardless of what happens in the trial, we're going to remain focused to ensure that his tenure ends on Nov. 8."
Across the country, other get-out-the-vote efforts are underway to rally Latino voters.
Several groups – including Mi Familia Vota, iAmerica Action, and the Service Employees International Union (SEIU) – joined forces to knock on doors and hold phone-banking events in dozens of cities across the country to rally Latino votes to elect candidates who they think will champion their issues.
PICO National Network and the east Los Angeles band Las Cafeteras have teamed up on a tour called the "People's Party Tour," aimed at driving Latino youth to the polls through music, testimonies and a robust digital campaign. The tour will make a stop in El Paso, Texas, on Friday.
The group Fair Immigration Reform Movement (FIRM), along with its partner organizations, says it plans to spend the next few days educating Latino voters across the country about the candidates' positions on immigration.
And the National Hispanic Leadership Agenda released a guide meant to educate Latino voters on where candidates stand on key policies that are important to Latinos. The group says it encourages Latinos to use the guide to determine which candidates have earned their vote.