PHOENIX — Kevin Luera, 25, said he spent close to four hours waiting to vote in the Arizona presidential primary election last Tuesday.
"I went to stand in line at around noon and waited until about 3 o'clock," Luera said. "By the time I left, the line had grown."
Luera wasn't the only one who experienced this. Thousands of voters stood in line for hours at polling places across Maricopa County -- where 30 percent of the county's 4.1 million residents are Hispanic -- before they had a chance to vote in the Arizona presidential primary. Some endured the long lines and waited to cast their votes even after Hillary Clinton and Donald Trump were declared the winners. By midnight, a few voters were still waiting in line to vote at some polling sites.
RELATED: Five Angry Moments During Arizona's Special Hearing into Voting Problems
At a special Arizona House Elections Committee hearing on Monday, top election officials took responsibility for the long lines that they said were mainly caused by a reduction in the number of polling places. A total of 60 polling places were set up in Maricopa County during last week's primary election, compared with 200 polling places in 2012 and more than 400 polling places in 2008.
Maricopa County Recorder Helen Purcell, who made the decision to reduce the number of polling places, apologized for miscalculating the number of people who would show up to vote in the Arizona primary.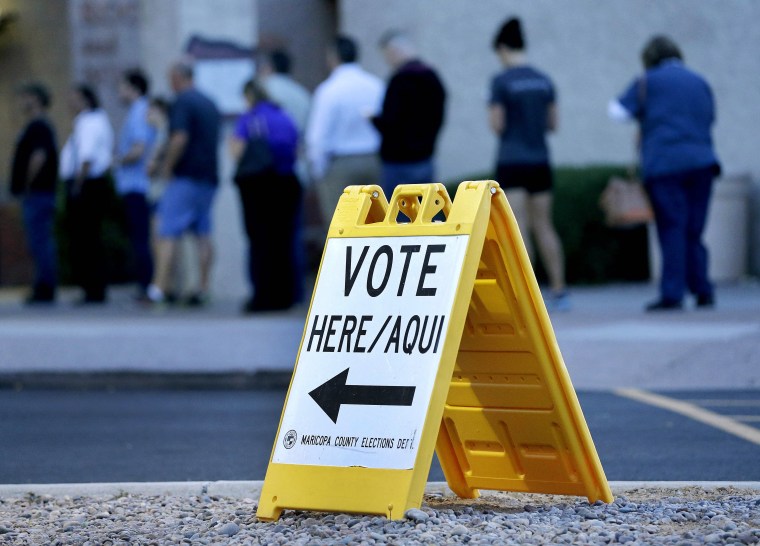 She said her office calculated about 71,300 voters would vote at the polling places based on the 2008 voter turnout, the number of people registered to receive early ballots in the mail, and the number of people who were expected to physically go to the polls. But as it turned, approximately 83,500 voters showed up to vote at the polling sites.
"We made some horrendous mistakes," Purcell said. "I apologize for that. I cannot go back and undo it. I wish that I could."
She also cited funding issues, saying her office was counting on funding state lawmakers had approved in 2012 to help counties cover the full cost of primary elections. Last year, lawmakers decided not to do that after all and instead agreed to reimburse counties $1.25 per registered voter, which has been the practice for years.
Secretary of State Michele Reagan also testified during Monday's hearing and took some of the blame for the long lines voters faced at the polls. She said she should've questioned Purcell's decision to reduce the number of polling places and that her office is looking into what else led to the long lines.
"On behalf of election officials statewide, I would like to apologize profusely to the voters who are frustrated and angry with the election experience that they had last Tuesday," Reagan said.
Reagan's office has set up a website and email address where voters can report what they experienced on Election Day. In addition, Reagan said her office plans to host a series of public meetings over the next few weeks to hear directly from voters "because that's where we're getting the best information."
Hundreds attended the House Elections Committee hearing on Monday. Some took to the podium to express their frustration. One woman accused election officials of purposely limiting polling places in areas with large populations of poor and minority voters, while another spoke about how she saw voters leave because they didn't have time to wait in the long lines. And some called on Purcell to resign.
RELATED: Opinion: Latinos Disenfranchised in Arizona Primary Fiasco
Maricopa County Supervisor Steve Gallardo said another day of voting should take place "because there were a number of people that were disenfranchised."
"They did everything they were supposed to do," Gallardo said. "They registered to vote on time. They looked up to find out where they needed to go. They showed up on time. Unfortunately, they were not able to make it all the way up to the polling booth for a number of reasons."
Michael Martinez, director of legislative affairs for the Arizona Students' Association, accused election officials of engaging in "a systematic effort" to eliminate polling places in areas with large populations of Latino and low income families. In doing so, he said officials "made it more difficult for people of color and people who are below the poverty line to actually have their voices heard."
State lawmakers on the House Elections Committee also chimed in. Rep. Ken Clark (D-Phoenix) said Purcell's decision to set up only 60 polling places in Maricopa County wouldn't have gotten the approval from the U.S. Department of Justice.
Arizona is one of the nine states that had to submit any changes in voting procedures to the Justice Department for "preclearance" under the federal Voting Rights Act. That included changes to the number and location of polling sites. However, that provision of the Voting Rights Act was struck down by the U.S. Supreme Court in 2013.
Clark said the reduction in polling places in Maricopa County is an example of what happens "when states are not required to go through preclearance." He said the state should set up a committee that would look at polling places and decide whether they'd pass the preclearance test if it still existed.