PHOENIX, AZ -- Dozens of immigrants and supporters took to the streets of Phoenix Thursday to voice their frustration over the U.S. Supreme Court's decision to block President Barack Obama's immigration plan.
More than 60 people blocked the northbound lanes of Central Avenue near McDowell Road, outside U.S. Immigration and Customs Enforcement's Phoenix office.
The protest lasted for more than an hour, with protesters enduring triple-digit temperatures. They held signs that read, "Keep families together" and chanted, "We will win this fight at all costs."
Phoenix police moved in around noon and arrested four people after they refused to obey orders to move out of the road. Among those arrested were Gilbert Romero and Ian Danley. The two chained themselves to ladders.
"I'm doing this for my community and for the parents of my friends who would've benefited from this," Romero told NBC News Latino moments before he was arrested.
Viridiana Hernandez and her undocumented mother, Berta Rita, were also arrested. They stood in front of a sign that read, "Dismantle ICE."
Asked about the protest in front of the Phoenix ICE Office, an ICE spokesperson emailed a statement in which Homeland Security Secretary Jeh Johnson said that like Obama, he was "disappointed by the 4-4 vote in the Supreme Court today."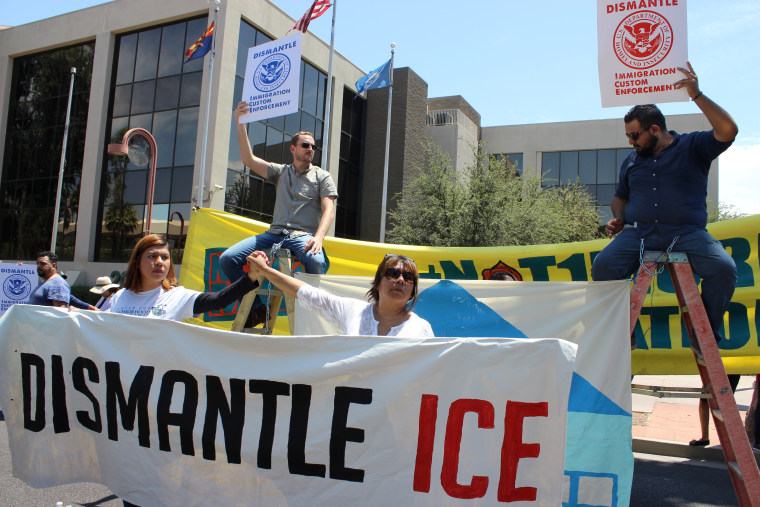 The court's decision let stand a lower-court ruling that blocks two immigration programs that Obama announced last year to shield millions of undocumented immigrants from deportation and allow them to legally work in the U.S.
Alejandra Gomez, one of the immigration advocates who was protesting outside the Phoenix ICE office on Thursday, got emotional when describing what the decision means for immigrant families in Arizona.
"Our families are not going to get relief," she told NBC News Latino. "They have to wait with this uncertainty, with this fear of deportation looming over their heads, with the fear of being targeted by police. Family separation is real."
The decision is seen as a victory for the 26 states, including Arizona, that filed a lawsuit challenging Obama's immigration programs. They argued that the president didn't have the legal authority to implement the programs.
But for undocumented immigrants such as Herlinda Calderon, who came to the U.S. from Mexico 10 years ago and is a mother of four, the court's decision is disappointing.
Calderon would have qualified for one of the immigration programs blocked. She said she was looking forward to getting a work permit so she could get a better-paying job. She currently works cleaning offices at night.
"This would've benefitted me a lot," Calderon said. "It would've allowed me to build a better future for me and my family."