PHOENIX, Arizona - Jane Sanders, the wife of Democratic presidential candidate Bernie Sanders, wasn't planning to go inside Tent City where Maricopa County Sheriff Joe Arpaio houses hundreds of inmates in military surplus tents. She was planning to view and learn about the infamous outdoor jail in Arizona from outside with the help of a local immigration activist.
But when Arpaio heard she was there, he walked over to offer her a tour and she accepted. Once inside Tent City, she asked Arpaio about the conditions in which inmates are held. She noted that temperatures can get up to 130 degrees under the tents during the summer months.
"You feel that this is humane?" Sanders asked the sheriff. He responded by saying the conditions that the inmates in Tent City face are similar to those endured by members of the U.S. military who are "fighting for our country" and are living in tents in countries like Iraq.
Sanders also asked Arpaio about racial profiling. A federal judge ruled in 2013 that Arpaio's deputies singled out Latinos during traffic stops and other operations. But the sheriff declined to comment and said he'd rather focus the discussion on Tent City. He also invited Sanders to talk with inmates.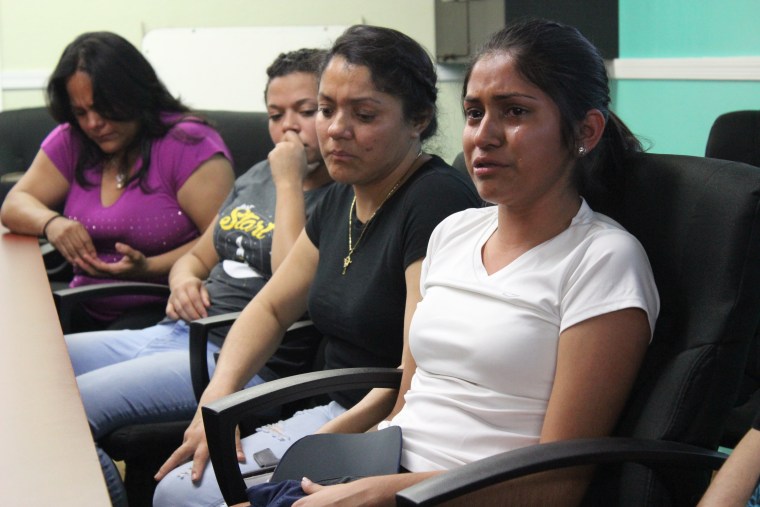 "If you see any Hispanic people here, feel free to talk to them," he said. "I don't care what they tell you. Anybody can come and talk to them. I have nothing to hide."
Sanders spoke to a few inmates in English and Spanish before leaving. She also expressed concerns about the comments Republican presidential frontrunner Donald Trump, whom Arpaio endorsed recently, has made about Mexican immigrants and Muslims.
"He's taken out of context. You know how the media is," Arpaio responded. "I'm sure your husband has to go through that too."
Sanders' visit to Tent City came a day before her husband was scheduled to hold a campaign rally at the Phoenix Convention Center. This will be the second time the Democratic presidential candidate holds a campaign event in Arizona.
RELATED: Jeanette Rubio Cheers On Campaign Workers in Florida
After leaving Tent City, Sanders met with a group of immigrants who shared how they've been affected by the current immigration laws and the conditions they faced inside immigration detention centers in Arizona. The event was put together by Puente Arizona, a local organization that advocate for immigrant rights.
Katherine Figueroa spoke about what she went through when Arpaio's deputies arrested her parents during a workplace raid in the summer of 2009. Figueroa, who was 9 years old at the time, was watching the local news when she learned that the car wash where her parents worked had been raided. The newscast showed images of her parents getting arrested.
"I was scared that they would get deported or that I would never see them in my whole life," she told Sanders.
Figueroa quickly jumped into action to try to prevent her parents from getting deported. She pleaded to President Barack Obama to release her parents through a YouTube video. She told her story at numerous rallies, and she traveled to Washington, D.C., to ask members of Congress for help. Her parents were released three months after their arrest.
Even though her parents' deportation case was closed, Figueroa said: "When I look at a sheriff, I get scared because I think, 'What if they take my parents again?'"
A few immigrants also talked about why they fled their home countries as unaccompanied minors.
One teen, who did not want to be identified, said she was abused in El Salvador by her brother and a man she considered a father figure. She traveled to the U.S. alone at the age of 17 and was able to apply for asylum and stay in the U.S. with the help of Southwest Keys, a nonprofit organization that houses unaccompanied minors and helps them with their immigration cases.
"Everyone talks about the immigrant children, but they never see what we're leaving behind in our countries," she said. "We don't come here because we want to be here, we come here because we're fleeing."
Sanders said at the end of the meeting that she was moved by the stories she heard and that what they've had to endure "is not right.""After hearing your stories, I won't forget them," she said as she broke into tears. "You can count on my husband. We hope that he will be president but he and I will be around no matter what happens, and we will be working on your behalf."