Civil rights activist and Clinton supporter Dolores Huerta joined Latino leaders in Arizona Thursday to launch a campaign aimed at denouncing Republican presidential nominee Donald Trump as well as urging Latinos to vote against him and the Republican senators and elected officials supporting him.
"Donald Trump has made clear time and time again that he's campaigning for the presidency on the backs of Latinos and immigrants," said Huerta.
"But it's not just Trump," she added. "Republicans – even those who at times have criticized him – are still voting for him and are still blockading President Obama's Supreme Court nominee in the hopes that Donald Trump will fill the seat," Huerta said.
The campaign, led by the progressive group People For the American Way, is dubbed "Trumpublicans: Reject Trump and the Republicans." It features bilingual radio ads and and Twitter campaign that began Thursday morning in North Carolina, Florida and Arizona.
The radio ads begin with a child asking her mother if she plans to vote against Trump. The mother responds by saying she will vote against not only Trump, but also other Republicans down the ballot.
The group declined to discuss spending for the ads, but said they would run on three radio stations in Arizona, two radio stations in North Carolina and one station in Orlando, Florida.
Ever since announcing his candidacy for president, Trump has been calling for a border wall and mass deportations. But after meeting with a group of Hispanic supporters last weekend, he appeared to be softening his tone on the issue of immigration. Now he has said he wants to come up with a "fair but firm process" to address the 11 million undocumented immigrants in the U.S.
He is expected to give more details of his immigration plan in a speech next week.
Sen. John McCain is one of the Republicans targeted by the "Trumpublicans" campaign. McCain was a member of the Senate "Gang of Eight" who crafted a comprehensive immigration reform bill in 2013. The bill passed the Senate but died in the House.
Lea Marquez-Peterson, co-chair of Unidos con McCain, said in a statement to NBC Latino, "The people 'protesting' John McCain today were the same individuals praising him for leading the fight to pass landmark immigration reform through the U.S. Senate in 2013."
She added that throughout his career, McCain has led bipartisan efforts to "sensibly and humanely confront the problem of our broken immigration system and secure our border" and that he "has as strong relationship with the Hispanic community, dating back to his very first congressional campaign."
Many Latinos have praised McCain for being part of the "Gang of Eight," the moniker given to the bipartisan group of eight senators who hammered out a comprehensive immigration bill that passed the Senate in 2013. But they've also pointed out that while running for re-election in 2010, the Arizona senator moved to the right on immigration and called for the completion of the "danged fence" in a television ad.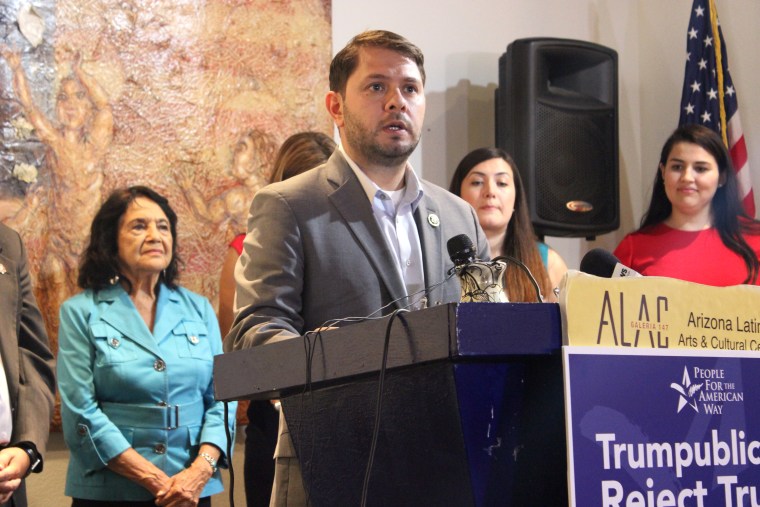 U.S. Rep. Ruben Gallego (D-Ariz.) said at the news conference on Thursday that he once considered McCain "a friend to the Latino community." He said he's now disappointed that McCain is supporting "a man who called Mexican rapists and felons" and "who questioned the integrity of a Mexican American judge because of his heritage."
McCain is "putting our future into the hands – and they're small hands – of somebody like Donald Trump," Gallego said. "That is something that is dangerous and something that is extremely disappointing."