PHOENIX -- A ban on the state's Mexican-American Studies courses is back in court and reviving debate over the value of the curriculum prohibited under a 2010 law.
At issue in the trial in Tucson, Arizona, where the courses originated, is whether part of the state's law that ultimately led to the suspension of the Mexican-American studies program was enacted with discriminatory intent and is unconstitutional.
Signed by then-Gov. Jan Brewer, the law prohibits a school district or charter school from offering instruction that promotes the overthrow of the U.S. government or resentment toward a race or class of people. It also prohibits classes designed primarily for people of a particular ethnic group or that advocate ethnic solidarity instead of the treatment of people as individuals.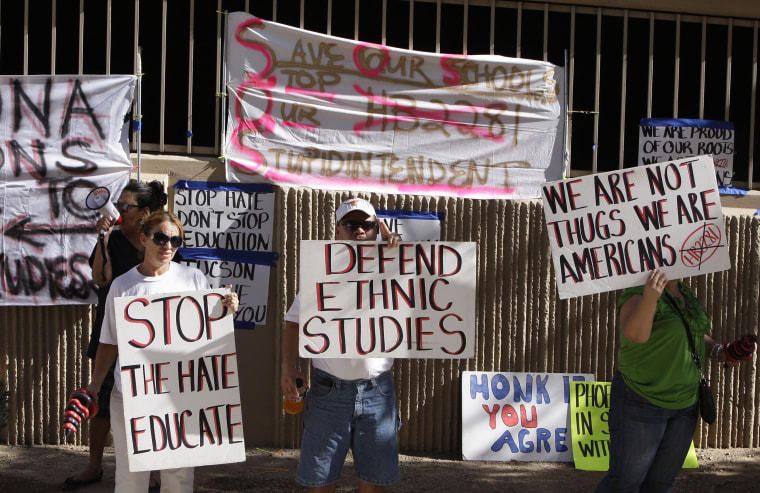 The 9th Court of Appeals upheld most of the law, but the latter portion prohibiting courses for an ethnic group, etc. was returned to the lower court as potentially discriminatory and unconstitutional. The trial on those issues enters its second week Monday.
For Denise Rebeil, the Mexican-American studies classes she took while attending Rincon High School in southern Arizona were critical to shaping her cultural views and her civic engagement, she said.
"I became a lot more connected to my community because of these courses," she said. "They encouraged us to use our voices and told us that, as young people, we have a power with our voices."
The classes also "made me feel proud of where I come from," she added. Both of Rebeil's parents are from Mexico. She was born in the United States. She said the classes motivated her to pursue higher education. Now, 25 years old, she's a graduate of the University of Arizona and a college adviser at her old high school.
The Tucson Unified School District governing board voted to suspend the Mexican-American studies program in 2012 to avoid losing 10 percent of its state funding under the 2010 law. The vote came after a judge found that the program presented its curriculum "in a biased, political, and emotionally charged manner."
A group of teachers and later students sued, leading to the 9th Circuit Court of Appeals ruling that most of the law was constitutional, but parts of it violated the First Amendment and raised issues of discriminatory intent.
Michael Hicks, who introduced the resolution to suspend the program and is now the governing board president, said he visited several Mexican-American studies classes before they were suspended.
"It's not the program I had an issue with, it's with how the program was being taught to the kids," he said. "There were several teachers who were teaching kids that Republicans were bad."
He added that there were some teachers whom he thought "were teaching these courses in a manner that was great."
Attorneys representing the defendants, who include Arizona's superintendent of public instruction, argue the law was necessary to prohibit classes that politicize students and teach them to resent a class of people.
Attorneys representing Tucson Unified School District students allege the enactment and enforcement of the bill has had had a disproportionate impact on Mexican American and other Latino students.
José Gonzalez, who taught several Mexican American studies classes to high school students in Tucson, rejects the idea that teaching about Mexican American culture and history creates resentment or promotes the overthrow of the government.
"What our program did, really, was focus on identity and making sure that students' identify was affirmed," he said. "If students have a sense of self, who they are, and they're proud of it, then they do well academically."
The Mexican-American studies program was begun in the late 1990s by a group of teachers within the Tucson Unified School District who were concerned about the widening achievement gap between Latino students and their peers.
As a way to motivate and empower Latino students, the teachers created courses aimed at offering a curriculum through the lens of the Mexican-American experience. They used the work written by Mexican-American authors and other writers of color that rarely appeared in the classrooms.
The approach appeared to work, according to a study conducted by Nolan Cabrera, a University of Arizona associate professor. The study found students who took Mexican-American studies courses were more likely to graduate from high school and pass standardized tests.
Leo Herrera, 19, said he took several Mexican-American studies classes from third grade to seventh grade.
"Being in the Mexican-American courses at a young age reaffirmed my identity and also reminded me not just about the sacrifices that my parents made, but the sacrifices of people before me," he said.
Supporters of the Mexican-American studies program planned to pack the courthouse when the trial resumed.
Herrera said he and other members of a group called United Non-discriminatory Individuals Demanding Our Studies, or U.N.I.D.O.S., were planning to attend proceedings on Thursday, the last day of the trial. They also planned an overnight vigil at a high school after the trial.