PHOENIX — Even before this year's election cycle began, Latino Republicans in Arizona were building a presence in the Latino community and setting up a ground game for the eventual Republican presidential nominee. But then Donald Trump barreled into the race.
Trump kicked off his campaign with his controversial comments about Mexico and Mexicans. He proposed banning Muslims from entering the U.S., called an Indiana-born federal judge a Mexican and alleged the judge couldn't be fair because of his Hispanic background. He's been harshly criticized for some of his remarks directed at women, including the latest war of words with former Miss Universe Alicia Machado.
Now, Republicans like Sergio Arellano, who leads Latino outreach efforts for the Republican party in Arizona, are making a case to Hispanics for a Trump-led ticket in a state with a history of antagonizing the community — from a sheriff who racially profiled Latinos, to the creation of what became the toughest anti-immigrant law in the country to the banning of Mexican American studies in a Tucson school district.
While Trump and his views haven't upended the work of Republicans here, they have made it very challenging. Trump is now neck-and-neck with Democratic nominee Hillary Clinton in this previously reliably red state.
A recent Univision poll found Clinton is by far the leading choice among Latino voters in Arizona, with 68 percent support and Trump with 18 percent support. Further, in a Latino Decisions poll of 400 registered Latino voters in the state, 79 percent surveyed had an unfavorable view of Trump compared to 18 percent who had favorable views.
RELATED: Poll: 78 Percent of Latinos Have Negative View of Donald Trump
Brian Seitchik, Arizona state director for the Trump campaign, said in a statement to NBC Latino that Trump "is competing hard for every vote in the electorate here." But the campaign did not respond to additional questions about the campaign's Latino outreach.
Trump has stumped in the state — he made his sixth stop in Arizona Tuesday. On some of his visits, he's been accompanied by his surrogates, former Arizona Gov. Jan Brewer and Maricopa County Sheriff Joe Arpaio, two Republicans who are widely unpopular among Arizona Latinos.
Trump also delivered an immigration speech here that re-enforced his immigration policies, leading several of his national Hispanic supporters to jump ship.
Not Arellano. He is leading a group of about 100 organizers and volunteers in talking to Latino voters about why they should vote for Trump and other Republicans.
They are knocking on doors in predominantly Latino neighborhoods. They're spending their evenings phone banking at the Republican Party's headquarters. And they're speaking to Spanish-language media about how a Trump presidency would benefit Latinos.
"The people you least expect are Trump supporters," he said. "The thing is they're not vocal about it for fear of being ostracized and alienated."
RELATED: GOP Hispanics Dump Trump After Arizona Immigration Speech
In addition, the GOP has expanded to areas with large Latino populations. A new office opened last month in the border city of Nogales, which is 93 percent Latino and sits in a county where just 16 percent of voters are registered as Republicans.
Arellano said he primarily tries to sway Latino voters by touting Trump's experience as a businessman who knows how to create jobs. He noted that Latinos routinely rank jobs and the economy at the top of the list of issues important to them.
"The Hispanic community, the black community, and all minority communities – we're all suffering from the same thing: poverty, the lack of jobs and the ability to make ends meet," Arellano said. "I think that somebody with the vision and the ability to create jobs is what we need right now."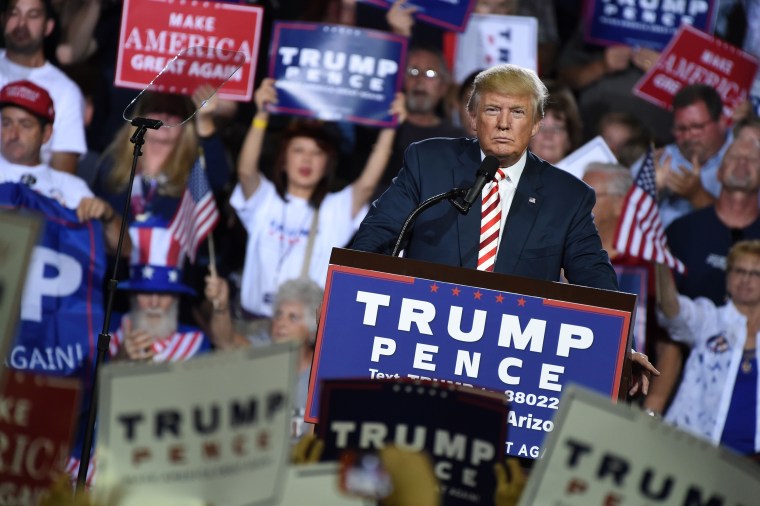 The poverty rate for Hispanics fell from about one quarter in poverty in 2009 to 23.6 percent in 2014.
When Latinos say they don't support Trump, Arellano tries to sway them with the business and jobs discussions.
On immigration, Arellano said Latinos he speaks to are not offended by Trump calling Mexicans rapists because it doesn't apply to them. "They say, 'We're not here illegally. What the hell does it matter to us? We're not breaking the law. We're not committing crimes,'" he said.
Arellano was born in Tucson to parents who came to the U.S. from Mexico and became legal residents through the 1986 amnesty law signed by former President Ronald Reagan.
The immigration issue tends to come up more in group settings, and when that happens, it's a lot harder to change minds, Arellano said.
"I'm not here to advocate for Trump. I'm here to advocate for the Republican Party and what we stand for," Arellano said." We tell people we are for border security. If they still don't agree, they don't agree. And we just agree to disagree."
RELATED: Los Trumpistas: Meet the Latinos Supporting Trump
People such as José Borrajero, a Cuban immigrant who lives in Arizona, agrees with Arellano. He does not consider Trump's comments about Mexicans offensive or bigoted.
"What Trump said was that the Mexican government is encouraging these folks to come here, and we know that they're doing that," Borrajero said. "We know that the Mexican government has been publishing pamphlets as to how to come to the United States and fool the system."
Bettina Inclán, who led Hispanic outreach before joining Mitt Romney's presidential campaign in 2012, said state parties and the RNC have done most – if not all – of the work on the ground to reach Latino voters in previous elections.
This year, the RNC has 29 paid staff and trained organizers in Arizona, including Arellano. In 2012, when the state was not competitive, it had zero. By contrast, the Arizona Democratic Party, which gets money from the national party, has 27 field offices and 160 field staffers. Clinton's campaign has two field offices in the state.
The close presidential race in the state, Republican U.S. Sen. John McCain's bid for re-election and the state's changing demographics all "create a perfect storm of it being a state in play this year," Inclán said.
RELATED: Latinos for Trump Founder: 'Defend Your Country' from Hispanics
She acknowledged that Trump's immigration hardline has made him a tough sell with Latino voters.
Even so, the GOP is finding support from Latinos.
Pastor José Gonzalez, a U.S. citizen born in Mexico, said advocating for Trump would be a lot easier if the Republican nominee softened his tone on immigration and changed the way he speaks about and to Latinos.
But he said he plans to vote for Trump because Trump is more supportive of Christian values than Clinton, whose support for abortion and gay marriage go against Gonzalez's religious beliefs.
"I do my best to help the Hispanic community. It's my community," Gonzalez said. "But when it comes to a point where I have to make a choice between Christian values and Hispanics, I go for the Christian values."