Ecuadorian presidential candidate Fernando Villavicencio stood up to organized crime just days before he was assassinated in Quito at a campaign event Wednesday.
"Come, here I am, [...] let the drug lords come, let the hit men come. The time for threats is over. Here I am."
And last weekend, at a rally in Chone, he said he would not wear a bulletproof vest despite the death threats he had received. "Listen well, they have told me to wear the vest [but] here I am in my sweaty shirt, damn it. You are my bulletproof vest, I don't need it, you are a brave people, and I am brave like you. You're the ones who take care of me," Villavicencio said, according to a video posted Tuesday on his social media accounts. "Come, here I am ... you may bend me, but you will never break me," he added.
On Wednesday, the journalist-turned-politician was killed by a hail of bullets after he had gotten inside a car following a campaign rally at a school in the Ecuadorian capital of Quito. As they fled, the attackers threw a grenade into the street that did not detonate, according to local authorities.
One of the attackers was later killed in gunfire with police, who are now investigating the case.
According to the Ecuadorian newspaper El Comercio, at least six people have been arrested for their alleged participation in Villavicencio's murder. The National Police and the Ecuadorian Attorney General's Office have carried out raids in the neighborhoods of Conocoto and San Bartolo, in the city of Quito.
"In various raids in the Conocoto sector and the south of the city, six subjects were apprehended, Andrés M.; Jose N.; Adey G.; Camilo R.; Jules C.; John R.; all foreigners," Interior Minister Juan Zapata Silva said at a press conference.
Several media outlets reported in the early afternoon that all the detainees are Colombian nationals.
Ecuador's president, Guillermo Lasso, convened a security cabinet meeting in the Carondelet Palace and declared a state of emergency for 60 days, mobilizing the National Police and the Armed Forces to "maintain public order" and "prevent acts of violence in the country." He also said Election Day will remain Aug. 20.
Lasso announced Thursday that the FBI will help in the investigation of the murder of Villavicencio.
The Ecuadorian government has declared three days of national mourning. In a speech broadcast nationwide from the Carondelet Palace, Lasso described the murder as a "political crime that takes on a terrorist character." 
"We are not going to hand over power and democratic institutions to organized crime, even if it is disguised as political organizations," the president said.
Patricio Zuquilanda, the candidate's campaign adviser, told The Associated Press that Villavicencio had received two death threats but did not provide further details.
Villavicencio had reported that a local criminal kingpin linked to the Mexican Sinaloa cartel had threatened him. In January, when he was still a member of the National Assembly – which was dissolved by Lasso in May – Villavicencio denounced 21 mayoral candidates for their alleged links to drug trafficking. 
Not long after the shooting, a criminal group known as Los Lobos claimed responsibility for the act and issued a death threat to another Ecuadorian presidential candidate, businessman Jan Topic. Los Lobos' role in the killing has not been confirmed by local authorities.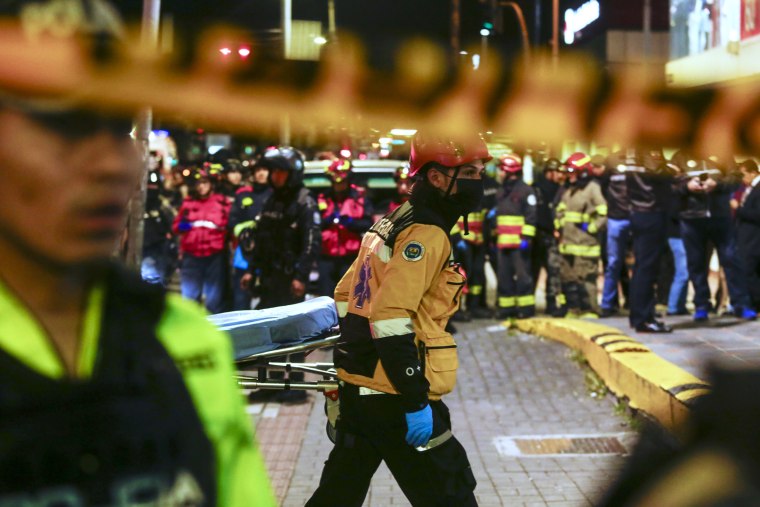 Journalist, father of five and opposition candidate
Villavicencio, a 59-year-old father of five, was running as a candidate for the "Construye" movement. He developed his journalism career at the newspaper El Universo in Guayaquil and in 2021 was elected as a member of the National Assembly, where he became known for prosecuting alleged acts of corruption under Rafael Correa's government. 
When Lasso dissolved the Assembly, Villavicencio decided to run for president.
The president of Mexico, Andrés Manuel López Obrador, is one of several world leaders to react to the candidate's murder. "These are very difficult, unfortunate moments, and also reprehensible, very painful events. We suffered it with the assassination of Luis Donaldo Colosio," he said, recalling the Institutional Revolutionary Party candidate assassinated in Tijuana in 1994.
Brian A. Nichols, U.S. assistant secretary of state for Western Hemisphere affairs, called Villavicencio's shooting "a brazen attack on democracy and the rule of law" and called for "a prompt and thorough investigation by the proper authorities" in a post on X, the social media platform formerly known as Twitter.
Colombian President Iván Duque said that Villavicencio's murder "must be clarified urgently and with the support of international intelligence organizations because they've silenced the fighting voice of a leader whose options were bringing him closer to presidency of Ecuador."
Reuters reported that members of Villavicencio's party said they had held discussions on whether to suspend campaigning because of recent political violence, including the murder in July of the mayor of Manta. But they said Villavicencio had opposed because it would be an act of cowardice.
Ecuador recorded 3,500 violent deaths in the first half of 2023, Reuters reported, with almost half taking place in Guayaquil, the country's largest city.
An earlier version of this story was first published in Noticias Telemundo.