A group of mostly Venezuelan families who migrated to the U.S. seeking asylum were welcomed with a Three Kings celebration in New York City organized by a national Latino nonprofit.
"New York is the ultimate city of immigrants, and we welcome people from all walks of life no matter their background," said Frankie Miranda, president and CEO of the Hispanic Federation in a a press release. "Many families are seeking refuge in New York after fleeing civil strife, natural disasters, violence, and so much more." 
The families were treated with meals, gifts and entertainment at the celebration, which took place in East Harlem at the Julia de Burgos Performance & Arts Center, named after the acclaimed Puerto Rican poet.
"It feels great. And especially for people's minds and attention toward us. It's been more than eight months that I did not have the Venezuelan taste and food," an asylum-seeker identified as Keymart said in an interview with WPIX-TV's Jay Dow.
Another asylum-seeker, Yoliannis, told WPIX that finally having crossed Panama's Darien gap and Mexico while six months pregnant made her feel free, but the celebration filled her "with joy because I had a very rough journey to get here."
The event took place on Thursday, on the eve of Three Kings Day. A religious holiday on Jan. 6, also known as Epiphany, Three Kings celebrates the biblical story of three wise men who followed a star that took them to the baby Jesus.
In Latin America, celebrations include gift-giving, large family gatherings and longtime traditions such as Three Kings bread that contains hidden baby Jesus dolls.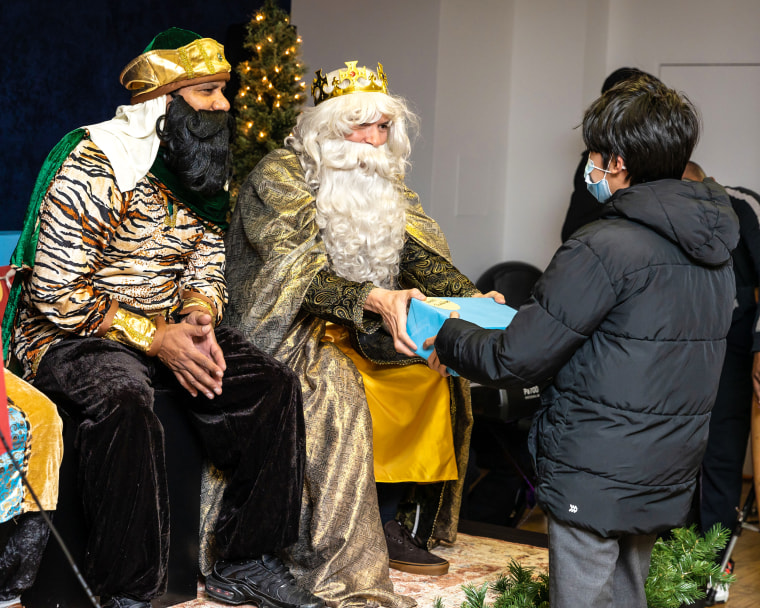 Diana Ayala, New York City Council's deputy speaker, stated that "as families continue to arrive in our city, it is important that they be met with a semblance of tradition, culture, and a sense of normalcy. Three Kings Day this year is an opportunity that allows families to connect and celebrate while keeping with the traditions of home."
The Hispanic Federation pointed out the welcome and the celebration in New York City in contrast to recent actions taken by other states such as Texas. New York City officials have blasted Texas Gov. Greg Abbott following the busing of thousands of migrant families to New York City, with Abbott responding that it's up to the federal government to deal with border issues.