Blame it on Mexicans and Mexico, again.
Republican presidential candidate Donald Trump suggested Mexican billionaire Carlos Slim was involved in the publication of New York Times articles about women who have come out and alleged Trump made unwanted sexual advances.
"The largest shareholder in the Times is Carlos Slim. Now Carlos Slim, as you know, comes from Mexico," he said Friday. "He's given many millions of dollars to the Clintons and their initiative. So Carlos Slim, largest donor of the paper, from Mexico."
Trump went on to call Times reporters "corporate lobbyists for Carlos Slim and for Hillary Clinton," and said: "We're going to let foreign corporations and their CEO's decide the outcomes of the — you just can't do this."
In attacking Slim, the Republican presidential candidate is going back to his recurrent theme of condemning Mexico and Mexicans, a tactic that has played well to a base of supporters but has turned off a vast majority of Latinos —including Hispanic Republicans — and other more moderate voters.
"There is this persistent drive to describe the U.S. as under dire threat to the point of imminent collapse by the presence of Mexican immigrants and Muslim immigrants," said Ian Haney-Lopez, author of Dog Whistle Politics and a professor of race and constitutional law at the University of California at Berkeley.
Donald Trump announced his presidential bid last year by accusing Mexico of sending its "rapists" and by promising to build a wall on the border, accusations that set off protests and strong condemnations by U.S. Latino organizations as well as Mexicans. Several companies — including NBC — severed business ties with the business mogul after the controversial comments.
RELATED: Donald Trump Announces Presidential Bid by Trashing Mexico, Mexicans
Trump also drew strong controversy by repeatedly questioning whether the judge presiding over a Trump University lawsuit could be impartial; Judge Gonzalo Curiel is of Mexican-American heritage.
Yet despite the fallout, Trump has continued his rhetoric. His call to "Build the Wall" has become one of his most memorable campaign themes.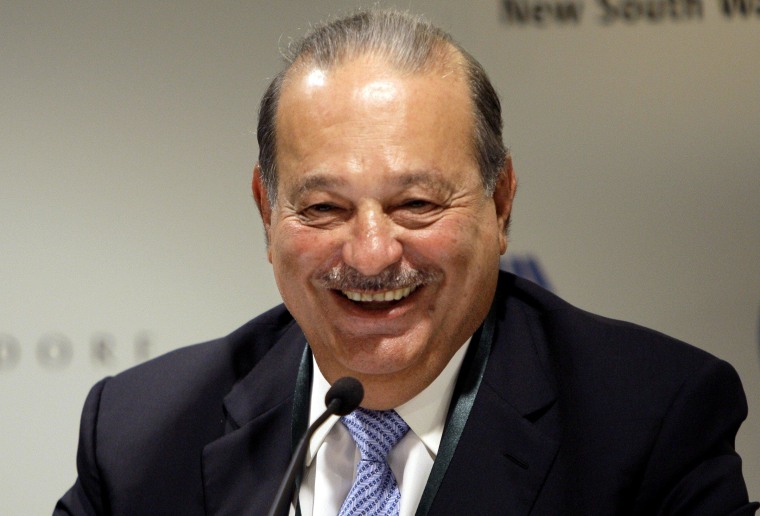 The Wall Street Journal first reported that the Trump campaign was going to connect Slim to the Times articles and to the Clinton campaign. As of March, Slim owned about a 17 percent share in the New York Times Company, according to CNBC.
New York Times publisher and chairman Arthur Sulzberger, Jr. said in a statement that Slim "fully respects boundaries regarding the independence of our journalism. He has never sought to influence what we report."
Slim's spokesman said Slim "doesn't know anything about his [Trump's] personal life and to be honest, he doesn't care about his personal life," and that Slim is not involved in politics in Mexico, let alone in the U.S.
Trump's attacks on the Mexican billionaire and the New York Times are in line with the racial and class differences he has focused on throughout his campaign, Haney-Lopez said.
"I would describe it as pure dog-whistle politics," he said, a term used to describe coded words or language that targets certain groups. Examples of these terms, said Haney-Lopez, are "thug," "working-class America," "inner city," and "silent majority."
Trump has been trying to shift attention away from economic elites to cultural elites, which in this case is The New York Times.
"It's a notion that Americans don't have to fear the big corporations but worry about cultural elites who say that we need to tolerate and welcome immigrants and people of color, Haney-Lopez said.
RELATED: Bipartisan Latinas Urge Vote Against Trump's 'Down the Gutter' Campaign
University of Miami political science professor Casey Klofstad said that targeting Slim is more of a strategy to shore up his own base than trying to convince others to vote for him.
"If you're undecided at this point, you are going to be a very rare commodity," said Klofstad. "It's not about persuasion anymore. It's about getting people to turn out," he added.
Latinos on both sides of the political aisle have spoken out strongly against what they consider Trump's incendiary remarks. At a Latino voter forum in Washington, D.C. on Friday, Republican strategist Ana Navarro noted that while Trump's comments about women had been a "game changer," his comments about Mexico should have spurred the same reaction.
"My question is why did it take that tape? Why wasn't it when he called Mexicans rapists," said Navarro, who also slammed Trump's criticism of Judge Curiel as well as Muslims and the disabled.
Trump still has some support among the Latino community. Denise Galvez, who co-founded the group "Latinas for Trump," says the latest allegations have not dissuaded her.
"At this point, I'm no longer paying attention to the mudslinging. I'm sticking to my principles and my ideologies," she said.
Galvez, who thinks the media favors Clinton, doesn't think the attack on Slim will alienate undecided Latino voters. "People know the media is biased, even the undecided voter — nobody has time at this point to research what is true and what is not," she said.