To his over 300,000 fans on Twitter, Shea Serrano is one of the most recognizable and interesting pop culture writers working today. But off Twitter, Serrano ⁠— a staff writer for the sports and entertainment site The Ringer and a New York Times bestselling author ⁠— insists that he's just a typical dad of three in Texas.
"The neat thing about this is that it is a very specific and curated version of famous," Serrano tells NBC News. "So long as I'm holding my phone in my hand and interacting, I'm famous. But I'm not famous to anybody if I'm walking down the street."
Serrano may still go unrecognized in public, but the popular critic and writer has attracted a good amount of buzz over his fourth and latest book, "Movies (And Other Things)" released on Oct. 8 by Twelve Books.
A follow up to his 2018 bestseller, "Basketball (And Other Things)," the book is a series of essays designed to answer some of the biggest questions Serrano has wondered about concerning the film world. Chapters include "Is this movie better, worse or the same with The Rock in it?" and "Were the 'Jurassic Park' raptors just misunderstood?"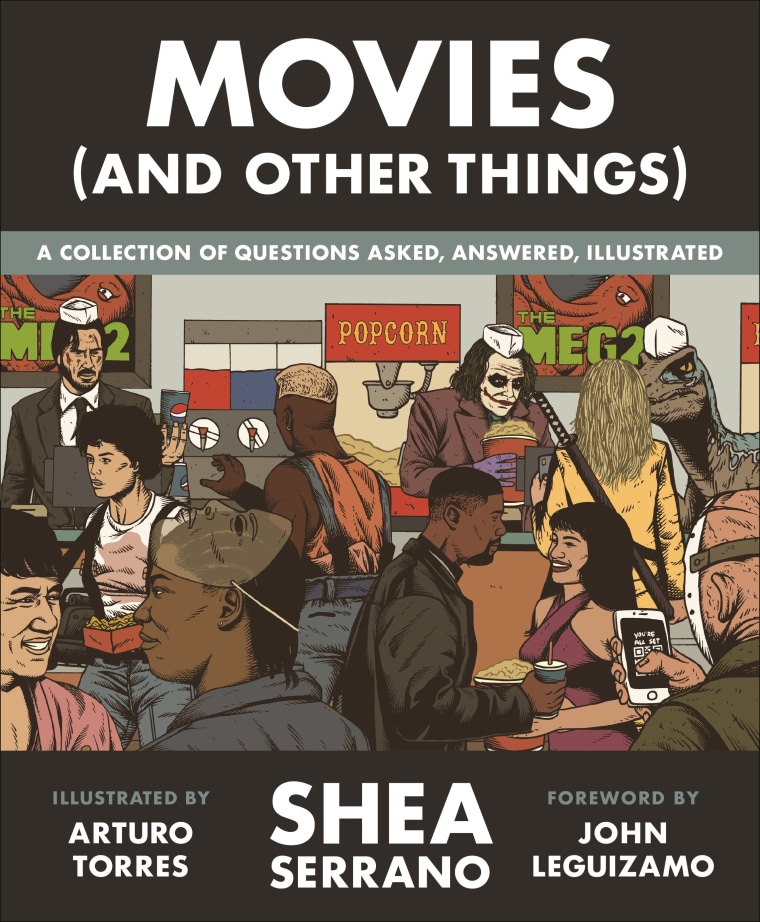 While those titles may sound whimsical and outlandish, Serrano notes that writing and researching the book was not easy. "People ask me those questions a lot — 'How do you come up with this?' 'How do you come up with that?' ⁠— and I feel like they want me to say that it is this sort of divine intervention," Serrano said. "That is not the case at all."
Instead, each of the essays in "Movies (And Other Things)" is the result of hours of reading and watching old interviews and pieces. The chapter on Dwayne "The Rock" Johnson, for example, came about when Serrano noticed that Johnson had been in seven films just in 2016 to 2018.
"Most actors do one movie every couple of years," Serrano notes, adding that it is particularly surprising that a star as big as The Rock churns out work so often. "I just thought that was really funny and I thought: 'You know what we should do? We should put him in even more movies.'"
Like his previous books, "Movies" was illustrated by fellow Mexican American Arturo Torres, who Serrano met by chance after seeing a poster Torres had designed for a local rap group.
"I thought it was really cool that he was this Mexican who grew up on the poor side of town and there were just a bunch of things that were telling me, 'I should work with this guy,'" he recalls. "I think he's one of the best artists working in the country."
A unique bond with followers — for a cause
As much as Serrano is known for his best-selling books, he stands out from other authors because of the dedicated community he has created on Twitter. Known affectionately as the FOH Army, his readers regularly come together to talk sports and movies while also generously supporting both charitable causes and Serrano himself.
Serrano's conversational style is a major reason why readers and fans feel as if they know him. Since starting his Twitter account in 2009, he has openly tweeted about the ups and downs of being a writer, shared stories about his wife, Larami, and their three children and opines about all things film and basketball.
But in addition to sharing personal stories and his takes on culture, Serrano has created a community that goes out of its way to help others in need. Twitter followers will regularly message him with links to GoFundMe pages or other projects that will immediately be met with offers to both help directly and to spread the word.
Recently, a young woman tweeted Serrano to let him know about a teen she knew who was having a plate sale to raise money for her quinceañera; her father had recently passed away. The moment Serrano saw the tweet he knew that the FOH army could help.
"I was on vacation in Florida and Larami was driving and wherever we were going and I just happened to pull out my phone and I saw Twitter and that was the first tweet that I saw," Serrano said. After verifying the fundraiser and family in question were legitimate, he posted it and urged his followers to contribute. "I asked them, 'How much do y'all need to fund the rest of the quinceañera?' and she said six grand," he said. "I just knew from experience that we could just do six grand in like 30 minutes."
They ended up raising over $9,000.
From San Antonio to the classroom and bookstore
Serrano credits his first career as a teacher for influencing the way he supports his readers. "It was the best job I ever had and it is certainly the most meaningful job I have ever had," he said of teaching middle school science for nine years.
His teaching background also makes it particularly gratifying when his Twitter followers confess things like not having bought books in years or not realizing that customers could order books before they're released.
"I am very much in the same camp as these people who are like, 'I've never pre-ordered a book before' — I never pre-ordered a book either until I wrote my first one," he said, adding that he had never been a big reader as a child.
But another big factor as to why Serrano talks openly about the need to help others and about financial issues stems from his childhood in South San Antonio in the 1980s.
"Neither of my parents graduated high school and we were all from the bad side of town — everybody's on welfare and we had a bunch of crime," he remembered. "When you are growing up in that, you just assume that is what your life is going to look like."
After his mother became pregnant as a teen, his parents dropped out of school to support their growing family. His father went on to join the Army while his mother worked at the neighborhood corner store.
The contrast between being able to do the work he loves compared to what his parents had to do is a big part of why he will never take his career as a pop culture writer for granted.
"You're telling me that all I have to do to make money is to watch a movie or watch a basketball game and then write what I felt about it?" Serrano said. "That's like the dumbest thing in the world."
Follow NBC Latino on Facebook, Twitter and Instagram.