Known as the Salad Bowl Capital of the World, northern California's Monterey County is famous for its bountiful produce and for its famous son, Nobel prize-winning "Grapes of Wrath" author John Steinbeck. It is also home to one of the nation's most brutal and violent gangs. Investigative journalist Julia Reynolds dives in deep, offering a compelling first-person account of a group that has turned a largely Hispanic community upside down and is expanding its reach far away from its start in sleepy Salinas, California.
"It was always the farmworkers who found the bodies as they lumbered into their workdays, whether in a sunny spot on Old Stage Road or, in the case of Sal, in a ditch between rows of artichokes," reads one passage in Blood in the Fields: Ten Years Inside California's Nuestra Familia Gang. Reynolds, an award-winning investigative journalist, spent a decade researching and reporting on Nuestra Familia (Our Family), a criminal enterprise that was founded in the 1960s in San Quentin prison in northern California. It was started by five inmates and originally called La Familia Cinco. It expanded to another California prison – Soledad, about 25 miles from Salinas, before spilling out into the streets.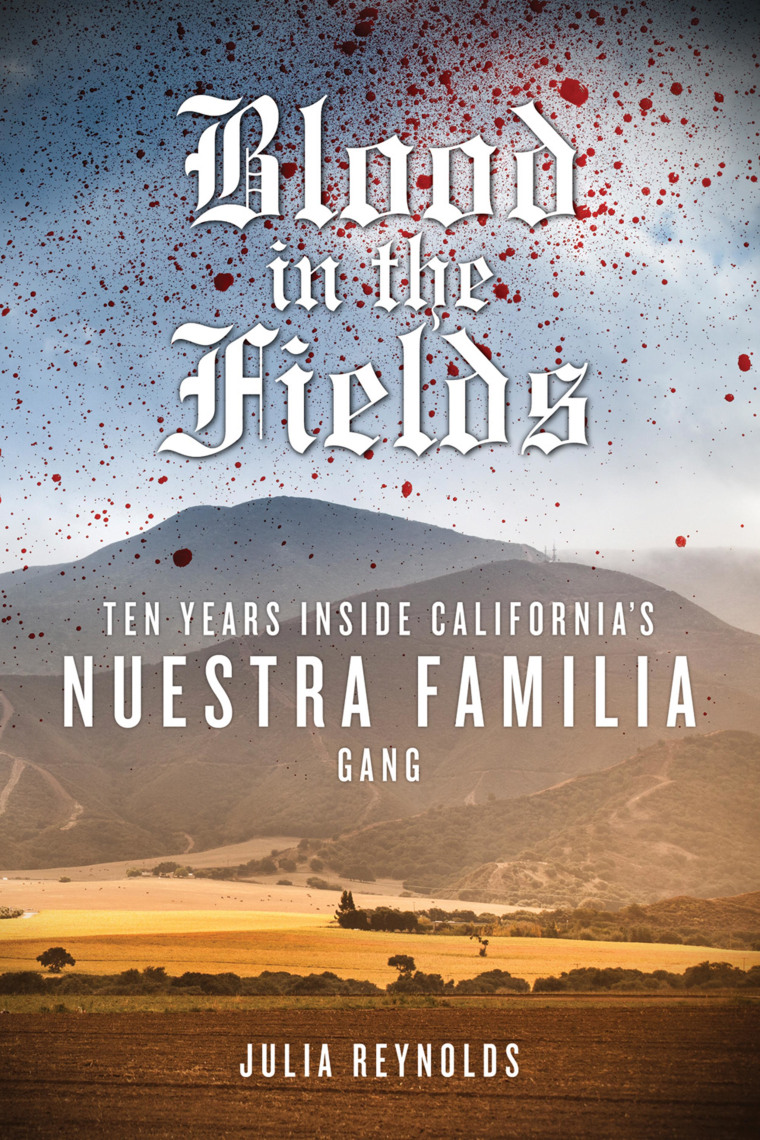 The gang, made up of its foot soldiers called Norteños (northerners), and the Nuestra Familia leaders, grew to become major drug traffickers who also run extortion rings, headquartered in one of the most idyllic areas in the nation.
"Nuestra Familia is an extremely violent organization that happens to operate in one of the country's most beautiful and unexpected locations," said Reynolds to NBC News.
The book is also the story of those in law enforcement and how they grapple with the issue of gang violence in their own community of Salinas, where Latinos comprise 75 percent of the population.
"I also wanted to tell the story of the unsung heroes in this saga -- the Latino gang officers. They bring a real passion and dedication to their work because they know how gangs affect their neighborhoods and sometimes their own families," Reynolds said. "They also know how the gang members grew up, because a lot of them were raised in the same situations," she added.
In 2009, the agricultural community of Salinas – the county seat and at more than 160,000 residents the largest municipality of Monterey County - saw its deadliest year in history, with 29 murders, all of them gang-related. That put Salinas at four times the national average for homicides per capita. Additionally, a study by the Violence Policy Center ranked Monterey County first in the state for youth homicides.
"I believe strongly that we have to understand a problem in order to take care of it, and we have to care about it in order to do something about it," said Reynolds, who produced a documentary in 2006 about Nuestra Familia that received several awards. In the documentary, a father turns his back on the gang lifestyle, only to see his son become more involved. "I find it shameful that we as a nation have not made this problem of children killing children a much higher priority," she said.
Reynolds manages the 'fly on the wall' look inside the gang by tapping into years of connections covering criminal justice issues. It wasn't easy at first. "It took years to gain their trust, one person at a time, but what I learned was that everyone wants someone to hear their story, and once kids started talking, it was like the floodgates opened. Several of the guys now in prison later helped me fact check scenes and dates. I had unprecedented access," Reynolds said.
The investigative journalist followed the men and women of the gang, writing in a narrative non-fiction style that she characterizes as a "sweeping ten-year soap opera with a large cast of unlikeable characters." One of them was Sal, who Reynolds lyrically describes as having met his fate in the agricultural fields that surround the community: "Sal lay beneath his leafy canopy reposed like a saint, only instead of being arched in prayer, his hands were artfully arranged so that the right displayed one pointed finger, the rest curled under. The left hand had four fingers extended, thumb tucked neatly into the palm. To gangsters all over the West, that meant one-four—fourteen—Nuestra Familia's symbolic number (because N is the 14th letter in the alphabet) and a sign to all that a traitor had been dealt with," she writes in the book.
"I also wanted to understand how so many thousands of perfectly good children can grow up to be professional criminals and what were the steps that led them there and what made them change.
The book also examines Operation Black Widow, a decade-long federal law enforcement effort in the late 1990s that attempted to infiltrate and dismantle Nuestra Familia and which created turf wars with local law enforcement agencies. Reynolds said the gang's reach is far greater than many imagine, including law enforcement. "Nuestra Familia is spreading throughout the country via the federal prison system, and their numbers are far greater than better-known gangs like the MS-13," she said.
Reynolds has been involved in criminal justice issues for many years, and said the book is absolutely intended as an educational tool.
"I wrote it so that I could more deeply understand a gang member's logic, because if we don't get that, we will never be able to stop this kind of violence," she said.
"I also wanted to understand how so many thousands of perfectly good children can grow up to be professional criminals and what were the steps that led them there and what made them change. We can't fix it if we don't understand these details much better," said Reynolds.