PHOENIX – Alfonso Vazquez has seen Arizona go from a state ready to enforce one of the harshest immigration laws in the country to one where Democrat Hillary Clinton and Republican Donald Trump — who hold starkly different views on immigration — are effectively in a dead heat in the race for president.
And he's played a part in that transition.
Vazquez is one of the younger leaders that the advocacy and voter registration coalition One Arizona developed to galvanize the Latino vote in response to the tough immigration tactics of Sheriff Joe Arpaio and passage of the state immigrant crackdown law known as SB 1070.
SB 1070 was "another bill that was going to bring fear into my community," said Vazquez, the son of Mexican immigrants who was a high school sophomore when he started registering voters.
One Arizona is seen as a model for other states looking to increase Latino voter engagement, turnout and power. Made up of 14 partner organizations, the coalition has collectively registered tens of thousands of Latino voters in Arizona and has played a major role in increasing the number of Hispanics turning out to vote in recent years.
Altogether, One Arizona and its partner organizations have knocked on more than 1 million doors, made about 987,000 calls to voters and helped triple the number of Latinos on the state's permanent early voter list. This allows voters to receive their ballots via mail and increases the likelihood that they'll vote. There are now more than 300,000 Latinos on the list, up from 90,000 in 2010.
Facing a tough Republican primary challenge for re-election, then-Gov. Jan Brewer signed SB 1070 into law in 2010
At the time, the law was considered the toughest in the country. It gave police officers authority to detain anyone they suspected of being in the country illegally, in what is known as the "show me your papers" provision. Although that provision was upheld by the U.S. Supreme Court, Arizona's attorney general earlier this month established guidelines that include prohibiting police officers from stopping people solely to investigate their immigration status.
In the wake of SB 1070, Latino groups wanted to change the direction the state was taking. They realized that the best way to do that was to work together to increase voting and civic engagement among Latinos, who make up 31 percent of Arizona's population. And so was created One Arizona.
"It was a wake up call," said Viridiana Hernandez, an immigrant from Mexico who stopped hiding her undocumented status after the passage of SB 1070.
RELATED: The Two Sides of Arizona's SB1070
"For a lot of us who were disengaged, were going to school or were just worrying about ourselves and our lives, it woke us up. We figured out that either we do something or this will continue to happen," Hernandez said.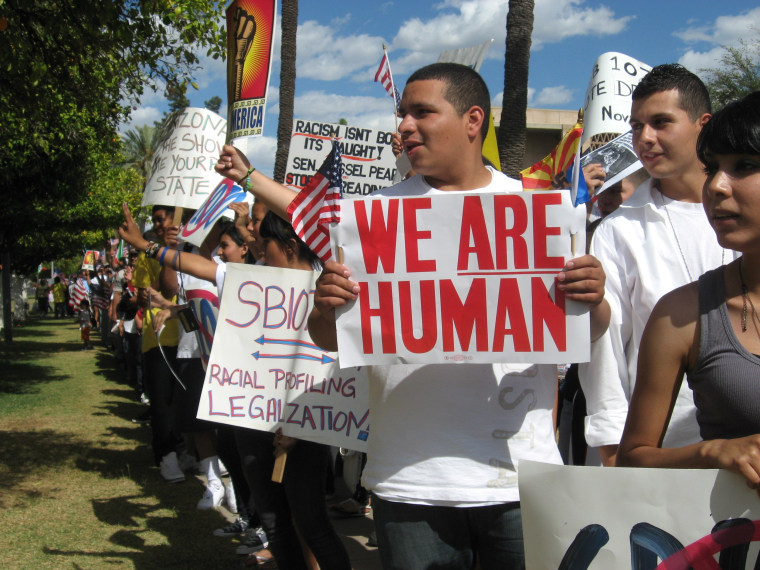 Alejandra Gomez, executive director of the Arizona Center for Empowerment, a One Arizona partner organization, said the passage of SB 1070 marked "a really dark moment in Arizona's history."
But it also was a spark. It galvanized Latinos and prompted massive demonstrations. High school students staged walkouts in protest and hundreds traveled to Arizona from other states to protest the new law. A 24-hour vigil at the state Capitol also began and lasted more than 100 days.
RELATED: Phoenix Murals Turn Immigration Controversy Into Latino Pride
But protests and marches weren't leading to the long-term changes they wanted. Latino groups then decided to join forces in 2010 and created the One Arizona coalition to register Hispanics to vote.
They focused on low-propensity Latinos – those who are eligible but haven't registered to vote, or are registered to vote but don't – and later expanded to target young people and single women.
"We've taken folks that were low-propensity, unregistered voters in 2010 and turned them into high-efficacy voters in the Latino community," Gomez said. "They're engaged and they're voting, not just in presidential elections, but in the local and midterm elections."
One Arizona's efforts have been backed by the Four Freedoms Fund and Unbound Philanthropy. Between 2010 and 2015, One Arizona received more than $3.3 million and distributed that money among its partner organizations. This year, the coalition received about $3 million in funding.
Today Latinos are 22 percent of the state's electorate.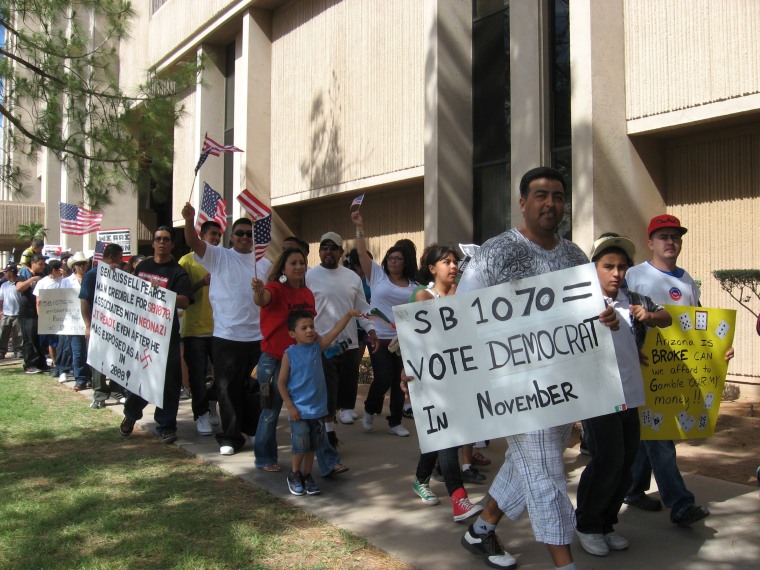 Organizers like Gomez, who started One Arizona's voter engagement efforts, were trained by national groups, including the New Organizing Institute, on how to register voters and how to use their "story of self" to move people. They passed that training on to volunteers, who they recruited by speaking at churches, going to schools and attending community events.
Door-to-door canvassing has proven to be the best way to register Latinos to vote. Volunteers also did phone banking and handed out flyers with information on voting. In addition, they went to supermarkets where Hispanics shopped and to events that they knew many Latinos would attend.
The increase in Latino voters has influenced electoral results and increased the number of Hispanics in local government.
Promise Arizona, a One Arizona partner organization, had the most volunteers and was doing the most voter registration in 2010. At one point, the group had about 1,000 volunteers out registering Latinos in the Phoenix area every day.
The voter registration drives have helped bring about major victories for Latinos. The first one was the recall of state Senate President Russell Pearce, the lead sponsor of SB 1070, in 2011. That same year, state legislators voted down five immigration bills, and since then it has been difficult to pass other immigration bills.
Most recently, One Arizona has helped Latinos build the political power they need to get candidates that reflect their values elected to school boards, city councils and the state legislature. That has led to major local policy changes, including the recent approval by the Phoenix City Council of a municipal identification card that will help undocumented immigrants and others living in Phoenix access city services.
One Arizona is non-partisan and cannot by law endorse candidates. It also doesn't advise Latinos how to vote, but rather lets them decide on their own.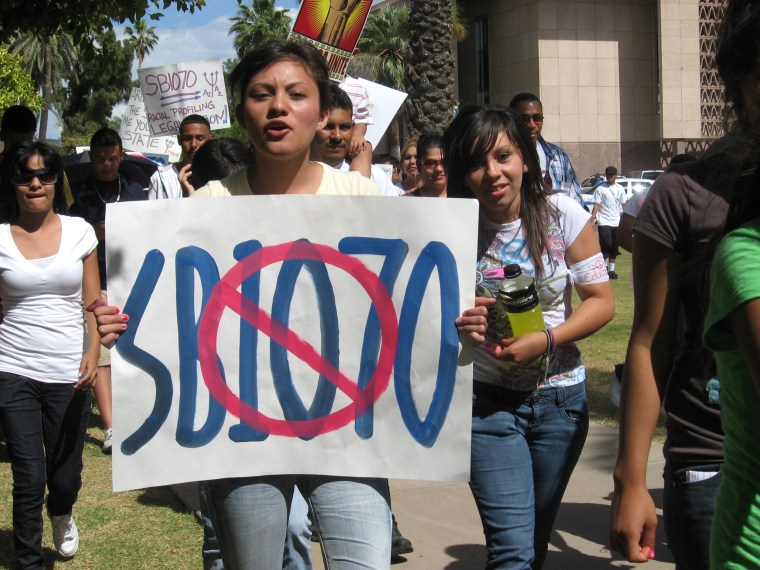 "For us, this isn't about turning the state blue or red," said Ian Danley, director of One Arizona. "It's about electing officials that are more representative of the state's population. We want elected officials to reflect the views and concerns of the people who live here."
But its partner organizations can rally for certain policy positions and register voters likely to back them. Some of them oppose policy positions such as mass deportations and the building of a border wall, which have been advocated by GOP nominee Donald Trump.
The National Association of Latino Elected and Appointed Officials projects that as many as 433,000 Latinos will vote in Arizona in this year's election, up from 400,000 in 2012 and 291,000 in 2008.
RELATED: Latino Groups: Trump Rhetoric Inspiring Anti-Immigrant State Legislation
John Loredo, a political analyst and former Democratic state lawmaker, said the increase in Latino voter turnout in Arizona "is by and large because of the efforts of One Arizona." He also credits the coalition for helping shift the traditionally red state to one that could go Democrat in this year's presidential race.
"Over the last six years, they've been able to harness the energy that SB 1070 created and turned that into civic engagement," he said.