The exposure of cramped and filthy facilities where migrants are being held have sparked either outrage at President Donald Trump or accusations that the bad conditions all started with former President Barack Obama.
But advocates who protested Customs and Border Protection's treatment of immigrants under Obama say that although conditions were unacceptable then, they are so bad as to be inhumane under Trump.
"There were issues on treatment of people under the Obama administration, but right now we have a situation where there is abject cruelty, a culture of criminalization, inhumanity and dehumanization," said Ursela Ojeda, policy adviser for the Women's Refugee Commission.
Advocates say there is overcrowding far beyond what has been seen in the past. People are now forced to sleep on the ground outside. Whereas Border Patrol previously held migrants one to three days, it now holds them for many days after its recommended 72 hours and some for several weeks.
Hundreds of children have been found to have been held beyond the legally mandated 72 hours for children, The Washington Post reported in May.
Lawyers who recently visited two Texas facilities at which migrant children were held said that children and teens had not been able to shower in weeks, there was inadequate food and flu outbreaks. A facility meant for 100 had 350 children, and kids as young as 7 or 8 were forced to care for toddlers, NBC News reported.
Toilets that also serve as a water fountain have been used in Border Patrol facilities for years, as they have in U.S. jails around the country. But where they were once used by the mostly single men crossing the border, now dozens of other people are using that single hybrid water fountain-toilet that is also being used by very young children in custody.
On a scale of 1 to 10, it's "a 12 or 13"
Trump recently claimed that conditions in CBP facilities are better than they were under Obama.
That's not the conclusion of Aaron Reichlin-Melnick, a policy analyst at the American Immigration Council. He was part of a litigation team that helped file a class-action lawsuit during the Obama administration against the Tucson, Arizona, Customs and Border Protection sector over conditions in its border holding facility. The lawsuit that detailed poor conditions still is in the courts.
Reichlin-Melnick said conditions at the border have been bad for a long time, but today, because of the overcrowding, they've become worse than they were before. The Border Patrol holding facilities are notoriously known as "hieleras," Spanish for ice box or freezer. But Reichlin-Melnick pointed out that in a recent report, a government investigator said a Border Patrol facility was so overcrowded that the temperature in a cell was 80 degrees.
He said that if he were grading the conditions under the two administrations on a scale of 1 to 10, he would put them at 8 to 9 under Obama. "What is going on now is a 12 or 13," Reichlin-Melnick told NBC News.
"What we've never seen before is the level of overcrowding, the length of time people have been held in the cells and the sheer inhumanity of the treatment," he said.
Obama shut down a facility for families in Hutto, Texas operated during President George W. Bush's tenure after complaints about conditions there.
David Leopold, an immigration attorney and counsel to DHS Watch, a watchdog group formed by immigration advocacy group America's Voice, recalled that he once represented a man who had suffered torture while locked up in Sudan. He won a favorable ruling from an immigration judge who specifically found the only source of water his captors provided came form the toilet in his cell.
"Today I ask myself what has our country become when women and children in CBP custody are caged in squalor without soap and toothbrushes, forced to drink water from toilets?" Leopold asked in a statement.
On Tuesday, Department of Homeland Security investigators released a report showing problems are in more than one location on the border. The inspectors said in their report that a senior manager at one facility called it a "ticking time bomb."
Another government watchdog's report on conditions at the Clint, Texas, border facility, along with reports from members of Congress who visited that facility, already have sparked outrage.
The inspector general reported four showers were available for 756 people, cells were filled with people at five times the cell's capacity, and more than half of the people held were kept outside.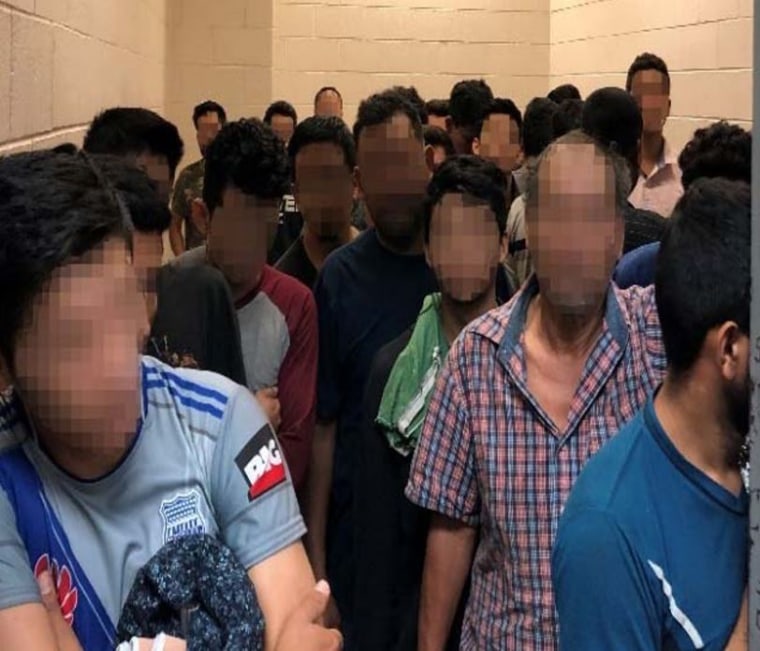 After her visit to the Clint facility, Rep. Alexandria Ocasio-Cortez, D-N.Y., said migrant women told her they were instructed to drink from the toilet.
Ocasio-Cortez and Rep. Joaquín Castro, D-Texas, got pushback on social media with arguments that the conditions existed under Obama as well. But Castro, D-Texas, reported that water was not running in some cells.
Ojeda said the conditions that existed and that have worsened flourish because there is and has been little third-party oversight over CBP, a part of the DHS, in this administration and the others before it.
But she said "there's no question things have gotten worse" as Trump has pushed deterrence as part of his immigration and asylum policies.
CBP could better manage the population, deciding to release migrants rather than holding them for lengthy periods, Ojeda said.
"CBP has the same authority as (Immigration and Customs Enforcement) to release people from custody, but it chooses not to do so because they believe they need consequences," she said.
Ojeda said she overhead one woman in a video posted by Castro say she has been held for 50 days in the facility. Having to remain that long in custody, "really shocks the conscience," she said.
Some of the problems could be alleviated if CBP used alternatives to detention, such as a case management program tested under Obama, rather than "choosing to keep conditions poor and keeping people in these conditions for long periods."
The Senate version of an emergency border funding bill includes $30 million for the Federal Emergency Management Agency to provide grants to nonprofit groups that are housing and feeding migrants, Reichlin-Melnick said.
"There is place to play for organizations to step in and help lift the load," he said, "and really what's needed is a concerted government effort to work along those lines rather than lock everyone up" and hoping everyone stops coming.
FOLLOW NBC LATINO ON FACEBOOK, TWITTER AND INSTAGRAM.