Yubis Zapata had to stop playing baseball when he lost his eyesight during military service due to an explosion, so for him, it is a miracle to be able to play once more, in Cuba's growing league for the blind.
Baseball has long been a national passion. The Communist-run country quickly adopted this version after it was developed in the 1990s in Italy, but it has only really caught on in recent years, spreading to all corners of the Caribbean island.
Players like Zapata are ambitious. Their dream is for blind baseball to be included in the 2020 Paralympics, and to bring home the trophy for Cuba.
"When you lose your vision, these first years are difficult," said Zapata, 41, at a training session in Havana where players wore white uniforms.
RELATED: Communist-Ruled Cuba Hosts First Transgender Religious Ceremony
"When you get this kind of opportunity, it's fabulous. Your world didn't end, it continues."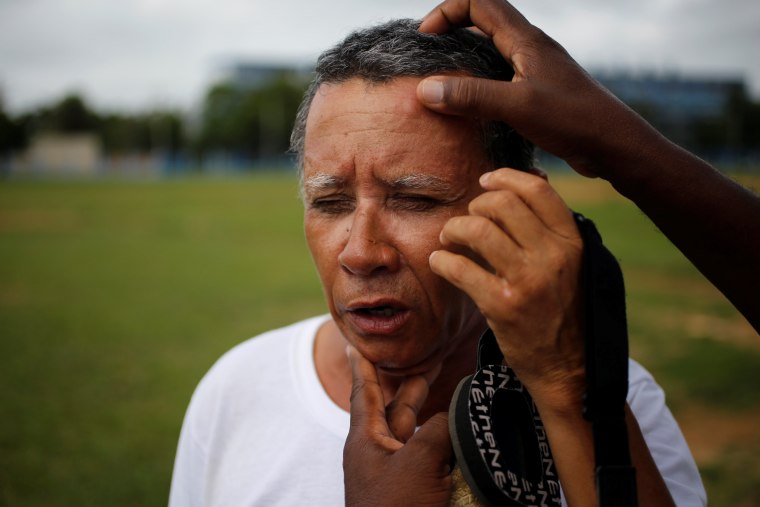 The players, who are blind or visually impaired and wear colorful blindfolds while playing, say baseball has helped them refine their sense of orientation by sound.
The ball has bells inside so that fielders can hear where it lands and scramble for it. First base is a beeping mat, and players clap paddles at second and third base to orient runners.
There is no pitcher; the batter tosses the ball in the air and hits it. Fly balls are not allowed.
"This is different from conventional baseball - you have to be more concentrated," said Carlos Fuentes, 32, a physical therapist who lost his sight in recent years. "This sport in a way has served me as rehabilitation, for spatial orientation."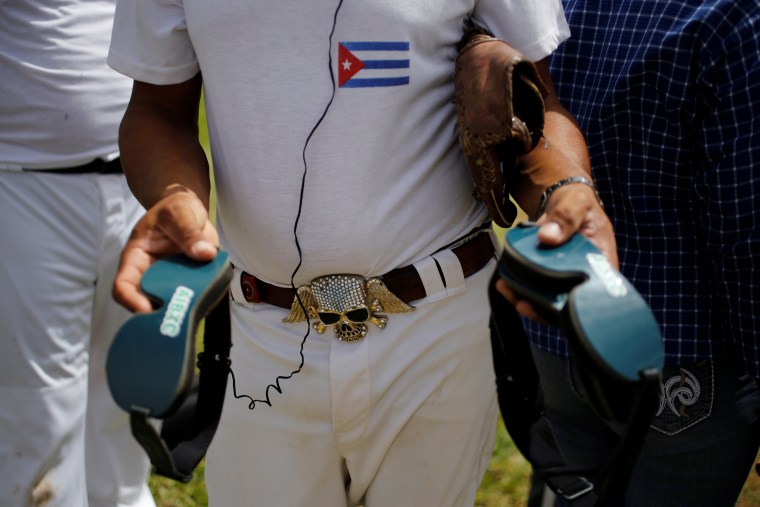 The game was brought to Cuba by Italian coaches, who also provided the specialized equipment. Enthusiasts say it is more truthful to the original sport than its American parallel, beep baseball.
RELATED: Why U.S. Airlines Are Dropping Flights to Cuba
Havana coach Roberto Carmona says the game is played throughout Europe, Asia, in Cuba and Panama. But for it to be included in the Paralympics, there need to be two teams per continent, which he is confident can happen by 2020.
Five Cuban provinces play the game, he said. There is no age or gender limit and even sighted people can play as long as they wear a blindfold.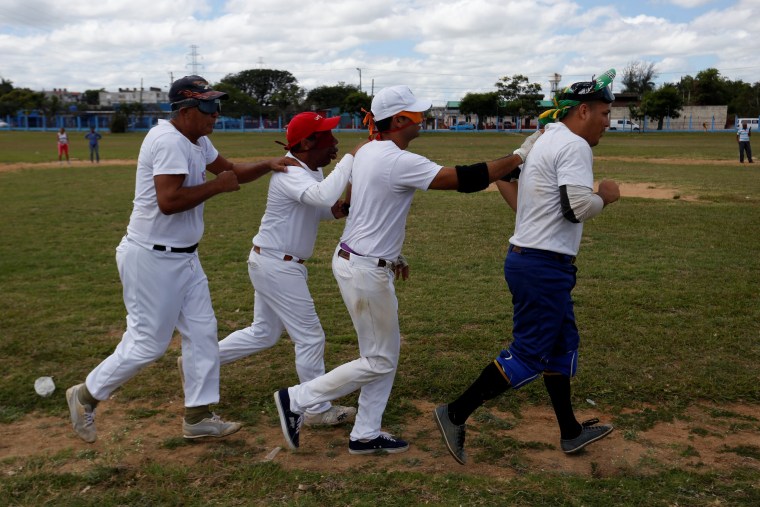 "We met with the Italians recently and won three games," said Carmona. "Cuba could be the leader, not just in the region but the whole world. Baseball runs through Cubans' blood."