MIAMI — Benicio Del Toro is known for going above and beyond when preparing for roles. When resurrecting his complex character, Alejandro, the Puerto Rican actor decided to learn sign language for "Sicario: Day of the Soldado."
"You have got to practice a lot," he recalled during a press day for the film in Miami explaining what it takes to add an extra dimension to an already compelling story.
At 51, Mr. Del Toro is part of an acclaimed action-film franchise. Starring opposite Josh Brolin, the film follows their characters in a mission to create a war between powerful drug cartels.
Del Toro plays the role of Alejandro, a mysterious Colombian agent. "When we met the character in Sicario, the first movie, he was a man that was set on revenge. We knew that his wife, and that his daughter had been killed by drug cartel violence," the actor told NBC News.
According to Del Toro, even though he has always tried to challenge the stereotypical Latino roles throughout his career, he always goes for the "good part."
He had his breakout role in "The Usual Suspects," (1995) for which he won his first Independent Spirit Award. Six years after, at 34, Benicio Del Toro became the third Puerto Rican Actor to win an Academy Award. His role as a Mexican police officer in the highly acclaimed movie, "Traffic" (2001) earned him an Oscar for best supporting actor, along with a BAFTA Award, a Golden Globe Award, and a Screen Actors Guild Award.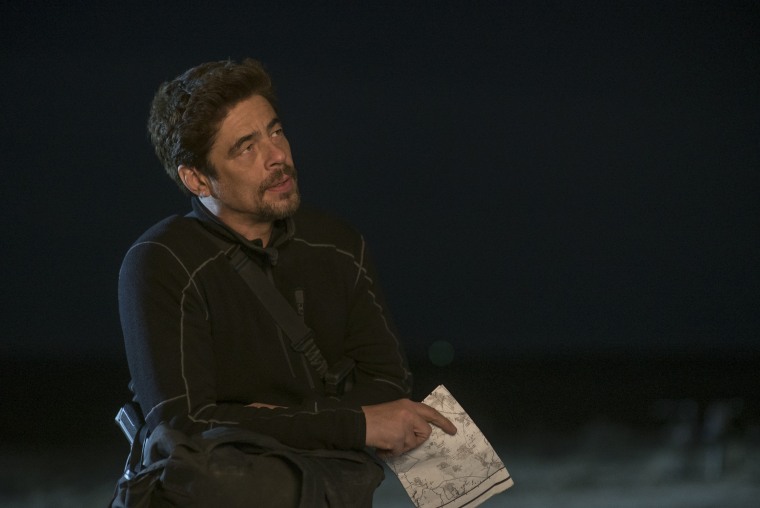 In addition to being part of an exclusive group of Academy Award-winning Latinos, Del Toro belongs to a small group of Latino actors who has managed to remain a Hollywood "A-lister."
According to the 2018 Hollywood Diversity report from the Institute for Research on Labor and Employment at UCLA, Latino actors appeared in 2.7 percent of top movie roles in 2016; Asian and mixed race actors had these kinds of roles 3.1 percent and 3 percent of the time, respectively.
This is not the first time Del Toro has been on screen this year. Recently, he played the role of The Collector in "Avengers: Infinity War," released in April. He was also in "Star Wars: Episode VIII – The Last Jedi," released in 2017.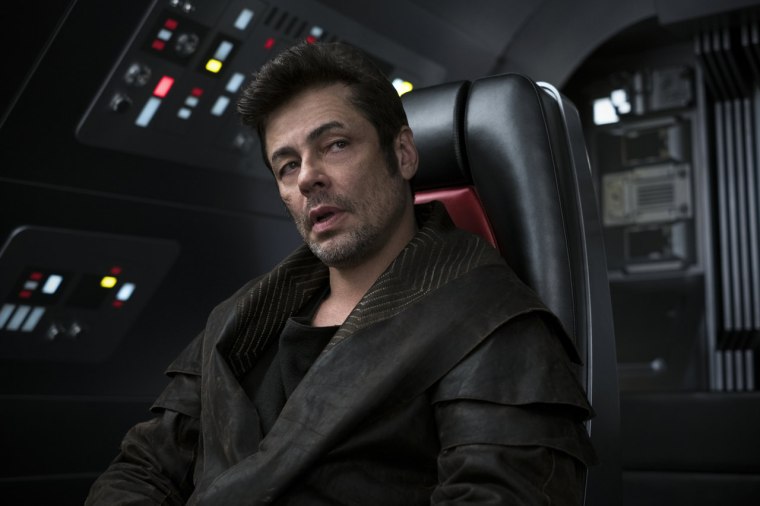 In "Day of the Soldado," his character, Alejandro, becomes part of a new covert operation to create a war between the powerful Mexican cartels. Part of what he has to do is kidnap the 15-year-old daughter of a cartel leader — played by Isabela Moner, who recently spoke about her role to NBC Latino. The cartel leader's daughter is about the same age of Alejandro when his daughter was kidnapped and killed.
"It is a movie that is character driven, and it is really about the evolution of the two main characters, Josh Brolin's character, and the one I play," Del Toro said.
"The audience really meets Alejandro for the first time. Now, he is putting this young, innocent girl through basically the same experience that his daughter went through before she was killed, and this starts to create this mirror in him," he said. "It gets to the point that we learn more about his daughter. We learn that she was deaf; in a powerful moment in the film, it's the first time he has spoken sign language since his daughter died."
Regarding how he learned sign language, "Mexican actor, Bruno Bichir — who is fantastic in the movie — we basically locked ourselves up with a teacher that actually taught us sign language, we had to learned it."
The sign language they learned is Mexican sign language, which is different than American sign language, Del Toro explained.
"The journey with him and the relationship between Alejandro and Isabel Reyes (Isabela Moner) becomes his own antidote for him to show us that there is still a conscience in the character," he said. "I am not saying he is innocent, but I am saying that it is the beginning of the rehabilitation of Alejandro."
Regarding his thoughts on the Trump administration's policy recent policy separating migrant parents from their children after they had crossed the U.S. border, Del Toro said he felt "like most people do, horrified. It's a terrible situation with what's going on, with the kids and the separation of the families."
President Donald Trump later signed anexecutive order to end his administration's policy of separating children from their parents at the border.
"I am glad that the president signed that order, but that is not where it stops. He needs to keep working on that, and on all these other facts," said Del Toro. "There are more than two thousand kids that have been separated from their parents, they need to be reunited with their families."
But the actor emphasized the importance of separating the story lines in "Sicario: Day of the Soldado," from current events.
"This movie was done way before. And this movie, like many TV shows, soap operas and films, what it does is that it uses that world [of] the war of drugs ... They use this world, and they create stories that exist in this world, in order to explore elements of humanity, good or bad," Del Toro said.