MIAMI, FL -- Miami Beach Art Basel season had a little bit of everything - great attendance, excellent sales and even a violent attack that was unfortunately mistaken for performance art but thankfully produced no mortal wounds. But beyond the main events and headlines, the satellite art fairs and parties were every bit as interesting and many of them featured incredible Latin American work.
PINTA, the only curated fair with a specific geographic focus on Ibero-American art offered a diverse experience that was at once completely Latino and engrossingly universal. I discovered the work of legendary Contemporary Spanish artist Elena Asins. Her minimalist drawings and plays on ancient Greek texts - she converts them into emotional symbolic language- were meditations on science, history and primal instincts.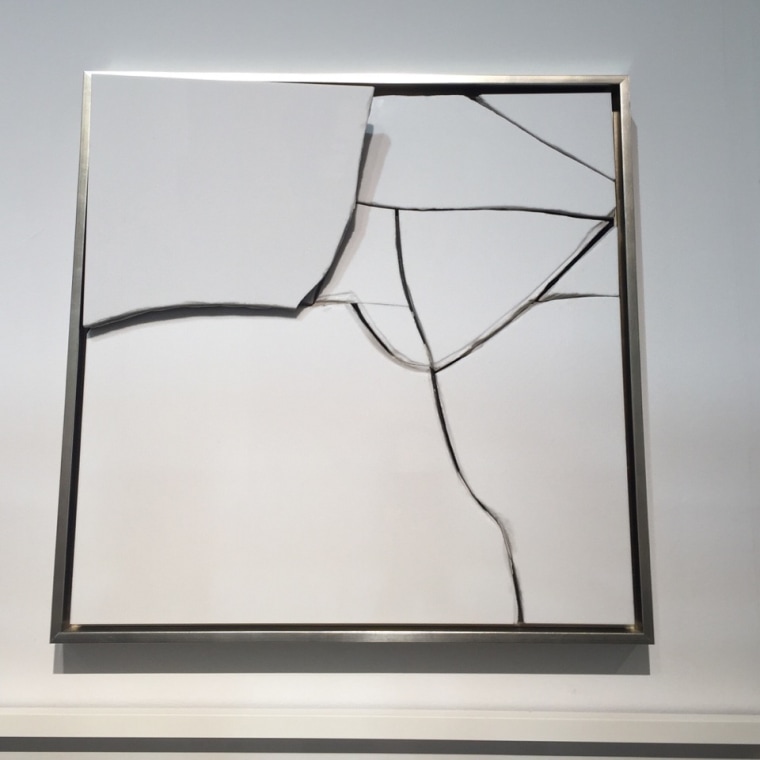 Cuban Florencio Gelabert's sculpture of framed broken marble looked like an altar to chaos and displacement. Artist Julio Villani interpreted life as a Brazilian transplant in Paris by painting colorful geometric images onto decades-old found manuscripts. And Uruguayan predecessor of non-figurative art, Jose Pedro Costigiolo's abstract work was vibrant in its quiet confidence.
Cuban artist Carlos Martiel performing his gut-wrenching "Dictatorship." Naked, he played on the cold stone floor locked to a flag pole by his neck in a metal cuff. Flags from the 21 Latin American countries that were, or still are, under a dictatorial regime were raised. A brutally carnal and symbolic challenge for all Latin Americans to ask: Why us?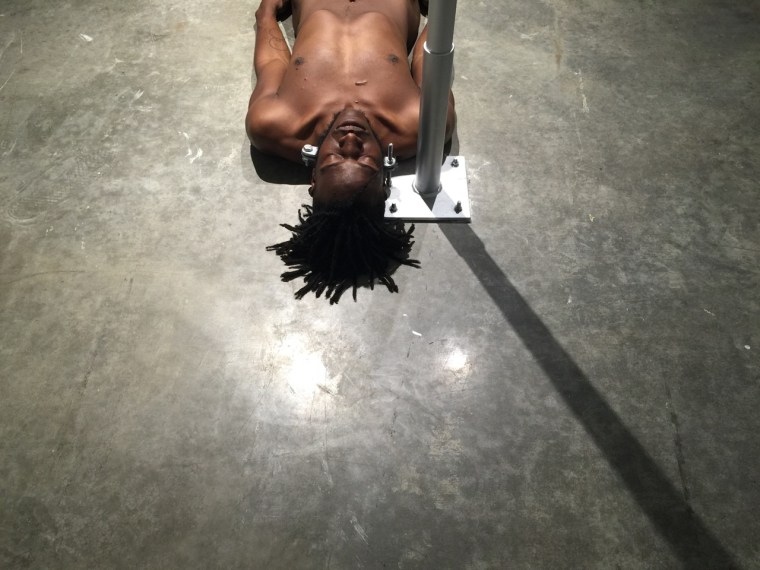 Not to be left behind, UNTITLED also had a nice selection of Latino artists, including Argentinian Pop master Delia Cancela's sketches and video from her live performance "Impressions" as well as her sketches and panels where she collaborated with artist Pablo Messejean. Marta Minujin's feminist labyrinth, "Liburindo Manejinta" made the white booth walls explode with bright movement and life.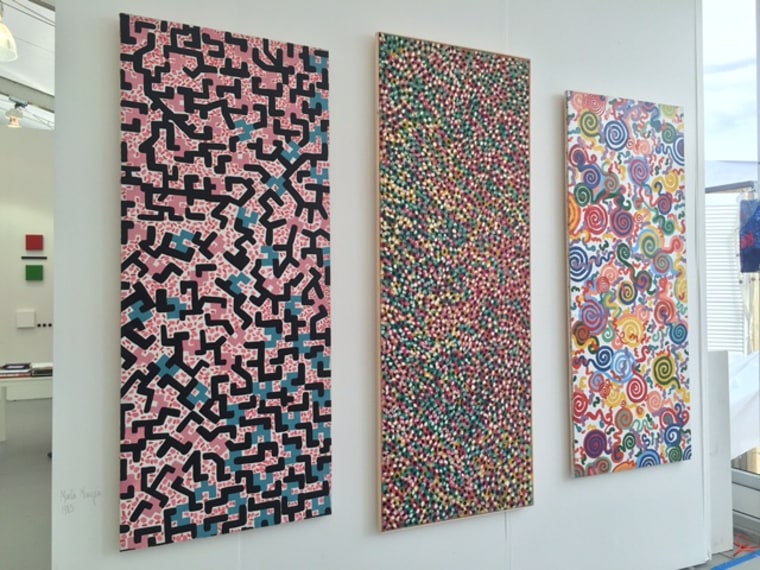 Costa Rican Fabrizio Arietta stretched the human form mixing representative and abstract lines on the same canvas, and Panamanian artist Adriana Minoliti explored the erotic forms of the human body using geometric shapes, color and composition.
Curators captured so many aspects of bi-cultural living with such ease, it was a pleasure to take it all in. But all art and no play makes for a dull day. There were a few events that were worth noting as well.
Art Basel Miami Beach seen through the Latin American lens was fantastic. But though it's ended, the good news is that it has created a new audience and more visibility for many Latino artists.
The CIFO brunch was a celebration of Gustavo Pérez Monzón's retrospective, Tramas. International curators, collectors and artists discussed what they had seen and liked or hated as they ate pastelitos de guayaba, shrimp empanadas and torrejas under large white tents.
Tramas, which deals with the intersection between nature and math, was a stunner. Pérez Monzón who was retired as an artist but decided to start creating again, was on hand to greet old friends and new fans as people snapped shots of their favorite pieces.
The exclamation point to a week of Latin American art was the ArtNexus Cocktail party celebrating their exhibit "Beyond Abstraction" at the Royal Palm hotel. A fundraiser for the ArtNexus Foundation, which promotes the development and diffusion of visual arts through education and programming, was packed with the top tier of the Latino art world. Tired but satiated, the live band played as attendees lined up for the grouper taco bar or the phenomenal paella. The packed room space was as elegant as it was fun.
Art Basel Miami Beach seen through the Latin American lens was fantastic. But though it's ended, the good news is that it has created a new audience and more visibility for many Latino artists.
Artist Florencio Gelabert noted, ""This fair has been very important for me professionally because it's given me the opportunity to present a new body of work to an international audience and created a space where I can interact with other artists and their work. I can appreciate what has happened and what is happening in the contemporary art world."
It made me wonder how all these interactions and inspirations will take shape in the minds of the artists in attendance. More importantly, will the response to the wonderful work we've seen encourage gallerists to take chances on unknown artists and teach collectors to follow their instincts? The idea of promoting even more promising Latino and Latin American artists is an exciting prospect and a great way to end Art Basel season.