Vice President Joe Biden is attending the inauguration of Guatemala's incoming President Jimmy Morales on Thursday as the administration is using deportations of Central American families and more aid to stem migration from the region.
Biden led the six-member delegation that includes Homeland Security Secretary Jeh Johnson, other U.S. government officials and members of Congress, including Rep. Norma Torres, D-Calif., a native of Guatemala.
The two leaders were to meet for the first time in Guatemala on Thursday.
"The Obama administration is excited that we're entering a period of real opportunity in Central America," said a senior administration official to reporters on a call Wednesday. "The election of Jimmy Morales is one sign of that, as he won the election campaigning as a reformer."
Morales, a well-known comedian, was elected as Guatemala's president last October. He succeeds Otto Pérez Molina, who hours after resigning was arrested on corruption charges.
This is Biden's third trip to Guatemala as vice president. His first trip took place in June 2014, when tens of thousands of unaccompanied minors and families from Guatemala and other Central American countries and Mexico were arriving on the U.S. southern border.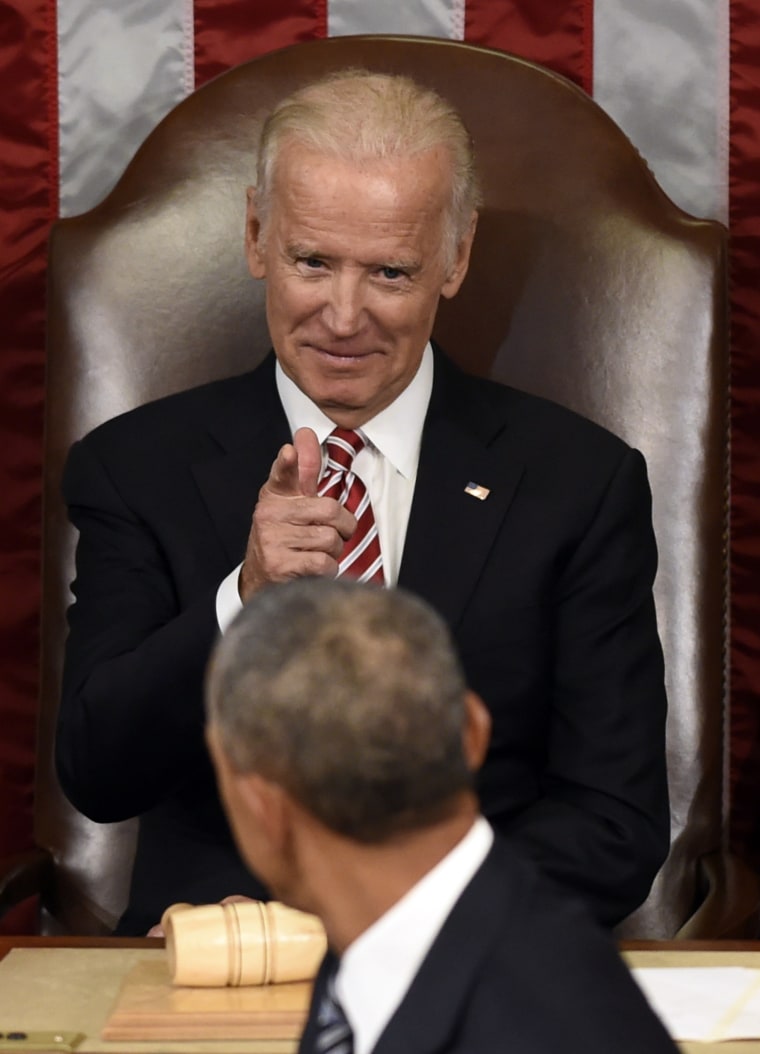 While many of those migrants were immediately returned, particularly those from Mexico, some Central Americans were allowed to remain to pursue chances to stay in the U.S. The federal government quickly built detention centers in Texas for the families and children, but was ordered to release them by a federal court.
The administration is now appealing that ruling, but on New Year's weekend, Immigration and Customs Enforcement began arresting migrants who it said had final deportation orders, a move that has drawn heated criticism from advocates.
While in Guatemala, Biden will host a meeting with the presidents of Guatemala, Honduras and El Salvador to review the progress that has been made on a plan called "Alliance for Prosperity". The plan, first announced on November 2014, is meant to address what is driving Central Americans to flee their home countries and head to the U.S.
Discussions will also focus on the $750 million in aid that Congress approved for the three countries last year. The money came with strings attached.
"I think a major point that the vice president will carry is, 'Look, we are here to support you, but this is a journey we have to take together.'"
Before the governments of Guatemala, Honduras and El Salvador can access 50 percent of the funds, the U.S. secretary of state must first certify that they are taking effective steps to address 12 issues. Those issues include combating corruption, strengthening public institutions, improving civilian jurisdiction, tackling crime, protecting human rights and supporting programs to promote economic growth.
Another 25 percent of the funds are being withheld until the U.S. secretary of state can certify that the three governments are taking effective steps to deter migration from Central Americans to the U.S., combat human smuggling and trafficking, improve border security, and receive and reintegrate citizens who are deported from the U.S.
"I think a major point that the vice president will carry is, 'Look, we are here to support you, but this is a journey we have to take together,'" a senior administration official said.
In addition, Secretary of State John Kerry announced Wednesday that the United Nations would assist in screening Central Americans in a resettlement program that will be expanded.
Related:Obama Administration to Expand Refugee Plan
The administration has been under fire from immigrant and Latino advocates and some Democrats for the arrests of the Central American migrants.
Hours before President Barack Obama gave his final State of the Union address Tuesday, some House Democrats denounced the arrests in a news conference. They also sent the president a letter signed by 146 House Democrats, calling on him to "immediately halt" the raids.
Torres, who signed the letter, has joined other advocates and lawmakers in calling the migrants refugees who are fleeing extreme violence and extreme poverty in their countries.
"There were also concerns … that many of the refugees did not have proper legal representation during their court dates," Rep. Torres.
U.S. law defines refugee as a person able to demonstrate they were persecuted or fear persecution because of their race, nationality, political opinion or membership in a social group.
Seventy-seven individuals had been deported as of Jan. 7 to Honduras, Guatemala and Mexico, as a result of the arrests, said Bryan Cox, a spokesman for Immigration and Customs Enforcement.
The issue has spilled over to the campaign trail. All three Democrats now calling for the administration to suspend the arrests.
Related: Central Americans Picked Up in Raids Get Deportation Pause
The 12 Democrats of the House Committee on Homeland Security also questioned in a letter Wednesday whether the raids are the best use of DHS's limited resources for immigration enforcement.
Officials have defended the arrests and deportations. In a November 2014 memo, Johnson said that the administration would honor humanitarian claims of the Central American migrants who arrived that year, but migrants who couldn't demonstrate that they qualified for humanitarian relief would be removed.
Over recent months, there has been a spike again in migrants arriving from the three countries.
NBC Latino's Suzanne Gamboa contributed to this report.