Statesman Bill Richardson moved about foreign countries with a trust that allowed him to win hostages' releases, snag the return of U.S. service members' remains and stop diplomatic crises from erupting. 
But for many Latinos, what he accomplished back home also resonates. He defied the prejudices and narrow expectations of his own country to reach levels of power where few of his fellow Mexican Americans and other Latinos are found, without abandoning his culture and community. 
Through many individual relationships, he helped other Latinos reach similar heights, cheered them on to do so and saw several penetrate the same levels of mostly white American society. He had tried in his lifetime to be the embodiment of the idea that the greatness of America is the sum of its parts.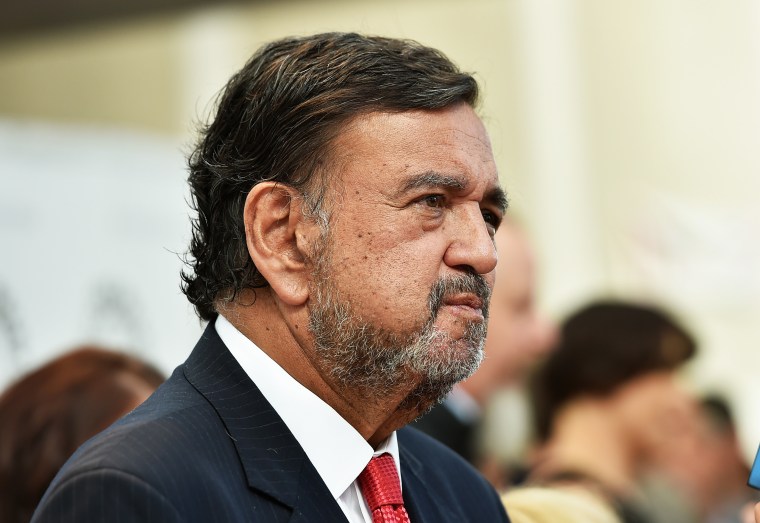 "If ever there was an American Latino, it was Bill Richardson," said Janet Murguía, the president and CEO of UnidosUS, the country's largest Latino advocacy group. 
Murguía said she met Richardson in the late 1980s, when she was a young congressional staffer for Rep. Jim Slattery, D-Kan. Slattery was a member of the Energy and Commerce Committee along with Richardson, who sat next to him.
Richardson, a New Mexico Democrat who was elected to Congress eight times, would talk to Murguía and give her tips about working with other congressional staffs, "little things" that were important for staying on top of the frenzy of Capitol Hill, she said. He always wanted to see other Latinos rise, Murguía said.
He referred to her as "kid," and one day, after Bill Clinton was elected president, Richardson told Murguía to expect a call from the White House asking to interview her. Talk to them, he told her. She ended up getting hired in the Clinton White House as an assistant to the president, one of very few Hispanics at the time, she said.  
"It was life-changing for me," she said, trying to hold back emotion, in a telephone interview from Spain on Tuesday.
"I'm choking up because it's hard to imagine someone who, from a Latino perspective, had a bunch of influence in opening doors for me and so many others like me who have gone on to serve in leadership roles," she said.
For more from NBC Latino, sign up for our weekly newsletter.
"He liked the idea he'd made it in the most accomplished studies and schools and he had been able to compete with some of the most well-heeled individuals," Murguía said. "But he never forgot that in his roots he was Hispanic. He always wanted to help Latinos and always felt a sense of responsibility to represent the Latino community."
Richardson died in his sleep Friday night, about a week after he was nominated for the Nobel Peace Prize for his work since the mid-'90s negotiating the releases of political prisoners and hostages. 
When he announced his presidential run in 2007, seeking to be the first Hispanic president, he said on NBC's "Meet the Press" that he was running because "the American people need somebody who can bring this country together." He dropped out early after poor showings in the Iowa caucuses and the New Hampshire primary. 
Like many Latinos, he straddled a bicultural world. He was the son of a descendant of a Mayflower passenger — his father, who was white and of Mexican descent, was a bank executive. His mother was Mexican, and he lived in Mexico until he was 13.
Richardson said in an interview on C-SPAN's "Book TV" about his memoir, "Between Two Worlds: The Making of an American Life," that his father, a U.S. citizen, was such a patriot that he couldn't stand his son's not being born in the U.S. So he sent his wife to California when she was pregnant with him so there'd be no question about his U.S. citizenship.
When Richardson announced his candidacy for president in 2007, becoming the Democrats' first Hispanic presidential candidate, he made the announcement on the highly popular Spanish-language Los Angeles radio show of "El Cucuy."
"My mission is to reach Latino voters, to let them know that I'm Latino and that I'm a candidate with their roots, because the name 'Richardson' is not conducive to that, and I'm a candidate that is trying to get known around the country," he said on NPR in an interview after the announcement. 
'Here is how you get things done'
In the "Book TV" interview, he told host Chuck Todd that when he was in Congress and took charge of the Congressional Hispanic Caucus, he had said he didn't want to be a "professional Hispanic," because he didn't want to be "sandboxed" in Congress on only civil rights and immigration. He had other ambitions and interests, he said.
Richardson had economic privilege — his father was a bank executive, and he attended a Massachusetts boarding school as a teen — and he had a last name that wasn't a Spanish surname. But he said, "Look at me — I look Hispanic. You can't avoid that," when he was asked in the 2007 interview whether he benefited from his last name. 
"I'm very proud of that. I just don't want to be: He's a Hispanic politician; he only speaks for the Hispanic caucus," he said. 
Richardson had wanted to play pro baseball. Instead, he was a congressman, energy secretary and U.S. ambassador to the United Nations. He was twice elected governor of New Mexico, held several university and corporate positions and became the nation's premier diplomat. He created his own diplomatic center, the Richardson Center for Global Engagement. 
Domingo Garcia, the president of the League of United Latin American Citizens, said he met Richardson at the 1984 Democratic National Convention. Garcia, who was 26 at the time, had rallied Latino delegates to withhold their votes for a nominee to get the Democratic candidates to support amnesty for immigrants.
Richardson, then a congressman, and San Antonio Mayor Henry Cisneros came to find out who the young delegate was who was threatening to muck up picking a nominee. He said Richardson got him a meeting with House Speaker Tip O'Neill and later Democratic nominee Walter Mondale. Richardson advised Garcia how to win on the issue, Garcia said. Congress passed the 1986 amnesty bill two years later, and President Ronald Reagan signed it.
"When we were trying to get things done in Washington, when Latinos were in our infant stages [politically], he would tell us this is who you talk to, who to call for that, here is how you get things done in Washington," said Garcia, who was the chair of the Democratic National Committee's Hispanic caucus at the time.
It would be years before another Latino was a presidential candidate in the Democratic campaign. In 2020, Julián Castro, who was the secretary of housing and urban development under President Barack Obama and a former mayor of San Antonio, ran for the highest office. Like Richardson, Castro dropped out early, not having found the widespread backing he needed to remain in the crowded primaries. Castro is now a political analyst for NBC News and MSNBC and an MSNBC guest anchor.
Castro, too, ran into cultural expectations, having to explain why he wasn't a fluent Spanish speaker, even though he, his mother and his father were born in the U.S. At the same time, Castro faced criticism for using Spanish in his campaign.
Castro said that while they weren't close friends, he spoke to Richardson from time to time, the first time when he became mayor of San Antonio, the youngest of any of the top 50 American cities' mayors. The last time was when Castro ran for president in 2020.
Castro said Richardson tried to encourage him, to get him to stay in the race. He said one of the powerful things about Richardson was that he accomplished so much in both worlds, Latino and white. The barriers Richardson overcame, Castro said, still block many Latinos. "There is tremendously more talent in the community than gets to show that talent," Castro said.
He said Richardson leaves behind a trail that has been blazed, having made it likelier that those doors of opportunity will open up.
But ultimately, what he leaves behind is the impact he had on the people and families and the international community that all benefited directly from his aspirations.
"You can say about Bill Richardson something that is the ultimate compliment for a public servant: that he made a real difference in people's lives," Castro said, "and that ought to be the aspiration of everyone who goes into public service."