NEW YORK, NY -- After Big Pun's passing, Fat Joe and Early Pitbull, there haven't been that many authentic Latino rappers.
Enter Bodega Bamz.
Hailing from East Harlem, New York, Bamz is a proud by-product of his environment. NBC Latino sat down with Bamz to talk about his come up, the passing of fellow Latino influencer A$AP Yams, and his favorite bodega spot.
NBC: Thanks for sitting down with NBC Latino. How has your 2015 treated you so far?
Bodega Bamz: Honestly 2015 has been hard because A$AP Yams died in January. That was a huge blow. Not only to the Hip Hop community but to me, and my brother Ohla. That was one of our good friends. As soon as he got in my corner, everything started clicking.
It started off hard but we've been picking it up. I've been shooting videos, just released a trailer to a short film that I'm producing. It's bittersweet because Yams was supposed to executive produce this new album. But we know he's watching and will continue to represent for him.
NBC: Yams' presence was strong enough that even Time reported on his passing. Is it possible to measure his impact?
Bodega Bamz: First and foremost, me and Yams connected on a different level because we were both Latino. He's half Dominican and Puerto Rican, the same nationality I am. The moment we met we bonded because our culture is exactly the same - we both loved music but we connected as Latino brothers. On the music side, before Yams came in the picture I was just a kid with talent - with work ethic and a vision - but I had no plan. He was able to carve out a plan for me, the same plan he made for ASAP Rocky. He gave me a six-month plan, explained it to me and Olah and we followed the plan. It was on from there. I was the only one to really do that. He felt the same way I felt, about the importance of Latinos in this music. It disappeared and it's not too many representing.
He saw what my vision was and how passionate I was about what I wanted to do; because he's Latino he helped out.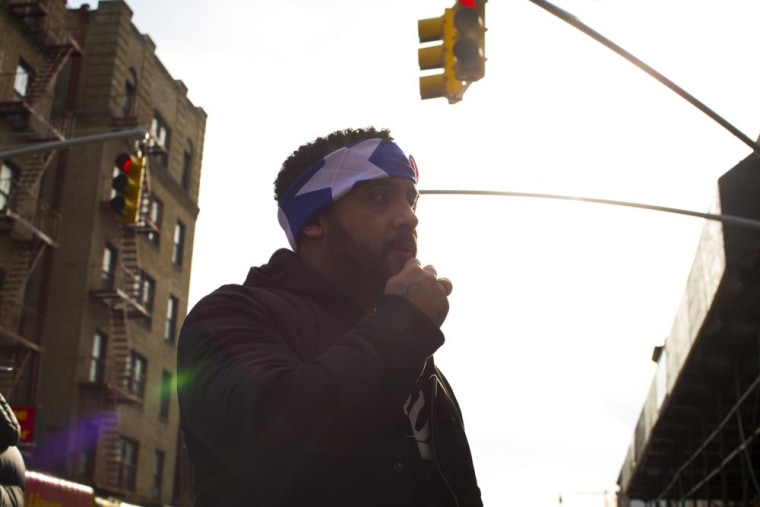 NBC: Do you see yourself reviving Latin Hip Hop?
Bodega Bamz: That's how we set it up, Bodega Bamz and the Tanboys. If you're a Latino rapper coming out of the United States of America you need that cosign from me. Not only am I an artist, but I'm a fan and I was disappointed that we weren't being represented correctly. The fact that such a rich culture that had been there from the beginning was without a popular rapper is disappointing.
Why when a Latino rapper comes out it has to be related to Spanish rap? Why can't a Latino rapper be better than a black, white or Asian rapper? Why does it have to be a box for Latino rappers?
I knew when I got the opportunity, not only was I going to showcase my talent- I was going to push my culture.
NBC: Iron sharpens Iron. What does competition and authenticity means to you?
Bodega Bamz: As far as what I think about the word competition all I hear is bitterness. When you compete with others you become bitter, when you compete with yourself you become better. I try not to compete with anyone else but myself. If you listen to my music, see how I move in my videos I don't sound like anybody, I'm not trying to be anyone. Just because an artist is popular on the radio doesn't mean I bite their style and make it my own. I can't get better if I'm competing with everybody else.
As far as authenticity, you can only fake for so long. The gimmicky style can get you far but there's no soul in that. Eventually it will run out, if you really can't rap you're not going to survive.
Follow NBC News Latino on Facebook and Twitter
A lot of people look in the mirror and don't know who they are, it's very easy to become like that in this game. That's why I only pop my hand out when I have to shake hands and kiss babies. I love when I pop my head out and people miss me. I'm glad they miss me because I'm working.
Some people really enjoy the limelight and they really enjoy going out to the club. What happens is that because of the enjoyment they get so caught up and their lives are ruined; and then they have the nerve to complain...I'm just from a different cloth.
I take a lot of L's (losses) especially being Latino and because of where I come from in New York. I take a lot of L's before a W (win). So if someone is complaining around me - I'm going to take their spot. You can't complain, you're blessed.
NBC: Explain the Tanboys Movement.
Bodega Bamz: If you see the demographic of music, every artist has some type of movement...He needs an army. Whether he sinks or swims, they'll be with him. Ohla created that movement, which was Tanboys. We got tired of being put in that box. We made sure Tanboys Movement was about proud and powerful individuals. It was built because we want to see more Latino CEO's, A&R's and writers, comedians and actors. We want to see that and show people that even though it's hard and difficult we will get it done. That's what it's about, it's really that muscle for Bodega Bamz.
NBC: Gentrification has hit Harlem; has Spanish Harlem lost its identity?
Bodega Bamz: It's a gift and a curse. When you get 7-11s and these big stores you're killing the bodegas who've been here for 40-plus years. Why would a person go to a bodega when they can go to BJs and get everything super sized? In that aspect it's a curse. A lot of businesses have been here for years and they're feeling the heat, but there's still a need for growth. Everything in life grows. You need growth to prosper. As small as it is, Spanish Harlem is very dangerous and has high rates of unemployment. Regardless of anything Spanish Harlem will always be Spanish Harlem. It doesn't matter what you put there it will always be Spanish Harlem.
NBC: What's your favorite bodega in Spanish Harlem?
Bodega Bamz: My favorite bodega in Spanish Harlem is called Hodgys. It's famous because it's reportedly the first bodega to make a chop cheese sandwich before the hype and everyone loving it. Hodgys was the first bodega to make that sandwich, 15 years ago. It's right across the building complex 1199, where (rap artist) Cam'ron has family there. He had a cousin that died named Bloodshed and his mural is on that bodega. It's very special in Harlem. Everyone knows Hodgys; growing up I used to get sandwiches from there. On top of that the bodegas that Latinos own are always my favorite.
Check out Bamz' Soundcloud here