MEXICO CITY -- A charred body found in western Mexico has been identified as the owner and director of a local television station abducted in May, the seventh journalist killed so far this year in the country.
Salvador Adame was director of local cable Channel 6 TV. Armed men grabbed him on May 18 and forced him into a vehicle in the city of Nueva Italia in violence-plagued Michoacan state.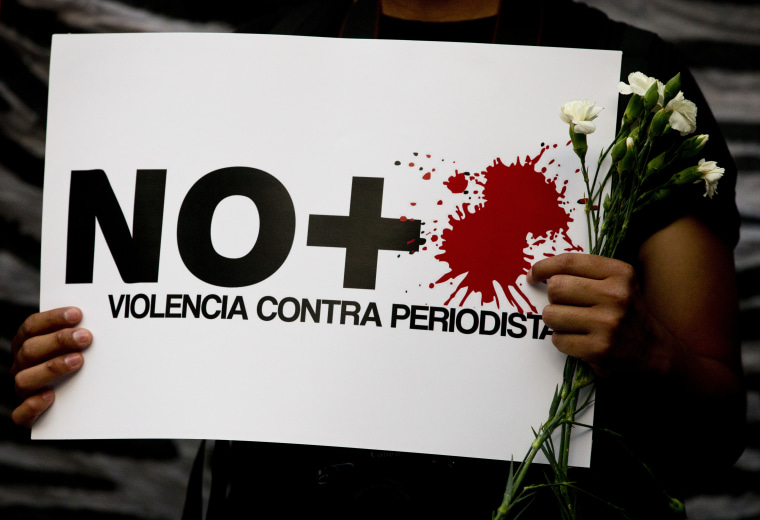 The remains were found in mid-June in a rural area and DNA tests later confirmed they were Adame's, said Michoacan state prosecutor Jose Martin Godoy.
Godoy said a kidnapping suspect had told authorities that Adame was killed on the orders of a local crime boss, allegedly because of "personal problems" between the two.
Godoy said Adame had apparently received angry and insulting phone messages from the local gang leader, who he identified by his nickname, "El Chano" Pena.
Mexico's National Human Rights Commission said it "is calling on authorities to carry out profound, exhaustive and well-documented investigations so that whatever the motive is determined to be, it isn't rushed and doesn't leave room for doubt."
RELATED: Journalist Protests, Mourn Killing of Mexican Reporter Javier Valdez Cárdenas
Mexican prosecutors have been criticized in the past for rushing to attribute the frequent murders of journalists to personal problems or motives unrelated to their work.
Roberto Rock, the chair of press freedom committee of the Inter American Press Association, condemned the killing and said "given the total impunity, we journalists have reached a stage in which we do not feel certainty regarding the causes of the murder of a colleague."
The IAPA said Adame "was known for his criticisms of the local mayor" in the city of Mugica, Michoacan.
Adame's abduction came after prominent journalist Javier Valdez was slain in Culiacan, in Mexico's Sinaloa state.
The New York-based Committee to Protect Journalists says some 40 journalists have been killed in Mexico for reasons confirmed as related to their work since 1992. An additional 50 were slain during the same period under circumstances that have not been clarified.
On Monday, federal prosecutors in Mexico said they would ask for help from the FBI and other international groups in investigating reports of high-tech spying against journalists and human rights defenders in Mexico.
RELATED: Mexico: Group Calls for Investigation into Journalist's Fatal Shooting
The University of Toronto's Citizen Lab, an internet watchdog group, said in June that spyware called Pegasus produced by Israel's NSO Group was used to target the cellphones of people who were investigating or critical of Mexico's government.
It said there was no conclusive proof of government involvement, but noted that the software was sold only to governments and that the detected targets were all investigating or critical of the government.
Assistant Attorney General Ricardo Sanchez said companies that supply such spyware, and state government or federal agencies that might have bought or uses such software, would be asked to testify.