An Arizona Border Patrol agent, facing criminal charges for hitting a migrant with a truck, sent text messages in which he referred to immigrants as "mindless, murdering savages."
The use of such words is commonplace in the Tucson, Arizona sector, the agent's attorney said in court documents, although he's backpedaling from that statement.
Prosecutors obtained the texts that Matthew Bowen, 39, sent to other agents through a subpoena of phone records. The content of the text messages was first reported by the Arizona Daily Star.
The prosecutors wrote in a court document that Bowen's text messages speak to his state of mind and his "intent on committing this civil rights crime." They further stated the texts show "his subsequent effort to cover up his crime."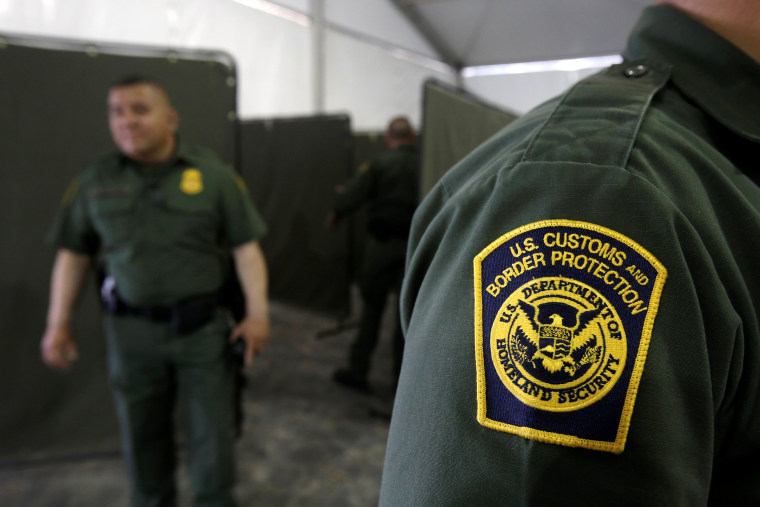 In one text to agent Lonnie Swartz, Bowen wrote, "mindless, murdering savages. PLEASE let us take the gloves off trump!"
Swartz was tried and acquitted on charges of murder and involuntary manslaughter in the 2012 shooting death of Jose Antonio Rodríguez. Swartz has since returned to work for the agency, said Art Del Cueto, national vice president of the Border Patrol Council, the union that represents border agents.
Another agent sent a text to Bowen that said, "Did you gas hiscorpse or just use regular peanut oil while tazing?? For a frying effect."
Bowen said in response, "Guats are best made crispy with olive oil from their native pais." País is the word in Spanish for country, and Guats refers to people from Guatemala.
In some texts, Bowen refers to immigrants, including the one he is accused of hitting, as a "tonk". The word, also spelled "tonc", has been considered either an acronym — Territory of Origin Not Known or Temporarily Outside Native Country — or is meant to simulate the sound of a flashlight hitting the back of a person's head, according to the Arizona Republic.
Sean Chapman, Bowen's attorney, has asked a judge to keep a jury from seeing the texts, saying that they don't aid a jury in determining if his client set out to use excessive force on this occasion and that Bowen's "'disdain' for aliens" is not relevant to the issues before the jury.
He added in a footnote to that statement that if the texts are admitted in the case, Bowen "would seek to establish that the use of these terms is commonplace throughout the Border Patrol's Tucson Sector, that it is part of the agency's culture, and therefore says nothing about Mr. Bowen's mindset."
Reached Monday by NBC News, Chapman said his comment in the footnote in the court filing was "misinterpreted." He said he was referring only to the use of the term "tonk" as common in the Border Patrol sector.
"I did not mean to suggest it's common for Border Patrol to use racial slurs or insulting pejoratives," Chapman said.
Antolin Rolando Lopez-Aguilar, 23, the migrant from Guatemala who was hit in the back by the truck, had abrasions to his hands and both knees, according to court documents.
Bowen is specifically charged with assaulting Lopez-Aguilar with a dangerous weapon, in this case the Border Patrol truck.
Prosecutors are pointing to texts Bowen sent about his encounter to allege he tried to cover up the incident.
"I used an f150 to do a human pit maneuver on a guat running from an agent," he said in a text to another agent.
Prosecutors said PIT stands for Precision Immobilization Technique, when a law enforcement vehicle disables a fleeing target vehicle by applying lateral pressure on the rear quarter panel of the fleeing vehicle so it spins out and stops.
"A "human pit maneuver" is not a recognized law enforcement term, but prosecutors stated that it is an "accurate description of the defendant's actions in the charged crime."
The prosecutors said Bowen changed the characterization of his contact with the immigrant in a text three days later.
"I went up and talked to [the Border Patrol union attorney] the other day. I submitted a supplemental report that documents how it was unintentional, accidental and I was not familiar with how responsive the acceleration was on those new F-150s etc." Bowen's text states.
Other text messages show Bowen's dissatisfaction with his job and political views.
Chapman said those texts and those referring to immigrants pejoratively are immaterial and it would be improper for a jury to infer they caused him to disregard constitutional rights.
Rep. Joaquín Castro, D-Texas, who has led the Congressional Hispanic Caucus in scrutinizing operations at the border, told NBC News that "to have agents enforce their own racism and biases in their work is dangerous and unacceptable."
FOLLOW NBC LATINO ON FACEBOOK, TWITTER AND INSTAGRAM.