Months after his predecessor declared the immigration system is broken, the head of Customs and Border Protection returned to El Paso, Texas, to boast of an 88 percent jump in border apprehensions over last year.
Acting CBP Commissioner Mark Morgan praised the past year of work by CBP, which he said it was able to accomplish even though Congress "refused to get off the sidelines" and its members "refused to do their job."
Morgan's news conference announcing the cumulative statistics for fiscal 2019, from Oct. 1, 2018, to Sept. 30, was held in front of a section of border barrier in El Paso.
Kevin McAleenan, former CBP commissioner and acting secretary of the Department of Homeland Security, had held a news conference at the border in March and declared the immigration system broken. At the time, CBP was detaining immigrants for days beneath a bridge.
Morgan hit some of the same points as McAleenan, including calling for a change to a court settlement, known as the Flores agreement, that requires that children be held in immigration detention for no longer than 20 days. The administration wants to be able to hold them for longer.
"We want to be able to hold families and kids for as long as it takes to get through the immigration proceedings, which history shows ... is about 50 to 60 days," Morgan said.
The apprehensions include people CBP refers to as inadmissibles, people they encounter at ports of entry and are seeking lawful admission but are denied.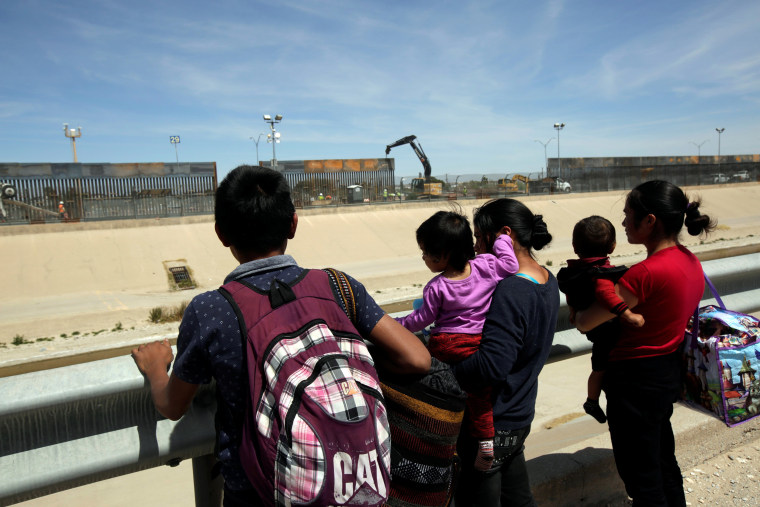 In September, the number of people apprehended and deemed inadmissible dropped to 52,546, about the same level as in September 2016, but above totals in September in 2017, 2015 and 2014.
This fiscal year, apprehensions and encounters totaled 1.148 million nationally, which CBP said was a 68 percent increase over 2018.
On the southwest border, the number was 977,509, up from 521,090 in 2018, an 88 percent increase.
"These are numbers that no immigration system in the world can handle," Morgan said.
In recent years, the migration flow has changed from single men from Mexico to mostly children and families from Central America. Border Patrol agents have said migrants often present themselves to an agent once they cross, rather than try to elude them, although there continue to be people who try to slip past agents.
The year has been a tumultuous one with a spike in migration beginning in January and climbing to 144,116 apprehensions. Morgan blamed cartels, saying they use social media to inform migrants that "if you grab a kid, that's your passport into the United States."
Advocates and others, however, say there are other forces at work pushing people to flee, including violent gangs and severe drought and climate change that has ravaged Central America and left many people starving.
CBP stopped allowing people to walk to border stations on the U.S. side of the border to request asylum, stopping them at border dividing points and limiting how many could cross to request asylum.
Advocates have said that forced many people who would have requested asylum at legal entry points to cross the border or attempt to do so illegally and make the request.
The increase led the administration to pull agents from interior checkpoints and ports and shift them to the border to help process the migrants.
Several migrants have died, including five children, while in the custody of CBP. The agency has faced criticism for its use of chain-link pens to hold migrants, including children. Morgan also mentioned the recent death of agent Robert Hotten while on duty in Arizona, possibly after a fall while responding to a triggered border sensor.
Morgan said CBP also seized 750,000 pounds of drugs over the 2019 fiscal year. He said seizures of hard narcotics went up, even though some officers had been pulled off drug interdiction duties to handle processing of migrants.
In addition, the agency seized $75 million in illicit currency, 1,700 inbound weapons — a 300 percent increase over last year — and more than 1,000 outbound weapons, about a 60 percent increase, he said.
Follow NBC Latino on Facebook, Twitter and Instagram.