Homeland Security Secretary Jeh Johnson left unclear Thursday what happens to parents illegally in the country when they show up to claim their children who have arrived alone.
Johnson's response demonstrated the delicacy of the issue the administration has on its hands. While officials have openly discussed its response to vulnerable children, talking about how many of those children ultimately get to stay here and how it deals with parents here illegally that are reunited with their children is more difficult.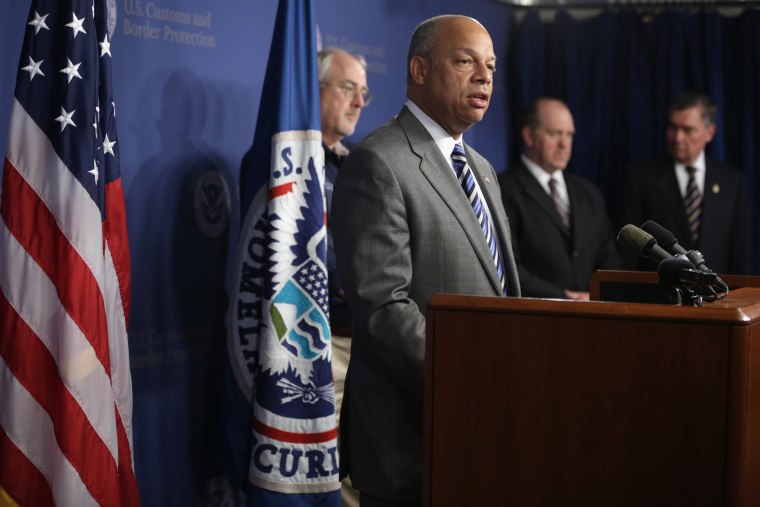 "I am not encouraging in any way shape or form illegal migration. That's the message," Johnson said. The Department of Health and Human Services is required under the law to act in the best interest of the child, Johnson said.
The law that Johnson is referring to is a sweeping anti-trafficking law that aims to prevent children who arrive alone from being returned to serious danger, such as being targeted by drug cartels or sent to an abusive home. The U.S. also is party to international agreements aimed at protecting children.
About 47,000 children have arrived so far this year and most are from Mexico so they are immediately returned. But those from noncontiguous countries, in this case El Salvador, Honduras and Guatemala, must be sent to a shelter and attempts made to unite them with a relative or sponsor while they await hearings on whether they should be deported or allowed to stay.
"Our duty is to get the child to a sponsor. While they are with the sponsor they are still subject to removal," said Mark Greenberg, acting assistant secretary for HHS.
Parents are required to get children to deportation proceedings and cooperate with the removal proceedings, he said.
But a reporter from Telemundo, which is part of NBC, said parents who are not legally in the U.S. don't know if they are qualified to pick up their children who have followed them here and what happens to them if they do.
Some critics have said the crisis of the children's arrivals is "administration made" because Obama granted the deferred deportations to DREAMers and because of the push for immigration reform.
Johnson emphasized that the newly arriving children do not qualify for deferral of deportation as do some young immigrants here illegally, also known as DREAMers, because that only applies to youth who have been living in the U.S. continuously since June 15, 2007. Johnson also said the path to citizenship in the Senate-approved immigration reform bill applies to people who have lived here before Dec. 31, 2011.
He reiterated the Obama immigration enforcement policy of focusing deportations on those who have recently crossed the border illegally and those who are caught re-entering after being previously deported. The children would fit in the former category.
Although he learned about the escalating numbers of children arriving at the border before his confirmation hearing, Johnson said it was made more vivid when he visited the McAllen, Texas, processing center on Mother's Day and asked a 10-year-old girl, 'Where is your mother?' "
"She responded, 'I don't have a mother. I'm looking for my father in the United States.' I returned to Washington the next day determined to do something about this situation," Johnson said.
In addition to creating the shelter and beefing up processing centers, as reported by NBC Thursday, Johnson listed other efforts to respond to the crisis:
_The American Red Cross is providing blankets and hygiene kits.
_Children are receiving health screenings at the Border Patrol centers, before they are released to shelters.
_Faith-based groups are assisting, for example, Texas Baptist Men provided shower trailers.
_Johnson has met with ambassadors of Mexico, Guatemala, Honduras and El Salvador about border security to stem the flow and plans a trip to Guatemala.
_DHS restarted a public affairs campaign to warn of the dangers of sending kids over the border and particularly with smugglers.
_Johnson said he called for a southwest border security plan to address security and fill the gaps.
Johnson said the crisis brings home the need for comprehensive immigration reform, not only provide resources for border security but also "stability" to immigration laws.
He said his review of immigration enforcement policies requested by President Barack Obama is ongoing and he does see need for improvements.