WASHINGTON — A national butterfly preserve is the latest flashpoint in the border wall debate as Democrats accuse the GOP of rigging the process to slip wall funding into a pack of House spending bills possibly up for a vote this week.
While there are not specific details on exactly where $1.6 billion proposed for President Trump's border wall will be spent, an amendment sponsored by Rep. John Carter, R-Texas, calls for $498 million to go to 28 miles of "new bollard levee wall" in Hidalgo County in Texas' Rio Grande Valley — home to the National Butterfly Center.
The amendment also calls for $251 million to repair secondary border fencing in the San Diego area and $38.2 million for planning future border wall construction. Another $784 million is for 32 miles of "border bollard fencing" in Starr County, Texas, also in the Rio Grande Valley.
The butterfly center's executive director Marianna Treviño Wright said she found a work crew on the butterfly center's property last week, and she worried that their efforts might be related to construction of the proposed border wall. The workers had chain saws and work trucks and had cut and shred brush, trees and plants, she said. Treviño Wright said she found surveyor stakes and "X" marks on the property. She posted photos on the center's web site and Facebook page.
The 100-acre center is part of the wildlife corridor of the lower Rio Grande Valley, which is a migratory flyway for birds, butterflies and a host of other wildlife. The center's property already is bisected by earthen levees. Two thirds of the property is below the levee, Treviño Wright said.
"The property we have acquired here used to be a commercial onion farm and we have spent the last 15 years fundraising for our efforts and growing plants and purchasing materials to revegetate this area, to plant native, host and nectar plants and provide breeding and feeding areas to support wildlife, especially butterflies," she said.
"We do have folks who come from around the state, nation, world for the birds and butterflies and other things we have here on the property. Sometimes people show up looking for indigo snakes," Treviño Wright said.
Related: Trump's Border Wall 'Catastrophic' for Environment, Endangered Species: Activists
In a previously issued statement, the Army Corps of Engineers denied that its contractors cleared or removed trees at the center, but acknowledged the crew placed X markings on the ground for mapping and wooden stakes flagging proposed locations to bore holes for possible construction. The agency said its contractor collected two soil samples from the levee but did so away from the butterfly center.
Neither U.S. Customs and Border Protection, the Army Corps of Engineers, nor other agencies have outlined plans for the proposed border wall on the center property.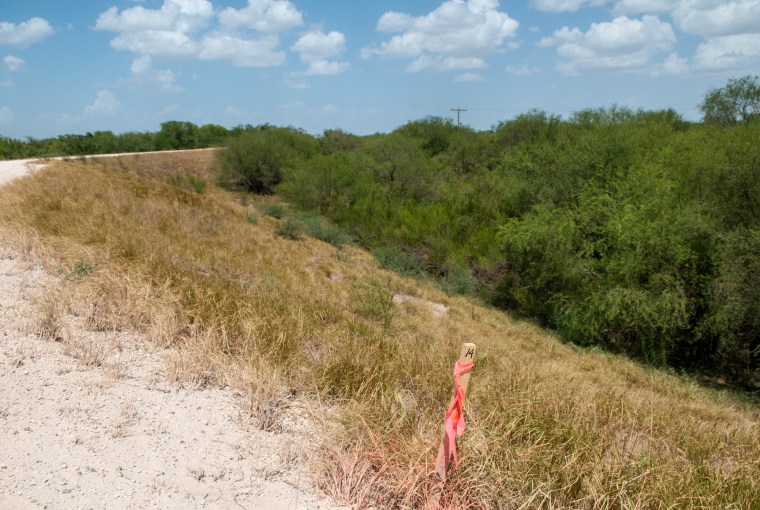 Still, Treviño Wright and her supporters worry about what the center called on Facebook the "government's secret activity on our property."
There also is angst over the possibility of border wall construction in another refuge along the Rio Grande — the San Ana Wildlife Refuge. It is considered the "crown jewel" of wildlife refuges and one of the nation's top birding spots. The Texas Observer first reported that crews were taking core samples, setting off a reaction among birders who flock to the spot that boasts 400 species of birds.
The American Birding Association put out a plea to its members to write and call their members of Congress asking that they stop construction of the wall.
Carlos Diaz, a spokesman for Customs and Border Protection, told NBC News he did not have information on what plans or hopes there are for putting fencing or a wall on the butterfly center's property or the Santa Ana Refuge.
In a previously issued news release following a meeting with Rio Grande Valley mayors last week, Customs and Border Protection and the Army Corps of Engineers said in a news release they are conducting research activities in areas slated for construction of new or replacement border wall, with $20 million in reprogrammed funds approved by Congress.
Also money provided for fiscal 2017 is being used to replace pedestrian barriers in San Diego and El Centro, California; replace vehicle barriers and pedestrian barriers in El Paso, Texas and install 35 new gates at gaps in border fencing built already in the Rio Grande Valley, according to Army Corps of Engineers information provided by Diaz.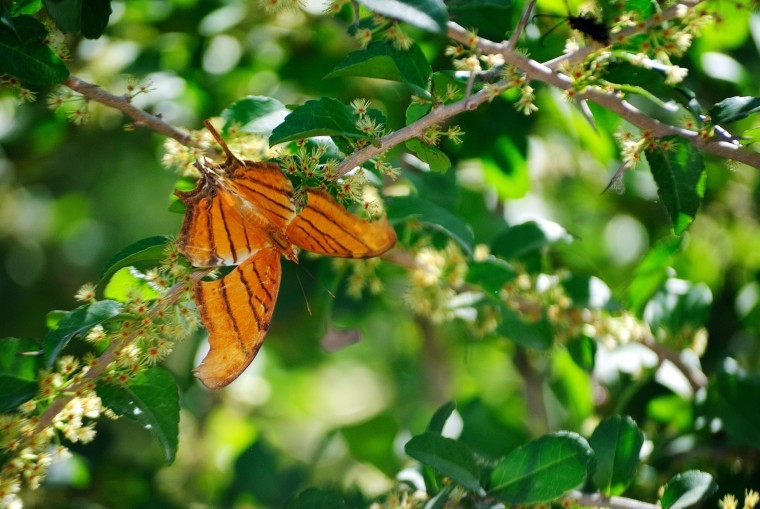 In a hearing Monday held by the U.S. House Rules Committee, Rep. Jim McGovern, D-Mass., pointed out that American taxpayers are footing the tab for the border wall work, not Mexico as Trump had promised. That's a point that should be debated and could be if the border wall funding was given it's own vote, he said.
"This is a rigged process," McGovern said.
With Congress closing in on a summer recess, the House is trying to push through a batch of four spending bills the GOP has said are critical for security. But the GOP plan to include $1.6 million for 74 miles of President Donald Trump's border "wall" means those who oppose the border wall funding have to vote against the military spending.
Rep. Pete Sessions, R-Texas, who chairs the Rules Committee, said Monday he made the amendment providing the border wall money "self-executing," setting up the dilemma for opponents of the wall funding.
Related: Monarch Butterflies Face 'Quasi-Extinction' — But Hope Is on the Wing
"You are dadgum right I put it in there," Sessions said.
"We are going to comply with allowing the president to have things he wants also," he said.
Rep. Ruben Gallego, D-Ariz., called the move "sneaky" and said House Speaker Paul Ryan and GOP House members were doing Trump's "dirty work."
"They want to make sure Trump can build his wall, but they also want desperately to avoid a clean up or down vote on the issue," Gallego told reporters in a call Monday.
Ashlee Strong, a spokeswoman for Ryan, said in an email that House and Senate Republicans' agenda includes a commitment to increased border security "and we are following through on that promise."