Democratic presidential candidate Joe Biden marked the birthday of civil rights icon César Chávez on Tuesday by calling on employers to provide protections and benefits for farmworkers exposed to the coronavirus.
President Barack Obama declared Chávez's birthday a national commemorative holiday in 2014. Biden, who was vice president during both of Obama's terms, leads Sen. Bernie Sanders, I-Vt., in delegates in the race for the Democratic presidential nomination.
While many Americans are working from home, farm laborers have been in the fields in the midst of the COVID-19 pandemic, sustaining the food supply, which is under strain amid the crisis.
In a statement to NBC News, Biden thanked the more than 2 million farmworkers whom he described as being "on the front lines, working to keep Americans fed and healthy during this pandemic."
Full coverage of the coronavirus outbreak
Biden called the farmworkers "soldiers in this war against an invisible and undiscriminating enemy." The majority of the nation's farmworkers are undocumented.
More than ever, employers should ensure the health and safety of their workers by providing those exposed to COVID-19 with paid leave so they can self-quarantine, Biden said. He also called for lifting a 90-day waiting period for farmworkers to become eligible for sick pay and for child care assistance and worker flexibility, because many farmworkers' children may be home as schools in their communities closed.
"Farmworkers have always been essential — essential to our national strength, essential to who we are as a people," Biden said. "And in a moment of national emergency, like we are in now, we all see and recognize just how vital they are, and the dignity and respect they are owed."
The Trump administration restricted visas for farmworkers this month in response to the coronavirus, but the State Department has eased some of the limits in recent days.
César Chávez Day is what is known as a federal commemorative holiday. It honors Chávez's life and achievements but does not call for federal agencies to close, as is done on Presidents Day, for example. A handful of states celebrate it as a holiday, while others offer it as an optional holiday.
Download the NBC News app for full coverage and alerts about the coronavirus outbreak
Chávez, who was Mexican American, led marches, boycotts and other civil disobedience actions during the civil rights movement to secure rights for the nation's farmworkers. At the time, a greater share of them were U.S. citizens working for little pay in poor living conditions, with little injury protection, few benefits and a lack of educational resources for their children.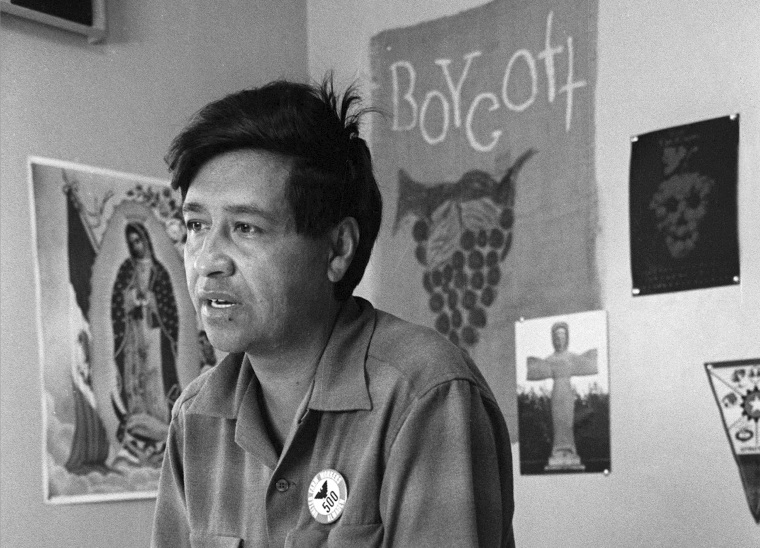 Along with labor activist Dolores Huerta, Chávez unionized farm laborers and helped win contracts with certain guarantees; he also pushed for federal and state legislation. But farmworkers continue to struggle for labor protections, particularly as the U.S. agriculture industry has become more dependent on immigrant labor.
The House in December passed the Farm Workforce Modernization Act, bipartisan legislation that would provide a path to legal residency for undocumented farmworkers and revise the agricultural guest worker program known as H2A. The measure is in a Senate committee.
The $2 trillion coronavirus rescue package excluded undocumented people from the stimulus checks that will be sent to Americans. Many farmworkers could get paid sick days and paid family and medical leave under the second coronavirus response bill signed by President Donald Trump, as long as businesses with 50 employees or fewer are not exempted, according to the Economic Policy Institute.
The Congressional Hispanic Caucus pushed for protections for farmworkers, too, in a letter Tuesday to the administration. Among other things, it asked whether the administration will advise agriculture employers how to use coronavirus relief money to prevent COVID-19 transmission in housing and transportation provided to farmworkers.
Follow NBC Latino on Facebook, Twitter and Instagram.