FIREBAUGH, Calif. — When Joe Del Bosque bought one of his first few fields 25 years ago, his wife, Maria, nicknamed it "the field of the house." She hoped the agriculturally rich half-mile stretch of land would make them enough money to buy their first home.
The land allowed them to do that — and more.
Del Bosque, 72, now farms 2,000 acres — including that half-mile he first bought. His vast melon fields are among the country's most productive, and his almonds are sold around the world.
"It's been a great journey for me," Del Bosque said. "Up until now."
These last couple of years, Del Bosque has felt that his long-term family farming enterprise is under threat.
"I don't think I've ever had so much pressure in all my career as a farmer," he said, his eyes expressing worry under the brim of his tan cowboy hat. "This isn't really the way I want my career to end. I want to be able to pass on a thriving, growing farm for our children and grandchildren. It's looking tougher and tougher and a little more grim every year."
The field, which Del Bosque has been getting ready for planting since last year, could be uncultivated if his farm doesn't get enough water this year. That would put 80 to 100 skilled people out of work, a painful reality for longtime farmers in the area like Del Bosque, who have spent the majority of their careers cultivating crops in California's San Joaquin Valley.
Here in the San Joaquin Valley and the Central and South Coast regions, farming has employed more than 400,000 people each year in the last decade alone, most of them Latinos. For many, it has been several generations' livelihoods, and it's a significant part of the state's annual average employment.
California produces two-thirds of the country's fruits and nuts and more than a third of its vegetables — among the top valued commodities in 2020 were almonds and grapes.
But fueled by climate change, southwestern North America is experiencing its driest 22-year period — beginning in 2000 — in at least 1,200 years. It's expected to persist through 2022 and after, according to new research published in the journal Nature Climate Change.
Researchers at the University of California, Merced, estimated that the drought last year cost California's agriculture industry $1.1 billion, nearly 8,750 full-time and part-time jobs and 385,000 acres of idled land in the Central Valley alone, according to the study.
When Del Bosque was growing up in the area, his life revolved around farm work, picking melons alongside field workers his father managed. When he created his own family-run farm in 1985, he fulfilled his American Dream, he said. Today, several family members depend on the farm to make their livings.
He and Maria, also a farmworker, have six daughters and nine grandchildren. Del Bosque hopes to introduce a few of his grandkids to farming, but he's losing hope about its viability.
His farm is struggling to cope with a meager water supply as lower yields in crop production and increased worker wages have created tense economic cutbacks. As his farm faces another dry year, he is striving to remain afloat.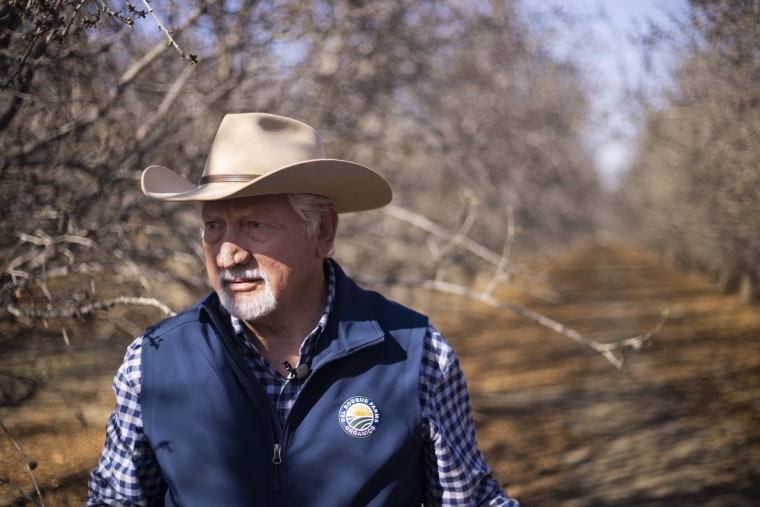 'We're up in limbo'
On the drive toward Del Bosque's ranch, signs planted along the highway read "food grows where the water goes," "help solve the water crisis" and "Newsom stop wasting our dam water," referring to Gov. Gavin Newsom, among other messages.
Del Bosque's ranch gets its water from the San Luis Reservoir, which is managed by the Central Valley Project Water Association, an irrigation project managed by the federal government that allocates shared water to farms in the area and the environment through canals, pump plants and aqueducts.
Last month, the federal government announced that farmers will start the year with zero percent water allocation as California enters a third consecutive year of severe drought.
About a third of Del Bosque's farm grows almonds, and another third is dedicated to growing organic melons, including cantaloupes, honeydews, mix melons and watermelons. He once grew asparagus, sweet corn and tomatoes, but he doesn't anymore, citing the limited availability of water.
He expects to decrease the number of melon crops — his "bread and butter" — by 30 percent to 35 percent, putting a third of the experienced melon pickers out of work.
"That's the uncertainty that we live with," said Del Bosque, who has served on many agricultural boards, including the California Water Commission. "On the water supply, we're up in limbo. We don't know what we're going to have. We have no idea how much to plant. It's going to be a risk on our part."
The reservoir's water level stands at 415.60 feet above mean sea level, the lowest recorded at the same point in time across a five-year period from 2017 to 2022. The San Joaquin Valley is experiencing a severe drought.
"This is a very critical year for us. We've been through two very dry years. And last year was terrible for us," Del Bosque said. "Some of the water that we were going to get did not get to us in time. We needed it in the spring and summer. And some of the water was held back for environmental reasons until October. And our crops suffered."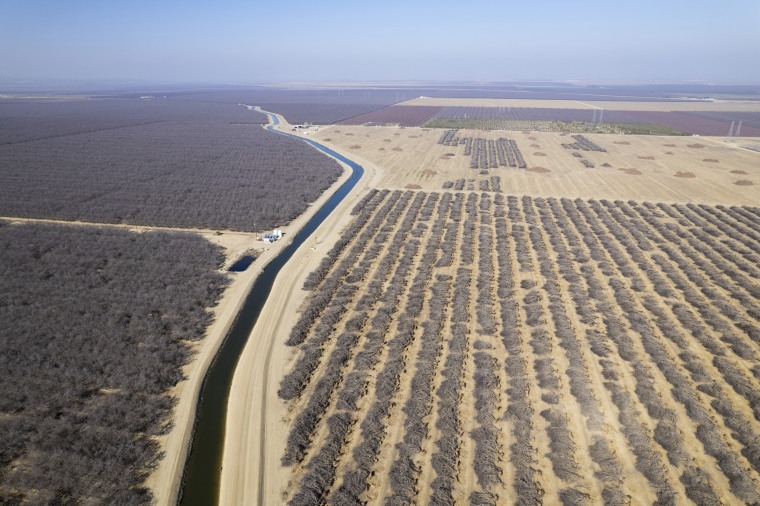 The majority of Del Bosque's crops are distributed across the U.S., Canada, Europe, Asia and the Middle East — 70 percent of his almonds are exported, while his organic melons are in heavy demand in Florida, New York and Texas.
"I think it's important that California agriculture continues to thrive, not just survive, but to thrive," Del Bosque said. "It's important to the nation, and all of agriculture right now is trying to do more with less, and it's still getting more expensive to grow crops in California."
Costly water prices and a lack of rain
Humberto Guzman, a ranch manager at Coelho West Farms in Five Points, about 50 miles from Del Bosque's ranch, faces mounting pressures for the 6,600 acres of crops he manages.
Guzman, 52, arrived in the U.S. as a 2-year-old from the famous town of Tequila in the state of Jalisco, Mexico. His family settled near Five Points in Cantua Creek, where he still lives today.
Guzman's parents, Salvador, 77, and Maria, 74, now retired, were farmworkers their entire lives. Guzman recalls spending his summers in middle school and high school helping his parents out with field duties; it's where he first got his passion for the farm lifestyle.
"Dad told us, 'You go to work and be responsible.' Every morning he would get us up no matter if we stayed up all night or whatever," Guzman said. "So that kind of influenced me early on — I get home late or whatever, my responsibility is to be at the ranch."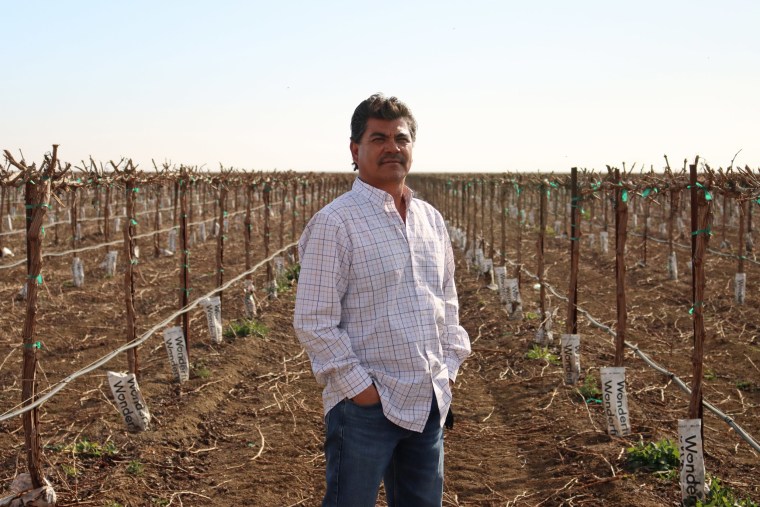 Guzman has spent 35 years in the industry, 23 of them professionally with Coehlo West. The low levels of precipitation are alarming.
"Back 10 years ago, 15 years ago, it rained all those months," Guzman said with a hint of frustration in his voice. "We wouldn't even have to turn on our wells, because we had enough water to farm."
Almonds are one of the permanent crops produced at Coehlo West. Guzman said they would yield 4,000 to 4,800 pounds during years when water was plentiful. They're now yielding 2,000 to 2,500 pounds, a significant drop in production that has hurt economically.
"We're at a loss," Guzman said. "We've tried to buy water from other sources, but it's too expensive. People that have water, they're not going to sell it, because they need it themselves."
In years with above-average precipitation, farmers in the area would sell their water at $350 to $400 per acre-foot. Now, with water scarce, the price tag has skyrocketed to $1,200 to $2,000, if farmers have and are willing to sell their supplies.
The Central Valley faces tight competition among farmers for water and from cities with larger budgets that are looking to buy.
"It's very, very expensive, but it keeps us alive," Del Bosque said. "It costs us so much money that at the end of the day, we don't make any money. It takes all the profit out of it. It just keeps us going."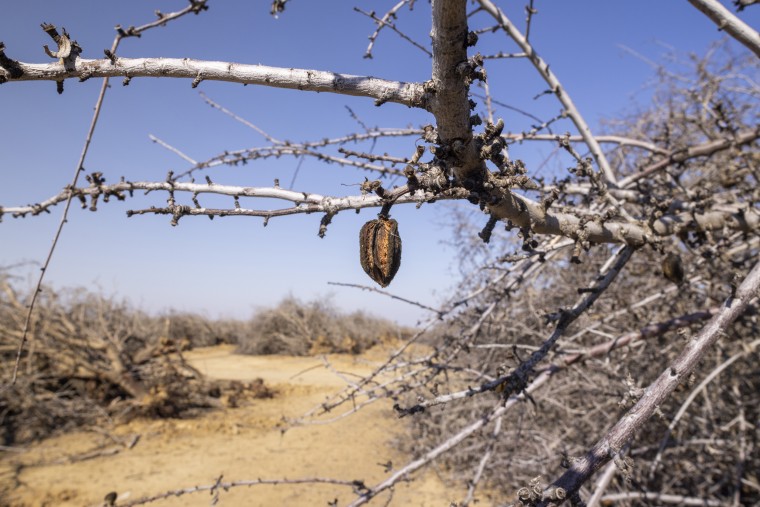 Rising wages and downsizing staff
Atop lower production yields and costly water prices, farmers in California are dealing with yearly rising wages and material expenses across the board.
The minimum wage in the state has been steadily increasing since 2017 — up to $14 an hour for employers with 25 employees or less and $15 an hour for employers with 26 employees or more this year.
As wages have increased, Del Bosque has kept up by raising his prices. But that has made distributors hesitant to buy, because they can purchase from other states that produce similar crops but pay much lower wages.
"We talked to our customers, the stores that sell our melons, and we tell them that our costs continue to go up, there's no way we can avoid it," Del Bosque said. "We need to raise our prices. There's some resistance, because they don't know if their consumer is going to buy at the higher prices."
Del Bosque and Guzman said they've been forced to reduce their workforces to try to maintain sustainability.
"We had to cut back on our employees, because we can't make it on what we're doing. Everything's so expensive," Guzman said. He downsized from 30 to 15 regular employees because of the minimum wage and overtime costs.
Del Bosque expects to reduce his melon workforce by one-third this year. He has already decided to cut back on his asparagus crops, putting 20 to 25 other workers out of jobs.
"Those people are going to lose two months' worth of wages, and that hurts them, it hurts the local economies, and it's a tough decision to make," Del Bosque said.
As they both expect another dry year, their futures in the industry are uncertain.
'I'm not a quitter'
Working in the industry has allowed Guzman, a third-generation farmworker and the sole breadwinner of a family of six, to afford college educations for his children — something he didn't have himself.
Guzman attended Fresno City College shortly after high school but decided to focus on working in the field because of financial instability.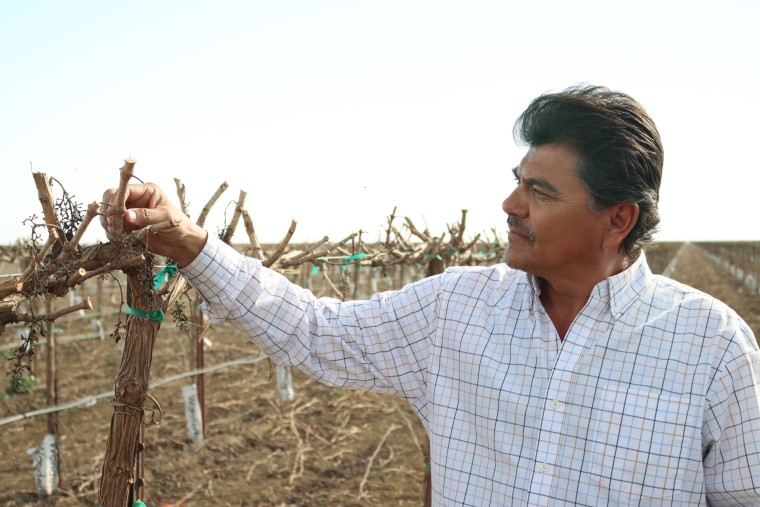 Now working in an upper management position, Guzman said he earns a comfortable living and was able to send his oldest son to the University of California, Irvine, where he graduated with a degree in business. His son who is 16 is interested in attending Stanford University, Guzman said.
Although he is grateful for his long and fulfilling career, his future is uncertain, as there is a lot of chatter about selling and leaving the industry entirely among longtime farm owners, including his own bosses, who are frustrated.
"It's stressful," Guzman said. "When you hear that other ranches have been here forever and they start selling out there, that kind of worries me, because, not to kid myself, it could happen to us, too. One day our bosses could come out and say: 'You know what? We're going to sell.'"
Guzman said that despite the uncertainty, he would look to see whether there was work available at another farm. "I'm going to retire in this," he said.
As for Del Bosque, he doesn't want to leave the next generation with debt on the farm.
"I have thought about just selling out and retiring and just quitting. And that's something that I don't usually do. I'm not a quitter," he said. "But if I see that this is going to end us, then maybe I may think about just retiring."
Follow NBC Latino on Facebook, Twitter and Instagram.